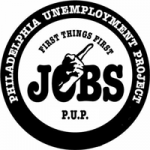 Philadelphia Unemployment Project

Executive Director
Based in Philadelphia, PA
The Philadelphia Unemployment Project (PUP) was founded in 1975 to serve the unemployed and working poor. It has a current staff of seven. PUP has a long history of organizing, advocacy and providing services to unemployed and low-income people. It organizes low-income people and builds coalitions on issues such as access to decent paying jobs, foreclosure and eviction prevention, unemployment compensation, and transportation.
The organization is funded with long term grants from the Philadelphia Division of Housing and Community Development and PennDOT. It also raises funds from PHFA, foundations, fundraisers, and donations. The Board of Directors consists of elected PUP members and community representatives, including clergy and labor. The Executive Director reports to the Board of Directors through monthly Board meetings.
DUTIES
Identify and develop an organizing strategy for issues of importance to unemployed and low-income people.
Prepare funding proposals, meet with funders, and oversee compliance with all contracts and grants. Ensure program data is collected and reported.
Network with other advocates to encourage coalition work on issues, including labor unions, Legal Services, and the religious community.
Supervise staff through regular contact on work goals, annual evaluations, and weekly staff meetings.
Approve budgets and oversee income and expenditures as well as cash flow.
Work with Board of Directors; prepare agenda and materials for monthly meetings.
QUALIFICATIONS
Minimum of 3 years of supervisory experience in a non-profit or labor organization
Ability to fundraise and write grant proposals.
Experience in researching and organizing advocacy campaigns.
Skilled in writing and public speaking
Ability to work with and establish strong relationships with diverse populations
Leadership ability
Salary commensurate with experience. $65,000 – $85,000. Excellent benefits, including fully paid health insurance, dental and eyeglass plans, matching 403(b) plan, generous days off and vacation days.
TO APPLY
If interested, please submit your résumé and cover letter to: lvaldes@philaup.org.
WHEN APPLYING: Be sure to indicate that you saw this information at UNIONJOBS.COM.