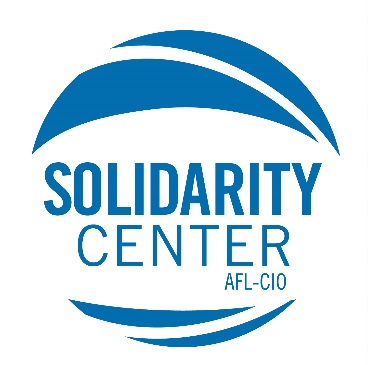 Solidarity Center

Program Officer II
MENA
Based in Washington, DC



(Hybrid)
Location: Washington, DC*
Application Deadline: When filled
*Solidarity Center staff enjoy a hybrid telework/in-person schedule. Anyone hired for this role will be expected to work in the Washington, D.C. office three days per week unless an ADA or health-related exemption is approved.
Summary
Solidarity Center seeks an experienced Program Officer to support field offices and staff in the Middle East and North Africa (MENA), specifically our regional migration work and programs in the Persian Gulf. This individual will have day to day contact with the field and is expected to be thoroughly conversant with current events relevant to the ongoing political, economic, social, and trade union developments in the region. This position serves as primary main liaison between headquarters and the field on assigned projects.
The Program Officer will need to write persuasive proposals that describe complex activities, and develop budgets for those activities. This individual participates in the development and implementation of training and other capacity building programs. The Program Officer is responsible for monitoring programs to meet budget targets and programmatic results and must be able to produce well-written program reports and evaluations. The Program Officer also prepares and exchanges information and coordinates activities with other departments.
The Program Officer assists and advises the field-based Regional Program Director or Senior Program Officers in HQ on details of assigned programs. This individual also works closely with AFL-CIO affiliates to coordinate their participation in Solidarity Center programs and provides logistical support for international visitors and participants in Washington-based programs. The Program Officer represents Solidarity Center at meetings and conferences and coordinates with Washington-based NGOs and U.S. government agencies. This individual should expect some travel to the region (approximately 20%).
Qualifications
Broad knowledge of international relations including trade union and socio-economic and political developments in the U.S. and abroad.
Experience studying, visiting, working on and/or living in the MENA region
Previous trade union experience (not required but highly desirable)
Ability to work independently and complete assignments with limited supervision
Ability to manage multiple assignments simultaneously
Ability to work and interact easily with a wide variety of people
Bachelor's degree in political science, international relations, labor relations, or related fields plus three years of professional experience, or seven years of equivalent work experience
Good communication skills
Excellent writing and proofreading skills
Computer literacy for word processing and simple spreadsheets
Fluency in written and spoken Arabic
Must be available to travel internationally
Supervisor: Regional Program Director
Specific Duties:
Provide field offices with programmatic financial and administrative support;
Write/edit proposals, reports, letters, and other correspondence;
Conduct issue research for headquarters and field offices;
Assist field offices to arrange study tours in the U.S. for visitors from the region, and conduct meetings with a wide variety of visitors from the region involved in efforts to promote labor rights and standards and democracy;
Assist other departments and coordinate activities with them;
Develop coalition-building contacts with U.S. labor, government, and non-governmental organizations in the Washington area;
Provide guidance to field offices on AFL-CIO and Solidarity Center policies and priorities, and serve as a liaison between Solidarity Center and AFL-CIO affiliates, GUFs, ITUC, its regional organizations, and the ILO;
Assist field offices in program planning;
Develop and implement regional and sub-regional programs and programs in countries without a resident field representative;
Provide field offices with information on USAID, NED, and U.S. government rules and regulations that affect program management;
Recruit outside program consultants and other technical staff in accordance with field needs;
Provide technical assistance and support for program evaluations of field projects and recruitment of evaluators;
Support field trips by Solidarity Center personnel;
Share information on country conditions and labor issues as requested by Washington-based U.S. government offices and Congress;
Travel on a TDY basis to conduct and/or oversee program development or implementation in countries without a field office;
Work closely with AFL-CIO affiliates to coordinate their participation in the development and implementation of Solidarity Center programs, within approved communications guidelines;
Monitor programs to meet budget targets; and
Represent the Solidarity Center as directed.
In compliance with federal law, all persons hired will be required to verify identity and eligibility to work in the United States and to complete the required employment eligibility verification document form upon hire.
This is a collective bargaining unit position, generously compensated with a gross annual salary starting at approximately $79,374 USD based on experience. A robust benefits package includes fully paid health insurance, a retirement plan and pension, life insurance, and ample paid time off for holidays, vacation, and medical leave. Pre-tax deduction programs are also available for commuting, dependent care, and health care expenses. In addition, we offer opportunities and funds for professional development.
About Us:
The Solidarity Center cultivates the values of diversity, equality, and inclusion among its staff and partners. It does not discriminate on the basis of race, color, religion, sex, sexual orientation, gender identity, national or ethnic origin, age, marital status, disability, veteran status, or any other status protected under applicable law. Candidates from traditionally underrepresented groups are strongly encouraged to apply. If you are a candidate with a disability and require reasonable accommodations to apply for this position, please contact us at information@solidaritycenter.org.
For Candidates Applying from the AFL-CIO: Solidarity Center works in partnership with the AFL-CIO on recruiting and filling positions. Our policy is to notify the AFL-CIO prior to interviewing any of its current employees.
Apply HERE!
WHEN APPLYING: Be sure to indicate that you saw this information at UNIONJOBS.COM.