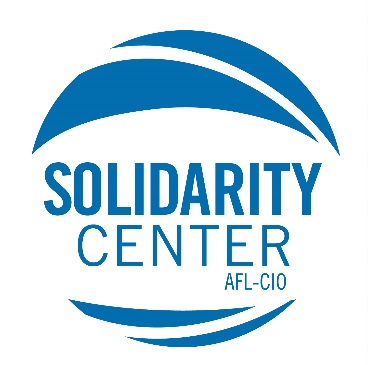 Solidarity Center

Program Assistant
Europe and Central Asia
Based in Washington, DC



(hybrid telework/in-

person

schedule)

Location: Washington, DC
Application Deadline: When filled

Please Note: Solidarity Center staff enjoy a hybrid telework/in-person schedule. All candidates applying for this role will be expected to work in the Washington, D.C. office a minimum of three days per week unless an ADA or health-related exemption is approved.

Summary: Solidarity Center is looking to fill an entry level program position on its Europe and Central Asia team. This position is ideal for a Russian speaker with a background in international human rights, social justice, and/or the labor movement, who aspires to develop the skills and knowledge to become a Program Officer. The Program Assistant supports and works closely with the Senior Program Officer for Eurasia, performing clerical and technical tasks such as note taking, transcription, translation, and the drafting, production, and finalization of administrative documents. The Program Assistant must stay informed about current events relevant to the on-going political, economic, social and trade union developments in Europe and Central Asia. Under the guidance of the Regional Program Director, this individual drafts proposals and reports. The Program Assistant must handle multiple tasks related to program development and implementation with close attention to detail. The Program Assistant prepares and exchanges information with other departments and may be asked to attend meetings or conferences for the Solidarity Center. Some program-related overseas travel (less than 10%) may be required.

Qualifications:
Working knowledge of the Russian language (written and oral)
Basic knowledge of international relations issues
Good communications and writing skills
Basic computer literacy for word processing and simple spreadsheets
Ability to work and interact easily with a wide variety of people
Degree in political science, international relations, labor relations, or related fields and/or a minimum of three years of pertinent work experience
Strong organizational skills and attention to detail
Trade union experience (highly desirable but not required)
Supervisor: Regional Program Director
Specific Duties:
Conduct issue research for use by Center headquarters and field offices;
Draft, edit proposals, reports, letters, and other correspondence;
Assist field offices to arrange study tours;
Respond to field office requests for information and resource materials;
Coordinate activities with Solidarity Center's other program and functional offices;
Assist, as required, other regional and functional offices;
Relate to outside organizations.
In compliance with federal law, all persons hired will be required to verify identity and eligibility to work in the United States and to complete the required employment eligibility verification document form upon hire.
This is a collective bargaining unit position, generously compensated with a gross annual salary starting at approximately $61,680 USD based on experience. A robust benefits package includes fully paid health insurance, a retirement plan and pension, life insurance, and ample paid time off for holidays, vacation, and medical leave. Pre-tax deduction programs are also available for commuting, dependent care, and health care expenses. In addition, we offer opportunities and funds for professional development.
About Us:
The Solidarity Center cultivates the values of diversity, equality, and inclusion among its staff and partners. It does not discriminate on the basis of race, color, religion, sex, sexual orientation, gender identity, national or ethnic origin, age, marital status, disability, veteran status, or any other status protected under applicable law. Candidates from traditionally underrepresented groups are strongly encouraged to apply. If you are a candidate with a disability and require reasonable accommodations to apply for this position, please contact us at information@solidaritycenter.org.
For Candidates Applying from the AFL-CIO: Solidarity Center works in partnership with the AFL-CIO on recruiting and filling positions. Our policy is to notify the AFL-CIO prior to interviewing any of its current employees.
Apply HERE!
WHEN APPLYING: Be sure to indicate that you saw this information at UNIONJOBS.COM.