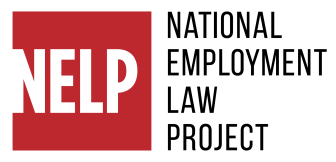 NELP
National Employment Law Project

Staff Attorney
Work Structures
Based out of Berkeley, CA; Washington, DC; or New York City, NY
The National Employment Law Project (NELP) seeks a dynamic and skilled person to join our Work Structures team as a Staff Attorney or Senior Staff Attorney. You will join a team of experts who are working with partners to (1) combat anti-worker corporate labor contracting practices, such as the misuse of temporary help and staffing agencies and the misclassification of employees as independent contractors; and (2) devise and advance pro-worker policies that ensure employer accountability, expand workers' access to rights, and build worker power and fundamental rights.
Who We Are
Founded in 1969, the nonprofit National Employment Law Project (NELP) is a leading advocacy organization with the mission to build a just and inclusive economy where all workers have expansive rights and thrive in good jobs. Together with local, state, and national partners, NELP advances its mission through transformative legal and policy solutions, research, capacity building, and communications. Our victories over the last decade have impacted the lives of an estimated 100 million workers and their families. We lead and collaborate in fights for higher pay and just benefits, secure and safe jobs, and support at each stage in a worker's life. For more information, read our annual reports and explore our website: www.nelp.org.
NELP has a team of 55 staff people based across offices in New York City, Washington, D.C., and Berkeley, CA, with an 11-person Board of Directors, an annual budget of $17M-$20M, and hundreds of partners in the field with whom we work to further our mission.
What You Will Do
You may be based in any of NELP's three office locations and will report to the Director of Work Structures. You will work with NELP's staff of lawyers, policy experts, researchers, and strategic communications experts. Your work will be aimed at reversing the trend towards precarious subcontracted work arrangements that are key drivers of eroding labor standards, rising income and wealth inequality, structural racism, and the shifting of power away from workers and toward corporations.
You will be responsible for the following:
Federal, state, and local policy advocacy in priority areas, in collaboration with key constituencies, allied organizations, and policymakers.
Supporting the development of strong, cohesive multi-racial coalitions to build power with workers in misclassified, temp, and other contracted jobs.
Providing support to local, state, and national partners and campaigns, including drafting and analyzing legislation and regulations, plus researching and drafting policy briefs and other materials to serve as a national resource.
Drafting or providing research support for amicus briefs, regulatory comments, and strategic litigation related to issues of precarious work.
Representing NELP in coalitions, at conferences and public forums, at legislative and agency hearings, and in the media.
Drafting reports, op-eds, blogs, and educational materials, and engaging in strategic communications.
Supporting a workplace culture where all team members grow and develop professionally.
Actively contributing to NELP's work in becoming an anti-racist organization that reflects and embodies internally the values of dignity, justice, equity, and inclusion.
Who You Are
You have a minimum of three years' advocacy experience in policy, legal, research, or organizing work to advance economic and/or racial justice. A policy or legal background in labor and employment, civil rights, privacy rights, or antitrust is a plus. Experience addressing job quality and worker power issues related to subcontracted work is a plus.
You have a JD and are licensed to practice law in the jurisdiction where the position is located or will be licensed in that jurisdiction.
You have experience supporting, advising, and/or building successful and strategic worker organizing or public policy campaigns.
You are skilled at conducting high-quality and thorough policy research and analysis, as well as drafting and analyzing legislation, regulations, and other policy proposals.
You are a skilled oral and written communicator, with a demonstrated ability to create compelling and digestible work products, such as reports, op-eds, and issue briefs, for a variety of audiences.
You are a relationship-builder. You have strong interpersonal skills, enjoy connecting with and building coalitions among diverse stakeholders, and have a track record of developing and maintaining alliances.
You have a proven track record of working in coalition with groups, such as community-based organizations, advocacy organizations, and worker centers.
You have strong project management skills. You are a strategic and clear-headed thinker and doer with experience managing multiple projects, tracking and evaluating progress, and achieving timely results.
You have strong racial equity competencies, including an understanding of how race and power shape systems in our society and culture. You are committed to continuously learning, reflecting, and growing these competencies. You foster trust and transparency across lines of difference by listening deeply and offering direct, honest feedback with compassion and clarity of purpose.
You are self-aware, curious, respectful, and accountable, and you foster those qualities in others.
You operate with a commitment to excellence, integrity, diplomacy, and camaraderie.
Start Date, Location, Compensation and Benefits: This position is based out of one of our three offices (Berkeley, New York City, or Washington D.C.). NELP has a hybrid model that includes an in-person office requirement, which is being phased in this year. By October 2023, staff will work in-person at least six days per month. This hybrid model seeks to leverage both the benefits of working with colleagues in-person and the benefits of flexible remote arrangements. This position will require some travel, including for NELP internal meetings or conferences. The start date will be as soon as possible.
This position is in NELP's bargaining unit, represented by National Organization of Legal Service Workers, UAW Local 2320. Classification and compensation for NELP bargaining unit positions are commensurate with relevant experience and education and based on NELP's collectively bargained scales. Based on our union scale, a staff attorney salary is $81,400-$90,400 and a senior staff attorney salary is $94,200-$118,500. Here are some examples of salaries:
with a JD and 3 years' post-graduate relevant experience, the staff attorney salary will be $88,150;
with a JD and 5 years' post-graduate relevant experience, the senior staff attorney salary will be $94,200; and
with a JD and 7 years' post-graduate relevant experience, the senior staff attorney salary will be $99,700.
The designation of "senior" and differences in salaries are based on education and years of relevant experience.
Compensation at NELP includes an excellent comprehensive benefits package, including full coverage of family health insurance, a medical reimbursement plan, generous vacation and sick leave, plus additional organization-wide holidays, significant contribution from employer to a retirement plan (both an unelected contribution and employer match); and for qualifying participants, up to 26 weeks paid parental leave, 12 weeks paid medical leave, 6 weeks of paid family medical caregiving leave, a sabbatical leave program, childcare/eldercare reimbursement assistance, and student loan repayment assistance.
To Apply:
Candidates must be eligible and authorized to work in the United States. Go to our online application system at nationalemploymentlawproject.applytojob.com/apply to submit a cover letter and résumé. If you have questions regarding this announcement, please forward those to nelp@nelp.org, noting the job title in the subject line. No phone calls or other email inquiries please. We will consider applications on a rolling basis; interested applicants are encouraged to submit sooner than later.
NELP is a 501(c)(3) non-profit organization and an equal opportunity, fair chance, affirmative action employer, committed to building a diverse and inclusive workforce. All qualified applicants will be considered for employment without regard to race, color, creed, national origin, sex, age, disability, marital status, sexual orientation, military status, prior record of arrest or conviction, citizenship status, current employment status, or caregiver status.
WHEN APPLYING: Be sure to indicate that you saw this information at UNIONJOBS.COM.