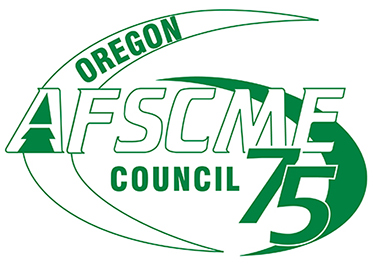 Oregon AFSCME Council 75
A Democratically Run Union and Proud of it!

Council Representative
(2 positions)
Based in Salem, OR
Fight for more fair and equitable workplaces.
Oregon AFSCME is a fast growing union, representing over 35,000 public employees and non-profit employees. We believe in economic and social justice for all Oregon workers and their families. Our mission is to empower and unite workers to create change in their workplaces and communities. Our members work for the State of Oregon in addition to counties, municipalities and behavioral health nonprofits across Oregon as well as self-employed child care providers. For more information visit: www.OregonAFSCME.org.
We have a Council Representative position based in Salem Oregon.
Council Representatives:
Identify, recruit, and develop worksite leaders and move workers into action;
Develop and implement effective campaigns to win good union contracts and worksite issues;
Use analytical skills to interpret contract language, investigate and process grievances, prepare contract proposals and bargain contracts;
Bargain contracts, develop MAT teams, and run contract campaigns
Work involves long and irregular hours, including nights and weekends;
Oregon AFSCME is committed to developing the capacity of staff to take on growing roles and responsibilities.
Qualified candidates:
Highly organized. Ability to work independently, without supervision, and to take initiative.
Excellent outreach & communication skills.
Experience facilitating worker trainings and meetings
Experience with labor movement, worker organizing, and/or coalitions
Internal union experience: contract enforcement, bargaining, and experience with grievance procedures
Ability to communicate effectively with diverse populations.
Experience developing a training and training curriculum.
Demonstrate enthusiasm and energy for working with worker leaders to develop their confidence, hope, and skills as worksite leaders;
Will perform successfully in both independent and team settings;
Must have a valid driver's license and automobile for work use;
Have advanced ability to identify and address personal biases.
Can demonstrate working knowledge, through personal and/or work-related experience, in advancing racial justice, understanding how systems of oppression intersect, and applying an equity lens in policy and programming processes, and working knowledge, through personal and/or work-related experience, in the needs of and barriers faced by people of color.
Preferred qualifications:
Experience resolving workplace disputes and advocating on behalf of others, and/or engaging people in social justice organizing.
Candidates with bilingual or multilingual skills are encouraged to apply.
This position is covered by a collective bargaining agreement. Annual pay range $67,000-$109,000 and health insurance, long term disability, life insurance and retirement benefits included.
To Apply:
Please send a cover letter and résumé to Hiring@oregonafscme.org and please also fill out this application form. Priority to applications received by June 15.
WHEN APPLYING: Be sure to indicate that you saw this information at UNIONJOBS.COM.