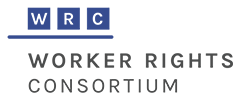 Worker Rights Consortium

Communications and Research Associate
Based in Washington, DC
The Worker Rights Consortium (WRC) is seeking to hire a Communications and Research Associate.
The WRC is dedicated to ending sweatshop conditions, holding brands and retailers accountable for abuses in their global supply chains, and protecting the rights of workers in factories around the world that produce clothing and other consumer products. Working in more than two dozen countries, we investigate factories producing for well-known brands and retailers, issue public reports on the labor rights violations we uncover, and help workers and worker organizations secure remedies and protect their rights. We also advocate for systemic reforms in global supply chains to alter the economic dynamics that are perpetuating abusive conditions and open the door to fundamental change.
The WRC is based in Washington, DC, and has more than 25 staff located in the US, Latin America, Asia, and Africa. We work closely with unions and civil society organizations around the world.
Key Responsibilities
The Communications and Research Associate will help drive work in three areas:
Communications and advocacy, including:

Writing persuasive public-facing content to expose abusive practices and help workers defend their rights
Translating complex policy and research into communications and advocacy outputs
Helping develop the WRC's social media strategy to ensure growth and engagement
Social media planning, copywriting, designing, posting and community management, and analytics

Constituency outreach, including:

Engaging with students around the country interested in labor rights
Supporting the advocacy team in coalition building

Strategic research to contribute to advocacy outcomes, including:

Tracing supply chain relationships
Conducting strategic research into apparel brands and key developments in the countries and sectors
Supporting other strategic research projects at the WRC as needed
Supporting field investigators conducting on-the-ground worker rights investigations
This person will also coordinate the WRC's internship program and provide programmatic support on key organizational initiatives, including leading special projects, as needed.
This position is based at our office in Washington, DC and requires some travel. The WRC's collectively bargained flexible work policy requires that DC-based staff work from the office for three days per week. Applicants must be able to demonstrate authorization to work in the United States.
The Communications and Research Associate will report to the Deputy Director for Strategy & Field Operations.
Knowledge, Skills, and Abilities
In order to be qualified for this position, candidates must have:
At least two years' experience working on labor rights or other social justice issues, whether as a volunteer or as paid staff;
A commitment to workers' rights and corporate accountability;
Experience with major social media platforms;
Strong communication and interpersonal skills and an ability to articulate clear messages to different audiences;
Strong organizational skills, able to manage multiple projects;
Ability to work autonomously, effectively, and efficiently; and
Rigorous attention to detail.
The following are not required but are desirable:
Communications experience including using social media platforms for advocacy purposes;
Graphic design skills and experience with visual design and editing tools; and
Knowledge of corporate accountability, supply chains, and labor and/or human rights.
Compensation
The minimum starting salary for this position will be $52,000 per year; this starting salary may be adjusted commensurate with experience. The WRC provides an excellent benefits package, including 100% employer-paid family health insurance including dental and vision care, with an additional flexible spending plan; 401(k) retirement plan with employer contribution; and five weeks paid vacation. This position is covered by a union contract.
Equal Opportunity
The WRC is an equal opportunity employer. We strongly encourage and seek applications from women, people of color, including multilingual and multicultural individuals, and members of the LGBTQIA+ community. Applicants shall not be discriminated against because of race, religion, sex, national origin, ethnicity, age, disability, sexual orientation, gender identity, color, caste, marital status, veteran status, or medical condition. Reasonable accommodation will be made so that qualified applicants with disabilities may participate in the application process.
To Apply
Through our application portal, please upload the following:
A cover letter, explaining your interest in the position and your relevant experience;
A résumé or C.V.;
Two writing samples, preferably including one piece of persuasive writing such as a blog or op/ed; and
Three references; if you wish to be notified prior to any references being contacted, please so indicate.
Applications that do not include all of the required materials will not be reviewed. Please email recruitment@workersrights.org if you experience any challenges with the application portal.
Applications will be reviewed on a rolling basis starting June 5, 2023.
WHEN APPLYING: Be sure to indicate that you saw this information at UNIONJOBS.COM.