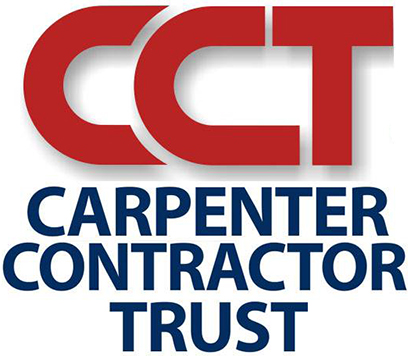 Carpenter Contractor Trust

Business Development Manager
Based in Pittsburgh, PA
Company Overview
Who We Are
The Carpenter Contractor Trust (CCT) is a labor-management trust formed to bond the relationship between the trained talents of union carpenters and their qualified signatory contractors to gain market share within the footprint of the Eastern Atlantic States Regional Council of Carpenters. We serve as a liaison to amplify the voices of our partners to bring attention to matters that affect them most.
Our Partners
CCT partners with contractor associations along with signatory contractors, experienced construction professionals, who recognize that our team brings value, reliability, and a specialized skill set to every project. Union contractors and carpenters need an appropriate image and impactful messaging to increase work hours and market share. CCT is the skilled, reliable, and experienced partner that contractors and industry partners can rely upon.
How We Work
The CCT engages in focused, creative, and persistent collaborative efforts and worker resources to promote and inform targeted audiences about the unmatched talent of union carpenters and contractors.
We accomplish this through:
Media relations, advertising, and industry outreach.
Relevant social media platforms, email marketing and public relations.
Video coverage of noteworthy events and topics.
Research studies and content development on relevant issues.
Event attendance.
Detailed Job Description
Overview
The CCT Business Development Manager will keep CCT externally engaged and visible in the Pittsburgh, Virginia and West Virginia area by:
Working with the Pittsburgh, team room to advance CCT goals
Working closely with PR consultants for media opportunities
Conducting research for current or future advocacy work.
Maintaining a policy tracker to monitor issues of interest to CCT and recommending opportunities for action. (Staying informed of the things happening in the area and forecasting issues that may arise in the future.)
Supporting contractor associations in low market share environments
Assisting in developing and implementing inclusive strategies to cultivate and mobilize supporters and other constituents
Developing and strengthening relationships with likeminded organizations doing related issue work; representing CCT at industry/community events, meetings, etc.
Building, maintaining, repairing, and growing partnerships that can successfully advance CCT initiatives
Use strong writing and organizational skills to produce timely advocacy messages and materials by:
Assisting with developing communications pieces, including website content, and social media content for advocacy-related action.
Compiling monthly progress reports and writing correspondence.
Developing appropriate and inclusive framing and messaging for various written communications, including print and online communications.
Provide operational support to advance all communication needs for CCT by:
Crafting and scheduling Pittsburgh social media content using scheduling tools and managing online interactions.
Maintaining contact databases (i.e., key policy influencers, elected officials, supporter lists, and relevant media contacts).
Performing administrative tasks and other duties as assigned.
Qualifications
Show excellence in written and oral communications, especially with diverse audiences.
Demonstrated ability to comprehend and synthesize complex issues and distill them into key points and summaries that are written clearly and accurately
Proficiency in using social media in a work environment, including Facebook, Twitter, Instagram, LinkedIn, etc.
Knowledge of federal, state, and local laws and regulations that impact our mission and goals.
Knowledge of and passion for working class issues and social justice affecting the construction industry, including misclassification, tax fraud, PLAs, etc.
Ability to manage time efficiently and stay organized while working on multiple projects simultaneously.
Able to shift priorities and deliver accurate, high-quality work as needed in a fast-paced environment.
Ability to work outside normal business hours, as needed (e.g., some nights and weekends).
Experience using social media scheduling software (Sendible, etc.) and Canva required.
Familiarity with Adobe InDesign preferred.
Travel is required.
Education/Work Experience:
Bachelor's degree or equivalent experience in political science, communications a plus, but not required
Minimum of 2 years of experience with marketing, political or communications work
Benefits:
Benefit package after 90-day probationary period
Salary $50,000 – $65,000
To Apply:
Please send your résumé and cover letter to: sambrosino@cctmarketing.org. Include a paragraph about yourself and why you are a good fit for the role in the body of your email.
WHEN APPLYING: Be sure to indicate that you saw this information at UNIONJOBS.COM.