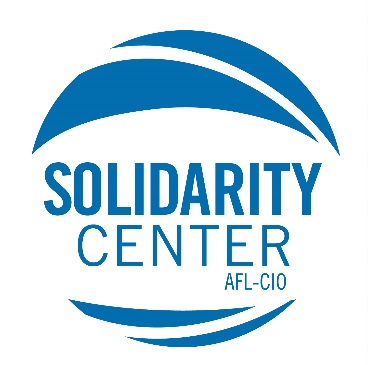 Solidarity Center

General Accountant
Finance
Based in Washington, DC



(hybrid telework/in-person schedule)
General Accountant
Finance, Washington, District of Columbia
Location: Washington, DC
Application Deadline: When filled
Please Note: Solidarity Center staff enjoy a hybrid telework/in-person schedule. We also have a mandatory vaccine policy and safety protocols in all our facilities. All candidates applying for this role will be expected to adhere to these policies and to work in the Washington, D.C. office a minimum of three days per week unless an ADA or health-related exemption is approved.
Summary of Position
The General Accountant is responsible for all aspects of the accounting relating to headquarters programs and assigned units. This individual will be the primary contact between accounting and the assigned units regarding accounting matters. The General Accountant will process all expense claims, and travel expense reports, and review all related payables for the assigned units to ensure that they are in accordance with USG regulations and are allowable charges within the meaning of 2 CFR 200 (formerly OMB Circulars A-122 and A-110). The General Accountant is also responsible for reconciling all Solidarity Center headquarters bank accounts, headquarters fixed assets schedule, prepaid accounts, and Accounts Receivable.
Qualifications
Either a Bachelor's Degree in Accounting or a Bachelor's Degree in Business with twelve credit hours in accounting courses
Working knowledge of accounting theory and government grant regulations including 2 CFR 200 (formerly OMB Circulars A-122 and A-110)
Two years of experience in accounting
Experience with non-profit organizations (not required but highly preferred)
Intermediate skills in Microsoft Excel
Proficiency in Microsoft Word
Working knowledge of Deltek Costpoint accounting software
Ability to work independently in order to complete assigned tasks, be detail-oriented, and produce accurate work.
Supervisor: Controller
Specific Duties:
Reconcile all headquarters bank accounts on a monthly basis;
Review and audit travel expense reports for headquarters program staff and assigned units;
Review and audit program-related expenses for headquarters departments;
Review monthly/quarterly financial reports with Program Officers for headquarters programs and assigned units and identify areas of potential overspending. Notify appropriate managers if there are problems with the timely resolution of potential or actual cost overruns;
Analyze and review balance sheet accounts such as deposits, prepaid expenses, accounts payable, accounts receivable reconciliation, and other accounts as assigned (not related to the field offices);
Prepare journal entries for headquarters fixed assets, prepaid expenses, accrued expenses, and other recurring entries;
Prepare account receivable invoices;
Assist as required in research and account analysis related to outside audits; and,
Perform other related duties as assigned.
This is a collective bargaining unit position, generously compensated with a gross annual salary starting at approximately $61,680 USD based on experience. A robust benefits package includes fully paid health insurance, a retirement plan and pension, life insurance, and ample paid time off for holidays, vacation, and medical leave. Pre-tax deduction programs are also available for commuting, dependent care, and health care expenses. In addition, we offer opportunities and funds for professional development.
About Us:
The Solidarity Center cultivates the values of diversity, equality, and inclusion among its staff and partners. It does not discriminate on the basis of race, color, religion, sex, sexual orientation, gender identity, national or ethnic origin, age, marital status, disability, veteran status, or any other status protected under applicable law. Candidates from traditionally underrepresented groups are strongly encouraged to apply.
If you are a candidate with a disability and require reasonable accommodations to apply for this position, please contact us at information@solidaritycenter.org.
For Candidates Applying from the AFL-CIO: Solidarity Center works in partnership with the AFL-CIO on recruiting and filling positions. Our policy is to notify the AFL-CIO prior to interviewing any of its current employees.
Apply HERE!
WHEN APPLYING: Be sure to indicate that you saw this information at UNIONJOBS.COM.