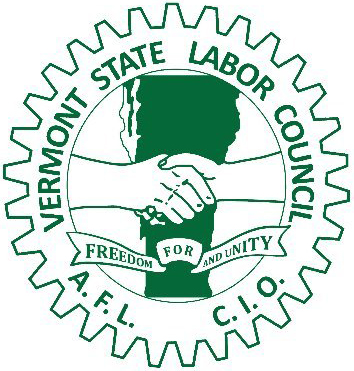 Vermont State Labor Council, AFL-CIO

Organizing Intern
Focused on Chittenden, Washington, and Northeast Kingdom, VT
Hours & Pay: Summer Internships are 40hrs/week. $1,500 stipend plus hourly wage based on campaign placement. Hourly wage is variable but it will at least be the state minimum wage of $13.18/hr.
About Us
Whatever is done for you working men must be done by yourselves. I cannot do anything for you, but there is nothing you cannot do for your selves. Get together in one great union and make the injury of one, the injury to all and then you can accomplish something!"
– Eugene Debs, closing remarks at a 1914 rally in Barre
If you believe labor is the hope of the world; if you believe workers are key to ending the exploitation of people and the planet, then join us to help build Vermont's labor movement. The Vermont State Labor Council believes that organizing and direct action which is grounded in class struggle unionism is the most effective means to achieve social, economic, and climate justice. We believe in solidarity that transcends all bigotry and divisions in society. Solidarity is how we win as the global majority. They are few; we are many.
As a labor federation, we represent all kinds of workers in practically every industry – from municipal workers to healthcare workers to maintenance workers to childcare workers and more. When a Local goes out on strike, we are there to support them materially and morally. When a workplace needs help organizing, we are there to offer them both guidance and on-the-ground support.
Internship Summary
The Vermont State Labor Council is offering organizing training with hands-on experience, using the methods developed by Jane McAlevey, Labor Notes, and the Institute for Organizing Unions, in addition to ongoing support through Worker Circles and one-on-one mentorship. Our program is a blend of theory and practice, including work experience for anyone interested in becoming part of Vermont's labor movement.
Some of the skills you may develop include the following: Active Listening, Communication, Relationship Building, Problem-solving, Time Management, Structural Organizing, Collaboration, Decision-making, Power Mapping, and Strategic Corporate Research.
Some of the subjects you may learn about include Labor Law, Labor History, Labor and Industrial Relations, and Political Economy.
You will first learn about labor history, theory, and tactics. You will then be placed in the field on active organizing campaigns where you can develop your skills and get a real understanding of organizing work.
You will receive mentorship from experienced organizers who believe in union democracy and letting workers lead, which is what we believe is necessary to win in today's economy.
Preferred Qualifications:
We are looking for candidates who understand that workers are the leaders and organizers are supporters and guides. Excellent listening and communication skills are essential. Candidates should also be able to work with a diverse community, possess a strong work ethic, and be able to take direction.
A valid driver's license and regular access to a vehicle may be necessary for some campaigns; if you do not have these, please let us know and we will try to find a suitable campaign.
To Apply
Please email vslcaflcio@gmail.com
Include your name, email, phone number, and current city/town
Please attach a résumé
Answer the following questions:
Tell us something about yourself!

Why are you interested in unions and the Vermont labor movement more generally?
What does worker power mean to you?
What role do you think workers have in fighting for social, climate, and economic justice?
The Vermont State Labor Council, AFL-CIO is committed to creating an organization representative of the diversity within the working class and capable of creating change. To that end, we are actively seeking applications from qualified candidates from groups currently underrepresented in our organization for this position. The Vermont State Labor Council, AFL-CIO is an equal opportunity employer.
WHEN APPLYING: Be sure to indicate that you saw this information at UNIONJOBS.COM.