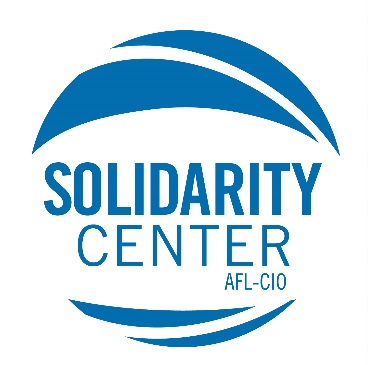 Solidarity Center

Senior Media Relations Officer
Based in Washington, DC



(hybrid telework/in-person schedule)
Location: Washington, DC
Application deadline: when filled
Please Note: Solidarity Center staff enjoy a hybrid telework/in-person schedule. We also have a mandatory vaccine policy and safety protocols in all our facilities. All candidates applying for this role will be expected to adhere to these policies and to work in the Washington, D.C. office a minimum of three days per week unless an ADA or health-related exemption is approved.
Summary of Position: In a newly created position, the Senior Media Relations Officer will direct the Solidarity Center's overall press strategy to support the organization's campaigns, programs and economic and social justice priorities. This position will be supervised by the Communications Director, under the leadership of the Executive Communications Director, who will create the vision for and manage the growing Communications Department. This individual also will coordinate closely with the Campaign Communications Director and field and program directors.
Working closely with the Solidarity Center's full communications team, campaigns team, field offices, and regional and thematic departments, the Senior Media Relations Officer will be responsible for developing and executing effective media strategies that support workers' efforts to win economic justice, strengthen democracy, and advance broad social justice objectives. The position will be based in Washington, DC, with occasional international travel to connect with global partners and Solidarity Center field offices.
The Senior Media Relations Officer serves as the Solidarity Center's primary contact with the U.S. and international press, maintaining the organization's current media relationships and fostering new ones. As a skilled communicator who can translate complex issues and jargon for myriad outlets, this individual will package, brief, discuss, pitch and promote the priorities and programs of the Solidarity Center accurately and effectively to the press, in public and private meetings.
Critical to success in this role will be a deep knowledge of the digital, print, and broadcast media landscape, including a solid list of established media contacts and an understanding of their priorities; experience spotting trends and developing narratives that align with news cycles; stellar verbal and written communications; a track record of earned media results; relevant campaign experience; keen political judgment; and the ability to work across teams and country offices to support the organization's strategic priorities. International experience and familiarity with global worker rights and/or union-building campaigns will be valuable assets.
Qualifications
The Senior Media Relations Officer must have the ability to work independently and without supervision and is thoroughly conversant with current events and ongoing political, economic, social and trade union developments relevant to Solidarity Center's work. This individual has a broad understanding of the Solidarity Center's programs at country, regional and global levels. Previous professional experience in communications, journalism, digital media and/or media relations, and/or experience in the Solidarity Center as a Program Officer III are required. This individual must have the ability to manage multiple assignments simultaneously, respond effectively to unexpected challenges and make substantive decisions that have major effects on costs and completion of projects. Fluency in a foreign language is a plus.
Experience developing and executing strategic media plans on economic or social justice issues and campaigns
Experience in international worker rights and union-building campaigns preferred
A deep understanding of the fast-changing media environment, and the ability to identify key event and media opportunities, secure interviews and produce appropriate and high-quality collateral—e.g., press releases, statements and fact sheets
Ability to collaboratively plan and implement strategies that anticipate opposition/challenges, as well as respond to rapid-onset events
Experience maintaining frequent communication with reporters, columnists and editorial board members, including through media relations platforms such as Cision, Muckrack or Meltwater
Strong ability to prepare Solidarity Center, worker and ally spokespeople for media interviews
Experience with unions, community, international human rights, electoral and/or political organizations or other labor-related organizations
Degree in communications, journalism, labor relations, political science or international affairs, or a minimum of 10 years equivalent work experience
Deep understanding of labor movement dynamics globally and in the United States
Exceptional writing/editing, storytelling, critical thinking and analytical skills
Excellent listening, communication and problem-solving skills
Experience working effectively in politically sensitive and high-pressure environments using good judgment and discretion
Ability to understand and effectively articulate Solidarity Center's mission and programs to diverse audiences
Ability to regularly meet deadlines
Excellent interpersonal skills, specifically the ability to relate to and communicate effectively with Solidarity Center staff, journalists, U.S. and foreign trade union leaders, representatives of non-governmental organizations and worker leaders
This position entails occasional and at times frequent travel outside the United States.
Specific duties:
Direct, develop and drive both proactive and reactive/rapid response media relations strategies focused on the Solidarity Center's key issues and campaigns
Manage media requests, serve as primary press contact and proactively work with all press, including columnists, producers, influencers in the media and commentators
Maintain up-to-date media lists, including pitch notes
Assist campaigns and programs in strategic efforts to generate earned media in close coordination with the Communications and Campaign Communications Directors, thematic departments and field offices
Work closely with field staff to understand, capture and uplift partner and worker voices and stories
Identify rapid-response and other media opportunities, conducting appropriate outreach, e.g., issue briefings, long-lead pitches, background interviews, cold calling
Monitor media coverage, informing leaders and staff about key issues and helping develop responses as necessary
Maintain current and cultivate new media relationships across the gamut of journalism
Coordinate with the Digital Strategy Officer to integrate online strategies and initiatives related to media influence
Perform other tasks as assigned
In compliance with federal law, all persons hired will be required to verify identity and eligibility to work in the United States and to complete the required employment eligibility verification document form upon hire.
This is a collective bargaining unit position, generously compensated with a gross annual salary starting at approximately $99,673 USD based on experience. A robust benefits package includes fully paid health insurance, a retirement plan and pension, life insurance, and ample paid time off for holidays, vacation, and medical leave. Pre-tax deduction programs are also available for commuting, dependent care, and health care expenses. In addition, we offer opportunities and funds for professional development.
The Solidarity Center cultivates the values of diversity, equality, and inclusion among its staff and partners. It does not discriminate on the basis of race, color, religion, sex, sexual orientation, gender identity, national or ethnic origin, age, marital status, disability, veteran status, or any other status protected under applicable law. Candidates from traditionally underrepresented groups are strongly encouraged to apply. If you are a candidate with a disability and require reasonable accommodations to apply for this position, please contact us at information@solidaritycenter.org.
For Candidates Applying from the AFL-CIO: Solidarity Center works in partnership with the AFL-CIO on recruiting and filling positions. Our policy is to notify the AFL-CIO prior to interviewing any of its current employees.
Apply HERE!
WHEN APPLYING: Be sure to indicate that you saw this information at UNIONJOBS.COM.