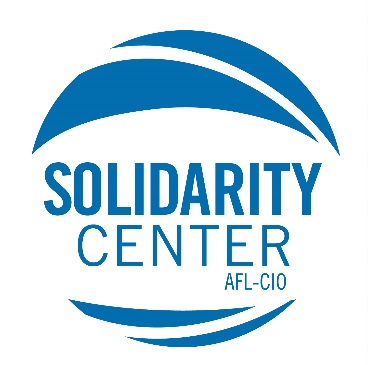 Solidarity Center

Senior Organizer
Mexico
Based in Mexico City
Senior Organizer, Mexico
Americas Mexico City, Mexico
Location: Mexico
Deadline for Application: until filled
Summary
Solidarity Center seeks an experienced Senior Organizer to design and coordinate dynamic and effective organizing efforts for its growing program in Mexico, including national level campaigns, training, and movement-building. This individual will play a central role in transforming the country's labor movement, with responsibility for coordinating organizing programs, including international solidarity efforts with the AFL-CIO, U.S. unions, and the Global Union Federations (GUFs). As part of Solidarity Center's mission to advance global solidarity, whoever takes this role must be prepared to lead multiple unique organizing efforts and to identify and implement organizing strategies to support and build solidarity with unions in the region.
The successful candidate will be experienced in all aspects of union organizing and campaign-building, with a track record of developing and winning organizing drives, training organizers, and leading successful contract campaigns. The Senior Organizer will help develop and drive successful organizing and build strong international labor solidarity in the process. The candidate will be self-driven, creative, and able to design and execute effective strategy in varied organizing environments. Dedication to international worker solidarity is critical to success in this role.
This position will include extensive travel within the country.
This position reports to the Regional Director for the Americas and coordinates activities with the Country Program Director.
Qualifications
Extensive knowledge of union organizing and collective bargaining.
Extensive previous trade union experience, particularly in leading strategic organizing drives and campaigns.
Ability to work independently and lead teams of organizers.
Good communications and writing skills.
Computer literacy for word processing and simple spreadsheets.
Good interpersonal skills.
Specific Duties
Support unions and workers in Mexico in their organizing efforts.
Assess organizing strategy in the region and help develop effective strategic organizing campaigns that advance the labor movement.
Train local unions/workers on organizing, comprehensive campaigning, and strategic research.
Serve as a hub/resource for country-specific information on organizing and bargaining.
Work with local partners to help build coalitions.
Assist headquarters with arranging in-country visits for U.S. trade union visitors in coordination with the Regional Program Director and Country Program Director.
Facilitate partnerships between the AFL-CIO and US unions with regional unions as related to organizing, building international solidarity and powerful campaigns.
Prepare timely, well-written reports in accordance with deadlines.
Share information on country conditions and labor issues with other departments at Solidarity Center, as appropriate.
This is a collective bargaining unit position, generously compensated with a gross annual salary starting at approximately $101,186.09 USD based on experience. The Solidarity Center offers allowances for housing, education, and annual home leave. A robust benefits package includes fully paid health insurance, a retirement plan and pension, life insurance, and ample paid time off for holidays, vacation, and medical leave.
The Solidarity Center cultivates the values of diversity, equality, and inclusion among its staff and partners. It does not discriminate on the basis of race, color, religion, sex, sexual orientation, gender identity, national or ethnic origin, age, marital status, disability, veteran status, or any other status protected under applicable law. Candidates from traditionally underrepresented groups are strongly encouraged to apply.
If you are a candidate with a disability and require reasonable accommodations to apply for this position, please contact us at information@solidaritycenter.org.
For Candidates Applying from the AFL-CIO: Solidarity Center works in partnership with the AFL-CIO on recruiting and filling positions. Our policy is to notify the AFL-CIO prior to interviewing any of its current employees.
Apply HERE!
WHEN APPLYING: Be sure to indicate that you saw this information at UNIONJOBS.COM.