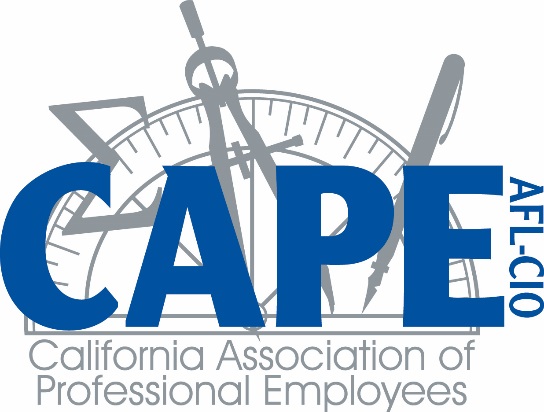 California Association of Professional Employees

Labor Relations Director
Based in Pasadena, CA
Job Title: Labor Relations Director
FLSA Status: Exempt
EXPECTATIONS FOR ALL EMPLOYEES
Support the organization's mission, vision, and values by exhibiting the following behaviors: excellence, competence, collaboration, innovation, respect for others, inclusion, equity, accountability, and ownership.
POSITION SUMMARY
Under the direction and general supervision of the President and Board of Directors, the Executive Director is responsible for managing CAPE's programs, operations, and staff in its day to day activities, collaborating with staff to advance the goals and mission of the organization on behalf of the membership. The ideal candidate will manage representation services, negotiate on behalf of the Association's bargaining units, represent the Association's members in administrative and grievance arbitration proceedings, and interface with various labor, management, and public officials.
The Labor Relations Director works collaboratively with the Communications Director and Office Manager and has shared supervision over the Business Agents in managing CAPE's programs and staff.
ESSENTIAL FUNCTIONS
Collaborate with appropriate office and field staff, assign tasks, assist with evaluations, conduct periodic staff meetings, or similar as directed by the President or Board of Directors.
Advise, consult, assist, and support the President or Board of Directors to identify key issues and priorities for optimal success in operations, representation, and negotiations.
Attend/monitor meetings of the CAPE Board of Directors, Coalition of County Unions (CCU) L.A. County Federation of Labor, COPE, the L.A. County Board of Supervisors, and similar meetings, trainings, conferences, and/or conventions as assigned by the President or Board of Directors to monitor for potential actions that could impact CAPE.
Develop and conduct trainings, informal meetings, and programs for the membership, delegates, and negotiating teams as coordinated with the President or Board of Directors.
Collaborate in the development and implementation of ongoing membership recruitment campaigns.
Identify representation and collective bargaining related issues and develop and implement related member campaigns.
Advise the membership of their rights and obligations under their contracts and be an advocate for those who are charged with policy violations that risk being disciplined.
Attend, meet, and consult with parties at grievance meetings, assist with arbitrations, unfair labor charges, and other legal matters from preliminary stages through final determination.
Lead in negotiating collective bargaining contracts between member bargaining unit teams and Los Angeles County Management as well as participate in joint labor-management committees on subjects pertinent to the contract and/or important to CAPE members.
During active bargaining unit negotiations, assist with compiling information requests, completing necessary research, analyzing government budgets, formulating proposals, and monitoring the progress of counterproposals.
Draft letters or other written correspondence and collaborate with CAPE Staff in designing publications.
Be proactive in developing and maintaining productive and professional relationships with L.A. County Management.
Develop and maintain community and labor contacts and keep channels of communication open with political and community leaders.
Supervise outside counsel when retained.
MINIMUM REQUIREMENTS
A Bachelor's Degree or higher.
At least five years as staff or comparable experience with union work.
Experience in internal organizing, member recruitment, grievance administration, representation, and collective bargaining contract negotiations.
Exemplary oral and written communication skills.
Knowledge of campaign strategies: political, organizational, and collective bargaining/contract negotiations.
Ability to prioritize and carry out assignments with minimal supervision.
Ability to effectively work with others and form strong working relationships.
Willingness to work a flexible schedule, including evenings and weekends, and travel as needed.
Possess a valid California Driver's License, proof of insurance with required minimum coverage, and a dependable vehicle that will be available for all work hours.
DESIRABLE QUALIFICATIONS
A Master's Degree or equivalent with five year's recent experience working with labor unions.
Knowledge specifically of public sector collective bargaining and civil service rules.
An understanding of public employee pension systems and the issues they face in today's political arena.
COMPENSATION AND BENEFITS
Starting Salary of $96,190.
Benefit package provided by employer includes medical, dental, vision, and retirement.
Vacation and sick leave, plus paid holidays.
TO APPLY
Send an email with cover letter and résumé to Carmen Lopez at carmen@capeunion.org . This position is open until filed; however, the posting/acceptance of applications may close at any time.
AFFIRMATIVE ACTION EMPLOYER
CAPE is an affirmative action employer and encourages applications from all qualified candidates regardless of race, ethnicity, national origin, sex, sexual orientation, gender identity, marital status, religion, disability, or any other class protected by law.
WHEN APPLYING: Be sure to indicate that you saw this information at UNIONJOBS.COM.