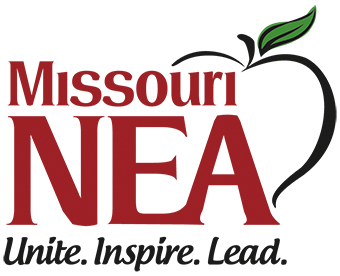 Missouri NEA



Executive Director
Based in Jefferson City, MO
ASSOCIATION OVERVIEW
The members of the Missouri National Education Association are public school teachers, librarians, counselors, coaches, school psychologists, administrators, and higher education faculty. We are proud to include among our membership all categories of education support professionals: bus drivers and custodians, teacher aides and paraprofessionals, nurses, school secretaries, and food service workers.
Our members are employed in public school districts across the state of Missouri, as well as state schools, community colleges, and university campuses. Missouri NEA also represents Aspiring Educators, who are students enrolled in higher education pursuing a degree in education, and MNEA- Retired, who are former school employees who have retired from a career in education.
Missouri NEA is the leading advocate for public schools, public school students, and public school employees in Missouri. MNEA is a fierce defender of public sector collective bargaining rights as a means to bring educator and support staff voice into the decisions that affect our students. Through various legal programs, MNEA protects the employment rights of our individual members and our local associations. MNEA promotes and helps build support for public education and offers a full program of professional development opportunities and resources for Missouri educators.
MNEA's legislative program provides an effective presence in Jefferson City and Washington, D.C., as policies affecting children and public education are crafted and debated. Through MNEA's political program, we support candidates for office who will vote for children and public education once elected.
POSITION OVERVIEW
The Missouri NEA Executive Director will manage the internal affairs of the Association, serve as consultant and advisor to the officers, Board and governing bodies of the Association, and represent the Association on matters of established policy, positions, interests and resources at the discretion of the Board and President.
The Executive Director will:
Serve as a liaison between staff and the Board.
Ensure that the staff implements policy, program, and priorities (as defined by the Board of Directors) via day-to-day operations.
Ensure all employees receive regular evaluations.
Report and/or hold regular discussions with the Board regarding progress, problems, successes and concerns related to the day-to-day operations.
Receive an annual evaluation by the Board.
Report and hold regular discussions with the Board regarding the financial situation of the Association.
Assure that at least one governance district leader (from the area where the vacancy exists), the MNEA President, and the MNEA Vice-President, are included in interviews for vacant UniServ Director positions.
OPPORTUNITIES AND CHALLENGES FACING MISSOURI NEA
Providing visionary leadership that demonstrates the relevance, power, and value of MNEA membership to address diverse member needs.
Communicating with clarity about how local, state, and national politics impact public education.
Unifying and empowering members to develop strong and effective local affiliates, to provide resources and leadership for professional growth, and to advocate for public education and public education employees.
Encouraging greater political action in a rapidly changing political environment. MNEA has an opportunity to cultivate bipartisan relationships to move pro-education legislation.
Continuing to strengthen external relationships to influence pro-public education policies and their proper implementation.
Promoting social and racial justice issues that impact students and educators and ensuring that all educators and students have the tools and supports in place to be successful.
Building member capacity and engaging them as empowered activists to grow and strengthen MNEA in support of their professional interests. Capitalizing on MNEA's 50 years of history of actively advocating and protecting public education and the employees that support our students on a daily basis.
Ensuring that the necessary resources are available so that MNEA staff and members build the capacity to engage in bargaining behaviors that define true partnerships with school, district, and state leaders.
Capitalizing and strengthening the MNEA brand by building partnerships with external organizations who support MNEA's mission and values.
Prioritizing diversity and developing strategies or a targeted campaign to attract a new generation of talent to the education profession, while utilizing the skills and expertise of veteran talent.
REQUIRED COMPETENCIES
Member Focus
A leader who values public education and is focused on member needs. Someone who believes in member engagement, trust, and loyalty, and who is committed to fostering strong relationships among MNEA and its members. An experienced leader who has successfully demonstrated the ability to implement high quality programs and services that brings value to members. Demonstrated experience in using data to identify additional ways to offer value to members' professional practice and careers. Ensures that MNEA stays vibrant and relevant as the education landscape and the demographics of the public education workforce continue to evolve. An influential leader who understands membership and has effectively led innovative strategies, programs, initiatives, and policies to attract and increase new membership. An established leader with the ability to drive member engagement and to increase member retention.
Communication
An engaging and influential public speaker with strong oral and written communication skills. Must be an active listener and effective communicator who has excelled in building successful internal/external relationships. Must have an established record of fostering teamwork and consensus, effectively managing conflict, provoking creative problem-solving, necessary risk taking, and is inclusive of diverse individual and cultural perspectives. Ability to process vast amounts of information; synthesize and incorporate multiple viewpoints and perspectives including constructive feedback.
Strategic Planning and Execution
Documented experience in leading organization-wide efforts in planning, implementation, process improvements, innovation, financial management, and building high performance work teams. A record of executive leadership in strategic planning that required significant organizational change, including experience utilizing reliable methods to ensure accountability and timeliness in the execution of strategic goals and objectives. Strong ability to delegate but resists the urge to micromanage. An individual who possesses the ability to manage multiple projects with clear priorities and to easily articulate the connections between the big picture and specific action plans and timetables.
Leadership
A passionate public education advocate, with a proven record of senior organizational leadership, who understands the central role educators play in leading change in their profession. A visionary leader who has confidently engaged others to identify and work toward common goals. Must have the confidence to lead courageously and possess resilience in a rapidly changing environment. Must be a bridge builder who has success in building and maintaining effective coalition partnerships and is able to identify, convene, and connect leaders of diverse backgrounds.
Must demonstrate evidence of success in achieving desired outcomes when leading organizational innovation and change; a courageous leader who has shown organizational savvy and flexibility in confronting and adapting to challenging and changing political/organizational realities and is capable of and willing to voice respectful and effective dissent when and where appropriate.
An organizer with a solid grasp of the appropriate role that staff play in building member power. Must possess a growth mindset and demonstrate proven ability to successfully grow a membership base. An empathetic leader who has a demonstrated, successful record of attracting and motivating highly talented staff and is highly skilled at coaching and mentoring others. Must have a collaborative work style and be able to communicate effectively with a broad range of internal and external partners.
PREFERRED EXPERIENCE
A minimum of 5-10 years of middle or senior management experience in positions of increasing responsibility, in the field of education, labor/union advocacy, public policy, not-for- profit leadership.
Experience working in public education.
Experience working in a member-based organization, reporting to and advising an elected board of directors.
EDUCATION
Bachelor's degree from an accredited four-year college is required; Master's or Higher Degree preferred.
COMPENSATION PACKAGE
Commensurate with experience and qualifications.
TO APPLY
To be considered for this position, please provide the following:
A current résumé reflecting qualifications for this position
A Letter of Application which specifically addresses how accomplishments in your career have prepared you to meet the challenges and opportunities presented in this position.
All materials must be sent electronically to the following: Phil Murray, President
Missouri National Education Association phil.murray@mnea.org
For all questions regarding this search, including confidential inquiries, please contact: Phil Murray, President
Missouri National Education Association phil.murray@mnea.org
APPLICATION DEADLINE
Application materials will be accepted March 1 – March 31, 2023
WHEN APPLYING: Be sure to indicate that you saw this information at UNIONJOBS.COM.