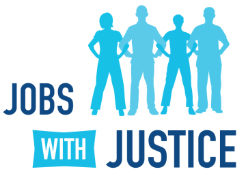 Jobs With Justice

Development Coordinator
Based in Washington, DC
About Jobs With Justice Education Fund
Jobs With Justice Education Fund is a national network expanding people's ability to come together to improve their workplaces, their communities and their lives. We create solutions to the problems working people face by leading campaigns, changing the conversation and moving labor, community, student and faith voices to action. We win real change at the national and local levels by challenging corporate greed and demanding an economy that works for all. Learn more at www.JWJ.org.
We are seeking a positive, highly skilled, and motivated Development Coordinator for our national office. This position will ideally be located in our Washington DC office (with possibility for remote/hybrid working arrangements). The Development Coordinator is responsible for overall management of our internal fundraising processes including database management, small-dollar individual fundraising, donor acknowledgment, and list building. The ideal candidate for this position is a highly organized, proactive person who can help us advance our work plan, stay on track and also play a variety of other important roles on our four-person Development team. The Development Coordinator is supervised by the Director of Development.
Primary Responsibilities
Development
Leads our donation processing and acknowledgment system for all institutional and individual giving.
Processes donations and prepares acknowledgement letters and other funder/donor correspondence
Leads on production and mailing of appeal letters and other external online and offline correspondence to donors.
Supports foundation and individual prospect research.
Coordinates and facilitates any new revenue experiment projects
Database Management
Manages all donor data and data entry functions through Salesforce.
Maintains complete and accurate foundation, institutional and individual donor records.
Creates quarterly fundraising reports and other database reports as needed.
Leads on all Salesforce projects including coordinating Salesforce consultant.
Partnerships and Network Support
Leads on a variety of external partnerships that relate to successful implementation of fundraising program.
Plans and implements network-wide fundraising support, including creation of communities of mutual learning, and implementation of webinar series.
Represents the organization at conferences, events and webinars.
Supports ongoing technical support to our Jobs With Justice network of coalitions.
Initiates and executes new ways to support our network of local coalitions.
Special Events
Leads on administrative, logistical and auction support for annual Awards Celebration and other fundraising/networking events
Leads our annual Legacy Award Program nomination process with internal and external partners.
Coordinates our annual money manager luncheon.
Miscellaneous special projects coordination as needed in support of cultivating our universe of supporters.
Administrative
Manages joint fundraising calendar for team.
Manages calendar for internal team meetings.
Coordinates funder and donor meetings.
Leads annual state registration process for the organization.
Other duties as assigned by the Development Director.
Signs we are on track: A successful Development Coordinator
Consistently supports and in some instances leads the Development team to advance all aspects of fundraising and development strategies.
Consistently leads in all aspects of offline and online individual fundraising, including coordinating, drafting and finalizing appeals.
Consistently demonstrates strong organization and communications skills that contribute to the overall success of the Development team.
Consistently leads the Development team to advance all aspects of special events.
Maintains a proactive, exploratory attitude leading to creative new ideas for revenue generation for JWJ.
Maintains detailed, accurate and updated information on all funders and donors within the in-house database software and other tracking systems.
Ensures complete documentation and record-keeping of all funder/donor documents, including grant agreements and copies of checks.
Communicates about and documents work, outcomes, updates and developments in a timely and strategic way.
Successfully transfers knowledge and skill in order to build the capacity of local coalitions and national staff.
Effectively communicates and collaborates within Institutional Advancement department, JWJ staff teams, and local affiliates and partners.
Is accountable for and follows through on agreed upon work plans and actions.
Demonstrates the ability to contribute to inter-disciplinary teams and colleagues in a complex environment.
Qualifications
Bachelors degree or equivalent work experience
A minimum of two years' experience in a development, marketing, or communications role
Knowledge of fundraising best practices
High degree of computer literacy and comfort using Microsoft Office Suite, especially Excel and Word
Experience with Salesforce or other donor databases preferred
Self-starter with the ability to work efficiently independently and within a team setting
Excellent verbal and written communication skills
Excellent interpersonal skills
Excellent ability to manage many projects at once with clear attention to detail
Occasional travel, with required travel to DC as part of the planning and execution of our Annual Awards Celebration (if not located in DC).
Clear commitment to JWJ's values of putting people over profit, dismantling white supremacy and patriarchy, and building collective power for working people. Experience with working with nonprofits.
Experience managing social media platforms a plus
Salary: This is a full-time position with starting salary between $64,805 and $68,405 depending on experience and in accordance with collective bargaining agreement.
Benefits: Generous benefits package that includes paid vacation, fully-covered medical, dental and vision insurance, and retirement benefits.
This is a union-represented position, represented by the Washington-Baltimore News Guild, CWA.
How to Apply:
Submit résumé, relevant writing/digital samples, references, and cover letter/letter of interest to info@jwj.org.
Jobs With Justice Education Fund is an affirmative action employer and strongly encourages people of color, women, l/g/b/t/q individuals, those with disabilities, and those with working class backgrounds to apply.
Frequently cited statistics show that people of color, women, trans, and non-binary people, as well as other structurally marginalized groups apply to jobs only if they meet 100% of the qualifications. JWJ encourages you to break that statistic and to apply. No one ever meets 100% of the qualifications.
Important notice for applicants:
Only candidates selected for an interview will be contacted. Please follow the job application instructions specific to the position you are applying for. Incomplete applications will not be considered. No phone calls or direct solicitations please.
WHEN APPLYING: Be sure to indicate that you saw this information at UNIONJOBS.COM.