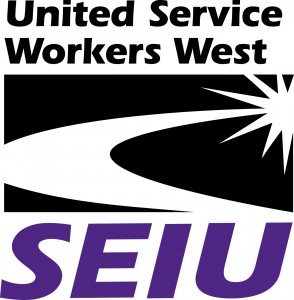 SEIU USWW
United Service Workers West



Director of Human Resources
Based in Los Angeles, CA
About SEIU-USWW: The Service Employees International Union (SEIU) is our country's fastest growing labor union with more than 2 million members. We have been on the cutting edge of building the power of low-wage workers in service industries and in leading the fight for social justice on issues such as health care, immigration, racial equity, gender equity, and the environment. SEIU United Service Workers West (SEIU-USWW) represents over 45,000 property service workers across California. Our union brings together janitors, security officers, residential, stadium, arena and airport workers. Our mission is to lead the way to a more just and humane society; building power for all service workers by developing member leadership and activism, winning strong contracts, organizing unorganized service workers, building political and community power, and engaging in direct action that demonstrates our strength and determination to win.
POSITION SUMMARY & RESPONSIBILITES: Working under the direction of the Chief of Staff and in collaboration with the Executive Leadership, this person will lead the Human Resources (HR) team and provide expert advice to senior management regarding all HR matters and will be relied on by staff at all levels of the organization to provide HR expertise.
Examples of Duties:
Lead a process to enhance and/or develop, implement, and enforce progressive HR policies and procedures for the organization through systems that improve the overall operation and effectiveness of the organization across multiple locations, campaigns and departments.
Lead the HR team in all aspects of the Union's day-to-day and overall HR operations including, but limited to: compliance, policy setting, hiring, recruitment, onboarding, employee relations, and leadership development.
Remain current on regulations, laws, industry trends and best practices; and to keep the organization compliant by advising management and making timely changes in practices and policies.
MINIMUM QUALIFICATIONS & SKILLS: Graduation from an accredited college or university in relevant field or equivalent experience in HR, business or organizational development that provides the following knowledge, skills & abilities.
At least five years of professional experience working in human resources, is required; five years of managing human resources professionals, is highly desired.
Professional experience in all aspects of human resources including EEO, ADA, HIPPA, FLSA, and FMLA/CFRA, 1-9 compliance, position classification, compensation, recruitment and selection, employee relations, development and implementation of policies and procedures, and leading professional development, is required.
Demonstrated ability to think strategically, assessing risks, and streamlining processes and procedures.
Be a leader with the poise, knowledge, and communication skills to be a trusted partner and maintain effective relationships with employees, members and other stakeholders at all levels.
Experience working with a labor union, public policy, or non-profit organization, is highly desired.
Experience creating and maintaining a workplace environment that fosters a strong and inclusive team culture, and draws on the strength of the diversity of the staff.
ADDITIONAL REQUIREMENTS:
Ability to travel in California, ability to work extended and irregular hours, and work offsite.
Valid drivers' license, use of a car for work, and specified automobile insurance coverage are mandatory.
All employees are required to be fully vaccinated and report their vaccination status as a condition of employment.
All employees must abide by USWW Safety Guidelines, including the required use of face covering while working.
SALARY & BENEFITS:
Salary is competitive and negotiable based on experience.
Full benefits package including health insurance, dental, vision, a pension plan and paid time off
Compensation
Salary Range: $106,730.86 – $110,817.30
Apply HERE!
WHEN APPLYING: Be sure to indicate that you saw this information at UNIONJOBS.COM.