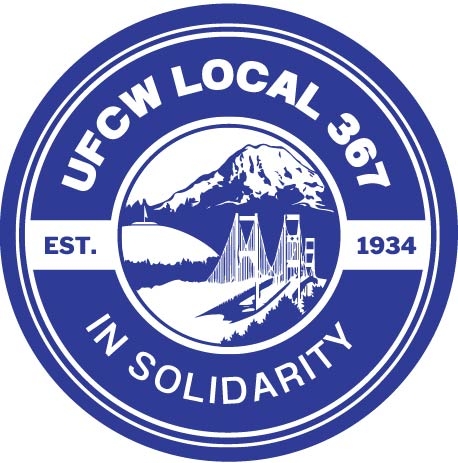 UFCW Local 367

Experienced Union Organizer
Based in Tacoma, WA
February 9, 2023
Position: Organizer
Salary Range: $56,843.28 – 92,952.60 per year plus Union paid benefits
UFCW 367 is a diverse member-driven union fighting for economic and social justice. We empower through respect, integrity, and dignity. Our strength comes from standing in solidarity with our communities to build a better life.
UFCW 367 Represents 8,000 members in Pierce, Mason, Thurston, Grays Harbor, Lewis, and Pacific counties.
The ideal Organizer candidate will bring 5 years previous experience in union organizing and possess these basic skills:
The ability to make and follow through on a work plan.
Effective and persuasive communications skills.
Basic writing and computer skills.
The ability to work with people from diverse backgrounds.
Willingness to conduct house visits and site visits.
Complete assignments within a timeline.
Move workers to overcome fear and take bold action and build one-on-one relationships with workers.
Experience using organizing software a plus. (technologically savvy)
Primary Responsibilities:
Planning executing and winning NLRB elections.
Collaborate with other organizers on yearly organizing goals consistent with the mission of the local.
Standardize systems and best practices that bring members into the union through NLRB elections and card checks campaigns.
Help devise benchmarks for campaigns, while creating tangible plans and strategies to achieve them.
Execute overall campaign plans and individual work plans, solely focused on growth.
Work with leaders and committees to educate, agitate and motivate workers into action.
Planning, mobilization and turnout for worksite actions, union events, marches, etc.
Conduct one-on-ones, site visits and worker-led committee meetings that move campaigns.
Maintain database with accurate and detailed information on worksites, individual workers, and assignments.
Prepare and manage independent work, calendars, files, and records.
Understand appropriate bargaining units under the NLRB "Community of Interest" standard.
Connect NLRB organizing to winning first collective bargaining agreements.
Other duties as assigned but not limited to membership and community support, political involvement and supporting other departments and staff in the Local Union.
Work Environment:
This position is a full-time position that occasionally requires long and irregular hours, including some nights, weekends, and holidays.
This position requires travel to worksites in the counties of UFCW 367's Jurisdiction. A valid driver's license and car with insurance required.
To Apply:
Interested candidates should their résumés to Mia Cardenas, Staff Director at: mcardenas@ufcw367.org, or fax 253-589-1512. Please include a cover letter when faxing.
WHEN APPLYING: Be sure to indicate that you saw this information at UNIONJOBS.COM.