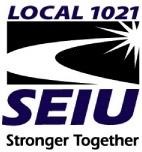 SEIU Local 1021

Senior Internal Auditor
Based in Oakland, CA
LOCATION: Oakland, California
We are looking for an experienced Accounting professional to fill our Senior Internal Auditor position and lead our progressive organization's compliance and internal control responsibilities in our Finance Department.
About Us:
SEIU 1021 is a diverse, worker-driven 21st Century Union organizing a progressive movement to build a just and fair society for all workers and communities. We are a strong and resilient organization of 60,000 public service workers in Northern California, who work to make our cities, schools, colleges, counties, and special districts safe and healthy places to work, live and raise our families. We value human dignity, equality, solidarity, and the principles of democracy.
The Role:
The Senior Internal Auditor is responsible for leading and conducting internal audit activities in accordance with established standards. The Auditor is responsible for ensuring compliance with Local requirements, optimizing resource management, and implementing effective internal controls. This position involves preparing, conducting, and supervising regular internal audits, as well as investigating various programs, contracts, functions, processes, policies, and activities to assess their effectiveness and compliance. The Auditor exercises discretion and independent judgment during auditing engagements and provides guidance and direction to assigned Finance team members.
Summary of Duties
Conduct operational audits, assess internal controls, and identify process improvements.
Develop recommendations to enhance internal controls, efficiency, and compliance.
Plan and oversee annual audit, compliance, and internal controls review.
Lead thorough audit projects, generating actionable reports with findings.
Collaborate with stakeholders to implement recommendations and best practices.
Supervise and develop finance staff, fostering a high-performing team
Educate staff, management, and contractors on compliance and best practices.
Track and manage inventory to ensure accuracy and optimization.
Stay updated on relevant policies, laws, regulations, and industry trends.
Support other non-audit work of the Finance Department
Pay and Benefits:
Our salary range for the Senior Internal Auditor is $117,241.55 – $134,827.78. We pay a competitive salary based on qualifications and experience. In addition, we provide a generous benefits package, including 3 weeks paid vacation, 16 Paid Holidays, fully paid Kaiser medical, car allowance, 401k Match, and a retirement pension. We offer a supportive and collaborative work environment.
Minimum Qualifications:
A bachelor's degree in a related field and/or an equivalent combination of education and experience
4+ years' experience of auditing or finance related analytical experience
Demonstrated ability to effectively build teamwork
Ability to work well with others
Sound interpersonal and communication skills
Preferred Qualifications:
Prior supervisory experience
Certified Internal Auditor (CIA) issued by the Institute of Internal Auditors OR Certified Public Accountant (CPA) issued by the American Institute of Certified Public Accountants
1+ years' working for the Finance department of a Labor Union
Proficiency in Microsoft Dynamics
To Apply:
Visit our online Career Center found HERE to apply. You must include a detailed résumé, cover letter indicating the position you are applying for, and the names, addresses, and phone numbers of three (3) references. This position is open until filled; however, the posting/acceptance of applications may close at any time. No phone calls please.
Your cover letter should answer the following questions:
Describe how your experience prepares you for the "responsibilities" specified in this job announcement.
Give examples of your work experience that demonstrates your mastery of some of the "skills and abilities" listed in this job announcement.
Describe how your work experience meets the "preferred experience" listed in the job announcement.
AFFIRMATIVE ACTION EMPLOYER
SEIU Local 1021 is an affirmative action employer and encourages applications from all qualified candidates regardless of race, ethnicity, age, sex, sexual orientation, marital status, religion, or disability. Local 1021 works to ensure fair treatment of applicants and employees and actively enforces policies against discrimination and sexual harassment.
WHEN APPLYING: Be sure to indicate that you saw this information at UNIONJOBS.COM.