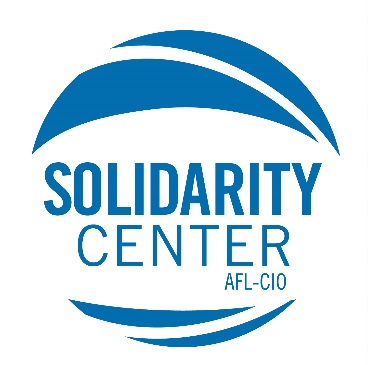 Solidarity Center

Campaigns Director
Organizational and Leadership Development
Based in Washington, DC



(hybrid telework/in-person schedule)
Location: Washington, DC
Application Deadline: Until Filled
Please Note: Solidarity Center staff enjoy a hybrid telework/in-person schedule. We also have a mandatory vaccine policy and safety protocols in all our facilities. All candidates applying for this role will be expected to adhere to these policies and to work in the Washington, D.C. office a minimum of three days per week unless an ADA or health-related exemption is approved.
Summary of Position
As a newly created position, the Campaigns Director will strengthen the Solidarity Center's work on one of our organizational priorities - maximizing strategic impact for workers. This individual will work closely with field leadership in connecting effective strategies across countries and in channeling needed resources to comprehensive campaigns.

The Campaigns Director will work within the Program Coordination team under the leadership of the Director for Organizational Development and in close collaboration with the Director of Program Strategy and Innovation. This position requires coordination with the Regional and Country Program Directors as well as the Directors of Trade Union Strengthening and Strategic Research. This individual will lead an extended team of organizers, researchers, and communications staff across the organization in their work on specific campaign(s) for which the Campaigns Director is responsible. This position may be based in Washington, DC or overseas, depending on the campaign(s) within the portfolio. Regardless of where the position is based, it includes regular international travel to connect with global partners and Solidarity Center staff and Country Program Directors (CPDs).
The Campaigns Director is responsible for all stages of campaign development and execution, working in coordination with Solidarity Center's regional teams, field offices, and thematic departments. This individual will guide and oversee the Campaigns team in designing and creating campaigns that assist workers, often across multiple countries and regions, to gain greater voice and create sustainable union structures to advance economic and social justice. The Campaigns Director also may work on campaigns that strengthen democracy and support union activists and leaders who are persecuted for asserting their rights. A third type of campaign that the Director may manage is advocacy around a broad social justice objective, such as eradicating gender-based violence or elevating the status of the care economy and its workers.
The Campaigns Director will consult with Solidarity Center's Rule of Law Department and, when needed, outside counsel, for legal guidance and assistance. This individual will work with the ITUC, GUFs, and appropriate staff at US affiliate unions and the AFL-CIO, either directly or through other Solidarity Center staff. The Campaigns Director will coordinate with Solidarity Center's Policy Director regarding strategies for engaging elected leaders and government. This individual will provide regular campaign status reports to Solidarity Center leadership and staff and, when asked, to the Board of Trustees.
Supervisor: Director for Organizational Development
Qualifications:
At least 5 years of experience leading significant, multi-dimensional campaigns with a strong preference for experience in worker rights and union building campaigns.
Ability to plan strategies that anticipate opposition and challenges.
Broad knowledge of national and international trade union, socio-economic and political issues and the ability to articulate these issues in public settings.
Thorough knowledge of the U.S. trade union movement and its institutions and familiarity with AFL-CIO policies and positions.
Academic background in labor relations, political science, or international affairs, or a minimum of 10 years equivalent work experience.
Experience working with research, communications, and other organizational partners in designing and executing campaigns.
Experience supervising and managing staff or leading teams.
Experience working abroad with a US or international labor organization (desirable, but not required).
Experience developing and managing budgets with accuracy and timeliness.
Understanding of risk management and cost benefit analysis in selecting and implementing campaigns.
Strong appetite for learning the relevant details necessary for success (e.g., corporate, national, and global partner structures, interests, and histories).
Ability to relate to and communicate effectively with diverse groups of people.
Ability to keep a diverse team focused and united and to inspire workers, partners, and staff.
Strong financial management skills.
Excellent written and verbal communications skills.
Word processing and spreadsheet skills.
Fluency in a foreign language (desirable, but not required).
This position entails extensive travel outside the United States for supervisory and campaign development and management purposes.
Specific Duties:
Guide and oversee the Campaigns team in developing, designing, and creating campaigns, with responsibility for all stages of campaign development and execution.
Directly oversee and manage the contributions of all staff assigned to the Campaign team(s), including those in other departments.
Articulate clear expectations, provide regular feedback, and hold staff accountable for their areas of responsibility within the scope of their campaign team(s);
Recruit, train, and mentor new staff;
Coordinate closely with other directors on the assignment of tasks and setting of priorities for any staff working on campaign team;
Consult and coordinate with Solidarity Center staff in headquarters and the field, with decision making authority on campaign operations;
Coordinate with Solidarity Center's Policy Director regarding strategies for engaging elected leaders and government;
Work with the ITUC, GUFs, and appropriate staff at US affiliate unions and the AFL-CIO, either directly or through other Solidarity Center staff;
Form/participate in coalitions with other unions and non-governmental organizations working toward shared campaign objectives;
Hold regular campaign team meetings, for the purpose of budget monitoring, review of timelines and information-sharing;
Provide regular campaign status reports to Solidarity Center leadership and staff and, when asked, to the Board of Trustees;
Provide direction, technical assistance and support for evaluation of campaigns, and, where appropriate, assist in recruiting outside evaluators;
Represent the Solidarity Center and the AFL-CIO in meetings, seminars and conferences in the US and abroad;
Assist in the production of Solidarity Center reports, proposals, educational materials, and other publications;
Promote an atmosphere of cooperation, coordination and respect among staff at all levels and across departmental/regional lines;
Promote equity and equality of opportunity for all staff, regardless of gender, race, sexual orientation, or other protected identities;
Know and follow Solidarity Center policies and procedures; ensure staff are aware of and comply with same; ensure timely financial and program reporting by the department; comply with SC policies and donor policies;
Attend Solidarity Center regular managers meetings and communicate with staff about new developments; and
Perform other tasks as assigned.
In compliance with federal law, all persons hired will be required to verify identity and eligibility to work in the United States and to complete the required employment eligibility verification document form upon hire.
This is a management position, generously compensated with a gross annual salary starting at approximately $157,000 a year, USD based on experience. A robust benefits package includes fully paid health insurance, a retirement plan and pension, life insurance, and ample paid time off for holidays, vacation, and medical leave. Pre-tax deduction programs are also available for commuting, dependent care, and health care expenses. In addition, we offer opportunities and funds for professional development.

The Solidarity Center cultivates the values of diversity, equality, and inclusion among its staff and partners. It does not discriminate on the basis of race, color, religion, sex, sexual orientation, gender identity, national or ethnic origin, age, marital status, disability, veteran status, or any other status protected under applicable law. Candidates from traditionally underrepresented groups are strongly encouraged to apply. If you are a candidate with a disability and require reasonable accommodations to apply for this position, please contact us at: information@solidaritycenter.org.

For Candidates Applying from the AFL-CIO: Solidarity Center works in partnership with the AFL-CIO on recruiting and filling positions. Our policy is to notify the AFL-CIO prior to interviewing any of its current employees.
Apply HERE!
WHEN APPLYING: Be sure to indicate that you saw this information at UNIONJOBS.COM.