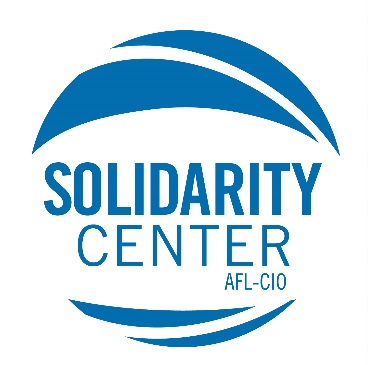 Solidarity Center

Strategic Researcher
Strategic Research and Campaign Development
Based in Washington, DC



(hybrid telework/in-person schedule)
Location: Washington, DC
Closing date of application: When filled.
Please Note: Solidarity Center staff enjoy a hybrid telework/in-person schedule. We also have a mandatory vaccine policy and safety protocols in all our facilities. All candidates applying for this role will be expected to adhere to these policies and to work in the Washington, D.C. office a minimum of three days per week unless an ADA or health-related exemption is approved.
The Solidarity Center is seeking an experienced Strategic Researcher to conduct research, help develop campaigns, and implement research strategies in coordination with union partners in countries around the world. Experience as a strategic researcher supporting comprehensive union organizing campaigns is required. Experience in international research and research training is highly desirable. The position requires strong writing, analytic skills, ability to thrive in a team environment and international travel.
Summary of Position:
The Strategic Researcher is responsible for all aspects of targeted research supporting Solidarity Center programs primarily focused on building toward and implementing organizing and collective bargaining campaigns. To be successful, the Strategic Researcher will provide creative strategies and organizational coordination to strengthen the Solidarity Center's campaigning capacity. In addition, the Strategic Researcher will provide advice, guidance, training and mentoring to the Solidarity Center's union partners at the national and local levels. The successful candidates must be able to work independently while also excelling at cross-cultural communications in a team environment. They will prepare and exchange information and coordinate activities with partner unions, SC field offices, other SC departments, the AFL-CIO, its affiliated unions, and other allied worker rights organizations. They will produce well-written program reports and provide compelling public presentations, group instruction, staff training, and mentoring. They will monitor programs to meet budget targets and programmatic results. Candidates who are Black, disabled, Indigenous, people of color, caste-oppressed people, rank-and-file union members and women are strongly encouraged to apply.
Job Qualifications:
At least five years of experience as a strategic researcher for a union or worker rights organization.
Demonstrated proficiency in employer, industry, financial, and economic research.
Experience leading staff in research and campaign implementation.
At minimum, a bachelor's degree in political science, international relations, labor relations or related field.
Passionate commitment to social, economic, and racial justice.
Effective time management skills, including prioritizing and managing multiple tasks, and demonstrated experience in personal work plans and goals.
Ability to communicate effectively across a wide variety of cultures and in politically sensitive environments.
Excellent oral and written communication skills.
Ability to collaborate with colleagues and external partners and find pathways for resolving differences in strategic approaches.
Availability to travel internationally as needed.
Highly desirable qualities:
Experience in international research and campaign implementation.
Experience in campaign research in non-traditional workplaces.
Experience in supply chain research.
Experience in union, community or social movement organizing and collective bargaining.
Fluency in foreign language(s).
Supervisor: Director, Strategic Research and Campaign Development Department
Responsibilities:
Plan, coordinate and conduct strategic research of employers to support organizing and collective bargaining including data collection, analysis, and report writing.
Incorporate research into overall campaign planning, including worker mobilization, community engagement and campaign leverage strategies.
Ensure accurate and rigorous methodology for quantitative and qualitative data collection and analysis.
Train and mentor Solidarity Center partners and field staff on research, campaign development and implementation.
Assist organizing teams to develop and implement tactics to support campaign strategies.
Track market and industry trends and economic indicators globally, regionally, and nationally.
Provide international and country-specific sectoral mapping.
Seek and evaluate new sources of information.
Coordinate with AFL-CIO, its affiliated unions, and other allied organizations.
Coordinate research projects with academic and community researchers.
Ensure that projects stay within designated budgets and timeline, produce written materials for internal and public use.
In compliance with federal law, all persons hired will be required to verify identity and eligibility to work in the United States and to complete the required employment eligibility verification document form upon hire.
Only finalist applicants will be contacted for an interview.
This is a collective bargaining unit position at the Professional III level, generously compensated with a gross annual salary starting at approximately $89,000 to nearly $100,000 based on experience. A robust benefits package includes fully paid health insurance, a retirement plan and pension, life insurance, and ample paid time off for holidays, vacation, and medical leave. Pre-tax deduction programs are also available for commuting, dependent care, and health care expenses. In addition, we offer opportunities and funds for professional development.
The Solidarity Center cultivates the values of diversity, equality, and inclusion among its staff and partners. It does not discriminate on the basis of race, color, religion, sex, sexual orientation, gender identity, national or ethnic origin, age, marital status, disability, veteran status, or any other status protected under applicable law. Candidates from traditionally underrepresented groups are strongly encouraged to apply. If you are a candidate with a disability and require reasonable accommodations to apply for this position, please contact us at information@solidaritycenter.org.
For Candidates Applying from the AFL-CIO: Solidarity Center works in partnership with the AFL-CIO on recruiting and filling positions. Our policy is to notify the AFL-CIO prior to interviewing any of its current employees.
About the Solidarity Center:
The Solidarity Center is the largest U.S.-based international worker rights organization. Its programs are based on the principle that, by exercising their right to freedom of association and forming trade unions and democratic worker rights organizations, working people can collectively improve their workplaces, call on governments to uphold laws and protect human rights, and be a force for democracy, social justice and inclusive economic development. Its programs in more than 60 countries focus on human and worker rights awareness, union skills, occupational safety and health, gender equality, migration and human trafficking and pro-legal strategies, bolstering workers in an increasingly informal economy. Founded in 1997 by the AFL-CIO to tackle the enormous challenges workers face in the global economy, the Solidarity Center works to promote democratic rights and respect for workers; raise public awareness about abuses of the world's most vulnerable workers; and, above all, help the world's workers secure a voice in their societies and the global economy.
Apply HERE!
WHEN APPLYING: Be sure to indicate that you saw this information at UNIONJOBS.COM.