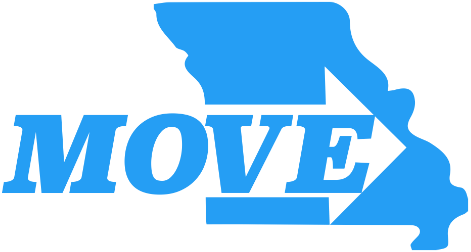 MOVE
Missouri Organizing and Voter Engagement Collaborative

Statewide Field Manager
Flexible within Missouri
(regular travel to Kansas City, St. Louis, and mid-Missouri locations will be required)
Position: Statewide Field Manager
Résumés are considered on a rolling basis.
About MOVE and MOVE Action
The Missouri Organizing and Voter Engagement Collaborative (MOVE) is a nonpartisan hub providing strategic and technical support for grassroots organizing groups committed to voter engagement. MOVE's role is behind-the-scenes, supporting existing movement organizations in developing and executing strategic integrated voter engagement plans. In doing so, MOVE coordinates the largest volunteer-led 501c3 integrated voter engagement program in Missouri.
Missouri Organizing and Voter Engagement Action (MOVE Action) fills one of the most significant gaps in Missouri's progressive movement – providing a c4 data hub and coordinating backbone for organizations committed to 1) winning on major progressive campaigns in any given cycle and 2) building long-haul power towards political transformation in Missouri. Working through member organizations, we are building independent political power that drives integrated voter engagement programs across strategic regions and constituencies in Missouri to win on progressive ballot issues and priority campaigns.
This role will support both organizations.
About the Position
MOVE seeks a Statewide Field Manager to support the development and execution of coordinated and centralized field programs rooted in grassroots and community-based organizing institutions. Through direct field support and troubleshooting, training and coaching, and centralized program development and implementation, the Field Manager will ensure that 8-12 member organizations are advancing strategic programs while building organizational capacity. The Field Manager will provide consistent program support to member organizations so they can run rigorous learning field programs year-round. The Field Manager will manage coordinated and centralized program infrastructure across the collaborative (i.e., centralized GOTV and coordinated signature gathering). This position will report to the Program Director, work closely with the data team, and partner with member organizations, campaigns, and allies as assigned.
Core Responsibilities
Build and implement statewide independent expenditure voter contact programs with grassroots organizations to meet signature collection and electoral goals
Manage goal setting, reporting, and accountability to impact field program (activities include signature gathering, electoral education/mobilization, GOTV, deep canvassing)
Support the implementation, assessment, and troubleshooting of progress toward meeting organizational goals related to voter contact and capacity building
Develop training curriculum and individualized workshopping sessions towards tailored capacity-building support for member organizations to meet their goals.
Regularly engage in organizational voter engagement activities to better understand program and ground support
Support the development of large-scale coalitional field infrastructure across member organizations, as needed, in campaign moments
Develop recruitment, training, and onboarding plans for roles within the campaign infrastructure
Other duties as needed
Qualifications
Demonstrated capacity to run a voter engagement program and track and deliver on voter contact goals
Minimum of two cycles working in field/organizing. Experience with grassroots voter engagement is a plus
Strategic political acumen to build an electoral analysis to meet power-building outcomes
Experience managing staff or interns, experience managing a coalition a plus
High levels of organization and task management
Nimble and comfortable adapting to change
Must respect and believe in the power of grassroots organizations and their bases
Strong verbal and written communication skills
Experience with the VAN (Voter Activation Network), VoteBuilder, or other civic engagement platforms. Experience with miniVAN manager, EveryAction, ThruTalk/ThruText is a plus.
Ability to manage a multi-leveled accountability structure for organizing program
Must have a driver's license, valid auto insurance, reliable transportation, and personal cell phone
Ability to travel frequently and work nights and weekends
Discretion and political acumen
Location
Flexible within Missouri, though regular travel to Kansas City, St. Louis, and mid-Missouri locations will be required.
Compensation
Competitive salary based on experience, with a floor of $50,000. Full benefits package included. This position is in the bargaining unit.
To Apply
Please send your cover letter, résumé, and references to: MOVEHiring@MOVEMO.org.
MOVE Action believes that a diverse, inclusive staff is a fundamental strength. We're committed to hiring people of all races, ethnicities, religions, ages, sex, genders, sexual orientations, and gender identities. People of color, women, LGBTQ individuals, and members of other minority or marginalized groups are strongly encouraged to apply.
WHEN APPLYING: Be sure to indicate that you saw this information at UNIONJOBS.COM.