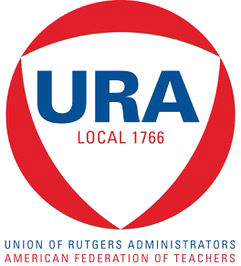 Union of Rutgers Administrators
AFT Local 1766

Full-Time Organizer
Contract Campaign
Based in New Brunswick, NJ
About the Union of Rutgers Administrators, AFT Local 1766:
The Union of Rutgers Administrators (URA) is a chartered local of the American Federation of Teachers (AFT) consisting of approximately 2,500 administrative workers. URA-AFT along with other AFT locals of academics, staff and nurses, represent over 11,000 workers at Rutgers University.
Job Description:
The URA is seeking a full-time position for a project Organizer to work on a contract campaign with union members in various locations in New Jersey. This position would be responsible for developing and implementing an organizing campaign to bring contract negotiations to a successful resolution. Among the key duties of the position are the following:
Developing an issues-based organizing plan that works towards the goal of a successful contract with Rutgers University;
Recruiting and sustaining engagement of union members;
Building relationships with members to facilitate stronger union involvement; and,
Drawing upon union leadership already in place through committees and other union organizational structures.
A strong candidate should be efficient with day-to-day tasks and offer critical input and creative approaches to meet campaign goals based on a thorough assessment of union members and non-members.
Day-to-day responsibilities will include running workplace or college campus meetings based on identified union member interest; entering workplaces on all universities campuses plus off-campus locations; planning and recruiting turnout for days of action; advising, organizing, negotiations and communications committees; and building the union's density; developing rank and file leadership. Additional tasks on emerging negotiations campaign issues and events will be assigned as required.
Qualifications and requirements:
A strong candidate will have:
Demonstrated capabilities in organizing and commitment to empower workers
Previous labor, student or community organizing
Strong communication and interpersonal skills
Ability to take direction and work well on a team
Requirements are as follows:
Willingness to work nights and weekends
Computer literacy
A valid driver's license and a vehicle
A hybrid of remote and in-person work.
Preferred Experience as follows:
Union organizing experience preferred.
Available to start immediately.
Salary and Benefits:
This position is covered by a union contract. Per the contract, the position will be paid $60,000-$75,000 per year depending on experience. Benefits are as per the collective bargaining agreement, and include generous medical, 401K, and paid time off benefits.
The candidate must be vaccinated for COVID-19 with booster(s) as per CDC recommendations as of the first day of work.
To Apply:
Submit letter of interest and résumé to: union@ura-aft.org. Provide references upon request.
WHEN APPLYING: Be sure to indicate that you saw this information at UNIONJOBS.COM.