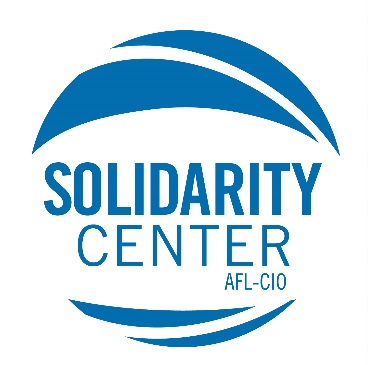 Solidarity Center

Senior Organizer for Bangladesh (TUS)
Based in Dhaka, Bangladesh
Location: Dhaka, Bangladesh
Deadline for Application: Open until filled
Summary
Solidarity Center seeks an experienced Organizing Director to support its organizing efforts in Bangladesh - one of our largest field offices. This includes managing relationships with relevant stakeholders on the ground and around the world. This individual is responsible for coordinating O&B initiatives, including multinational campaigns, with partner unions in Bangladesh. The Senior Organizer helps to develop and implement programs supporting workers and unions in Bangladesh, often in collaboration with the AFL-CIO, U.S. unions, and the Global Union Federations (GUFs).
The successful candidate must be thoroughly conversant with all aspects of Organizing and Bargaining and must become familiar with Solidarity Center programs and relevant political, economic, social, and trade union developments in Bangladesh and South Asia. We need someone with sound judgment and keen political sense, particularly in managing relationships with stakeholders. Working knowledge of and experience in U.S. Government regulations and procedures related to the funding and management of grants is also useful.
The Senior Organizer monitors programs to measure and evaluate progress and ensure budgetary compliance. This individual also informs the CPD about significant Organizing and Bargaining developments in the country through meetings, reports and other communication as required.
The Senior Organizer coordinates this area of work with relevant U.S. unions, the ITUC and its regional organizations, and global union federations. This individual also works with field office staff to provide logistical support for relevant visitors from the Solidarity Center, AFL-CIO, U.S. unions, GUFs, donors, and other organizations. This position includes representing the Solidarity Center and the AFL-CIO in public and private meetings with partners and other national and international organizations, including donors. This individual will need to travel extensively within the region (based on the lifting of pandemic restrictions and confirmation of safe conditions on the ground). The Senior Organizer may be reassigned to another country in the region if needs shift.
This position reports to the Director of Trade Union Strengthening but coordinates closely with the Regional Program Director for Asia and with the Country Program Director in Bangladesh.
Basic Qualifications
Knowledge of organizing and bargaining as well as international relations and trade union, socio-economic and political developments in the U.S. and abroad.
Previous trade union experience, and/or experience in the Solidarity Center.
Ability to work independently and with limited supervision.
Ability to manage multiple assignments simultaneously and make decisions that have major effects on costs and completion of projects.
Bachelor's degree in political science, international relations, labor relations or related fields and/or five years equivalent work experience.
Good communications and writing skills.
Computer literacy for word processing and simple spreadsheets.
Good interpersonal skills.
Fluency in a language of the region is a plus.
Specific Duties
Maintain relationships with sector representatives;
Assess bargaining needs in the region;
Train local partners how to map out a sector in a region and analyze it so they learn by doing;
Act as a hub for country-specific information on organizing and bargaining;
Serve as a resource on organizing and bargaining for the CPD in Bangladesh and as the point of contact for organizing representatives who travel to the region;
Build capacity to conduct organizing and bargaining activities;
Work with local partners to build coalitions;
Share best practices with counterparts in other regions;
Work with partners to develop strategy;
Communicate with relevant CPDs and copy them on correspondence related to their country;
Train partner-union activists, staff and leadership in trade union research, comprehensive campaigning, collective bargaining, and other trade union technical areas;
Provide specified field programs with the technical assistance to develop and implement trade union strengthening programs;
In coordination with the Regional Program Director and CPD, develop in-country coalition-building contacts with local labor and nongovernmental organizations;
Assist headquarters with arranging in-country visits for U.S. trade union visitors in coordination with the Regional Program Director and Country Program Director;
Provide guidance on trade union strengthening activities/programs to field offices, partners, AFL-CIO, and US unions;
Facilitate partnerships between AFL-CIO and US unions with national trade union partners and/or relevant trade union organizations as related to organizing and bargaining;
Periodically report activities to the Regional Program Director for Asia and the Trade Union Strengthening Department Director;
Manage program funds, maintain and submit expense records with appropriate documentation, monitor budgets, and undertake other financial responsibilities as required;
Ensure compliance with Solidarity Center and AFL-CIO policies and procedures, applicable donor and federal government regulations, and host-country law;
Contribute to the design and development of O&B programs that respond to the strategies, goals, and objectives of the donors, the AFL-CIO and Solidarity Center's partners;
Prepare timely, well-written reports in accordance with the deadline schedule;
Monitor program performance and evaluate progress toward results; discuss substantive changes required with TUS Director and/or Program Officer/Regional Program Director;
Manage the logistics for organizing and bargaining field trips by Solidarity Center, AFL-CIO and US union personnel as requested;
Share information on country conditions and labor issues as appropriate;
Provide assistance and support for program evaluations or audits of field projects/offices;
Travel to conduct and/or oversee program development and implementation in other countries in the region;
In collaboration with the CPD, develop coalition-building contacts with national and international labor, and non-governmental organizations in the country or region.
This is a collective bargaining unit position, generously compensated with a gross annual salary starting at approximately $101,186 USD, plus allowances for housing, education, and annual home leave. A robust benefits package includes fully paid health insurance, a retirement plan and pension, life insurance, and ample paid time off for holidays, vacation, and medical leave.
Apply HERE.
The Solidarity Center cultivates the values of diversity, equality, and inclusion among its staff and partners. It does not discriminate on the basis of race, color, religion, sex, sexual orientation, gender identity, national or ethnic origin, age, marital status, disability, veteran status, or any other status protected under applicable law. Candidates from traditionally underrepresented groups are strongly encouraged to apply. Job seekers who require a reasonable accommodation to apply should contact us at: information@solidaritycenter.org.
For Candidates Applying from the AFL-CIO: Solidarity Center works in partnership with the AFL-CIO on recruiting and filling positions. For that reason, our policy is to notify the AFL-CIO prior to interviewing any of its current employees.
WHEN APPLYING: Be sure to indicate that you saw this information at UNIONJOBS.COM.