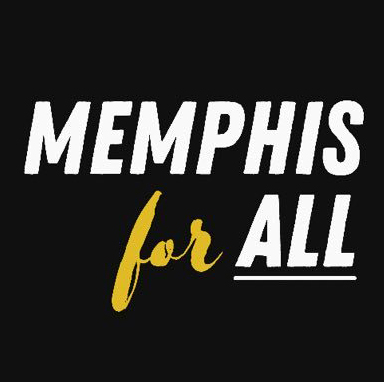 Memphis For All

Tennessee for All Organizer
Based in Memphis, TN
Tennessee for All is a brand new coalition of 20 labor, community and faith organizations fighting to eliminate Tennessee's extreme racial and economic inequities through fair taxation and state budgets, where every resident can thrive. We aim to achieve this by exposing and agitating corporations and elected officials and by educating and organizing people across the state.
Memphis for All works to build community-based civic partnerships to increase and secure voting access in Memphis and Shelby County. With expertise in community engagement and grassroots advocacy, and representing a broad cross-section of diverse communities, Memphis For All works to decrease disparities in voter participation through faith, education and labor coalition building, agency-based institutionalization of registration, and policy reform.
Position Summary
The Organizer will be housed under Memphis for All. They will drive the growth of TN for All's work across the state by implementing a broad shared campaign to highlight the regressive tax system of TN, and the need for just community investments. The Coordinator will collaborate with partner organizations to plan and implement Tennessee BCG programs.
Essential Responsibilities
Help develop and implement campaign plans to increase union member and community engagement
Conduct 1 on 1 meetings with staff and leaders of coalition partners, students, parents, and community members
Plan and recruit union members and community partners to participate in actions
Maintain communication and update union member and community partner contact lists
Recruit union members, students, parents, and community partners to testify in legislative hearings
Help develop materials and trainings to support campaigns
Build our base
Implement petitions or other core contact collection tools and host community forum events around inequality and corporate wealth.
Resource the campaigns through development and sourcing of services such as research and communications.
Create volunteer opportunities and convene monthly volunteer member meetings to move new contacts up a ladder of engagement.
Increasing the number of volunteers taking action around defined campaigns.
Expand relationships and resources
Develop relationships with potential new partners and introduce an expanding number of organizations to BCG concepts and opportunities for involvement.
Participate in national BCG meetings, monthly and quarterly.
Desired Competencies
At least three years of organizing experience with labor, community, or political campaigns
Experience in or concrete knowledge of campaigns and policy around collective bargaining, workplace organizing, racial justice, immigration, education, LGBTQ justice, economic justice, environmental justice
Experience coordinating coalitions of organizations to execute high-stakes campaigns
Share a vision for a progressive Tennessee rooted in racial equity and justice
Be an effective communicator
Be a consensus and coalition builder while working with intergenerational teams
Flexibility to work some extended hours, including nights and weekends
Ability to exercise excellent judgment while working under pressure
Excellent interpersonal and communications skills
Ability to work independently while also incorporating feedback
Ability to work well within multiple collaborative/team structures
Ability to prioritize activities while advancing the needs of campaigns
Ability to inspire confidence and ownership from community partners in all campaigns
Administration and Work Environment
This position will be housed within Memphis For All.
This position will report to and be supported by a small campaign steering committee composed of anchor partner representatives.
Further work environment details are to be determined; this job requires flexibility of work environment, based on campaign needs.
This position is funded for two years and we are looking to expand funding to make it permanent.
Salary and Benefits
$54,000-$60,000
Health Insurance
Contact
Please submit résumés to info@tn4all.org
WHEN APPLYING: Be sure to indicate that you saw this information at UNIONJOBS.COM.