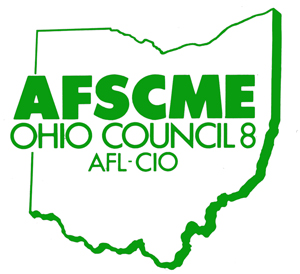 AFSCME Ohio Council 8

Organizer I
Based in Columbus, OH
A vacancy exists in the Organizer I position in the Headquarters office of AFSCME Ohio Council 8.
To Apply:
Any qualified candidate who is interested in applying for this position should submit a résumé and a writing sample to the attention of: R. Sean Grayson, President, AFSCME Ohio Council 8, 6800 N High Street, Worthington, Ohio 43085 or submit by email to kmcloughlin@afscme8.org no later than the close of business on December 16th, 2022.
Job Title: Organizer I
Department: Organizing (OR)
Location: Headquarters (HQ)
Salary Level: Starting salary $64,488.48
FLSA Status: Exempt
Reports To: Organizing Director
SUMMARY
Under the general direction of the full-time officers of Ohio Council 8 and the specific direction of the organizing director, provides substantive assistance in the conduct of organizing drives involving units of 100 or more employees, conducts organizing campaigns generally involving units in the range of 10 to 100 employees, performs other related duties as assigned.
ESSENTIAL DUTIES AND RESPONSIBILITIES include the following. Other duties may be assigned.
Assist in the development of statewide and regional strategic organizing plans and implementation of plans.
Participate in the evaluation and selection of organizing targets and in assigning priorities to targets.
Obtain information on organizing target, conduct basic campaign research.
Develop strategic plan for organizing selected target.
Apply comprehensive campaign strategies and formulate and implement campaign tactics.
Identify, recruit and maintain organizing committee.
Work collaboratively with regional directors, staff organizers, volunteer organizers and others involved in planning and/or implementation or organizing strategies and campaigns.
Prepare and execute actions in connection with an organizing campaign as field organizer assigned to the campaign. Direct the work of individuals assigned to carry out specific organizing tasks in connection with the campaign.
Prepare and execute actions in connection with an internal organizing or contract campaign as field organizer assigned to the campaign
Work with organizing director, organizer II and International Union staff on larger campaigns, as assigned.
Demonstrate judgement and decision-making that others will trust and follow.
Demonstrate a complete organizing skill set including, but not limited to, the following:
Conduct effective house calls to gather information, assess support, educate, and motivate workers to action.
Develop working agenda for organizing or other meeting.
Prepare and deliver effective motivational and/or informational presentation at a small or large meeting. Examples of informational topics include: understand and explain the functions of a local union, council and international union, executive board, and affiliated bodies; understand and explain how a contract is serviced; role and duties of servicing representatives, local union officers and stewards; operation of grievance procedure; inoculation against employer tactics.
Understand and be able to produce effective, high quality, written communication such as leaflets and other documents.
Understand matters involving NLRB and SERB election and charges process and work with legal counsel on same.
Use computer database and word processing software for purpose of data entry, analysis and reporting and generally to store, find, and retrieve information.
Collects, records and maintains on a current basis information necessary to update the OR database and to prepare reports from the information stored in the database.
Prepare on an accurate and timely basis CSOP reports and other reports that may be required.
Participate in political action campaigns and programs conducted by the Council and its affiliates. Examples of programs include contract campaigns, organizing campaigns and coalition building.
Attend and participate in training and education programs as assigned.
Provide prompt and appropriate responses, including advice and guidance, with respect to questions and concerns of local union leadership and membership regarding union related issues or problems.
SUPERVISORY RESPONSIBILITIES -- None
GENERAL REQUIREMENTS
Must reside in the State of Ohio. As needed, must be able to work long, irregular and unusual hours, including weekends and holidays. Must be able to travel throughout the State of Ohio. Must be able to reside away from home for the duration of the organizing campaign or related duty to which assigned.
QUALIFICATIONS
To perform this job successfully, an individual must be able to perform each essential duty satisfactorily. The requirements listed below are representative of the knowledge, skill, and/or ability required. Reasonable accommodations may be made to enable individuals with disabilities to perform the essential functions.
EDUCATION and/or EXPERIENCE
Bachelor's degree (B. A.) from four-year college or university and a minimum of two (2) years of recent experience in community or union organizing or an equivalent combination of education and experience. Actual experience preferred. Significant weight will be given to experience as a lead staff organizer with Council 8.
LANGUAGE SKILLS
Strong oral and written communication skills. Ability to effectively present information and respond to questions from or groups of local union officers, local union members, prospective members, employer representatives, the media and the general public. Ability to write reports, newsletters, leaflets and similar written material for dissemination. Ability to read, analyze, and interpret general business periodicals, professional journals, technical procedures, or governmental regulations.
MATHEMATICAL SKILLS
Ability to add, subtract, multiply, and divide in all units of measure, using whole numbers, common fractions, and decimals. Ability to compute rate, ratio, and percent and to draw and interpret bar graphs and other types of graphs.
REASONING ABILITY
Ability to define problems, collect data, establish facts, and draw valid conclusions. Ability to analyze and resolve complex problems. Ability to interpret an extensive variety of technical instructions in mathematical or diagram form and deal with several abstract and concrete variables. Ability to plan work.
CERTIFICATES, LICENSES, REGISTRATIONS
Must have a reliable vehicle, vehicle insurance that meets the Council's minimum standards and a valid driver's license.
OTHER SKILLS AND ABILITIES
Must be able to use a personal computer to operate e-mail, database and word processing programs.
Must be knowledgeable of Chapter 4117 of the Ohio Revised Code and the administrative rules and regulations related to it. Must be knowledgeable of National Labor Relations Act provisions as they pertain to organizing activity. Should be knowledgeable of National Labor Relations Board procedures.
PHYSICAL DEMANDS
The physical demands described here are representative of those that must be met by an employee to successfully perform the essential functions of this job. Reasonable accommodations may be made to enable individuals with disabilities to perform the essential functions.
While performing the duties of this job, the employee is regularly required to use hands to finger, handle, or feel objects, tools, or controls and talk or hear. The employee frequently is required to sit. The employee is occasionally required to stand, walk, and reach with hands and arms.The employee must regularly lift and/or move up to 10 pounds, frequently lift and/or move up to 25 pounds, and occasionally lift and/or move up to 50 pounds. Specific vision abilities required by this job include close vision.
WORK ENVIRONMENT
The work environment characteristics described here are representative of those an employee encounters while performing the essential functions of this job. Reasonable accommodations may be made to enable individuals with disabilities to perform the essential functions.
While performing the duties of this job, the employee may work in outside weather conditions. The noise level in the work environment is usually moderate.
WHEN APPLYING: Be sure to indicate that you saw this information at UNIONJOBS.COM.