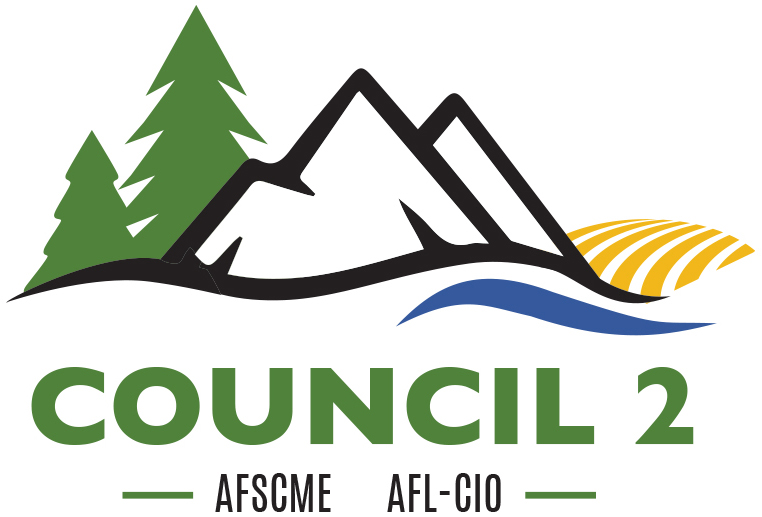 Washington State Council of County and City Employees
WSCCCE/AFSCME Council 2

Staff Representatives
Based in Olympia/Seattle, WA
WSCCCE Council 2 is a progressive statewide public-sector union in Washington State, representing over 17,000 blue-collar, white-collar, professional, law enforcement, correctional staff, and supervisory workers in over 200 bargaining units. We are committed to building the Union through organizing, representation, and political/community action.
Council 2 currently has two Staff Representative positions open
Olympia Office. This position will cover the state's southwest corner from Olympia to Vancouver, WA.
Everett Office. This position will cover the Seattle and King County area.
Staff Representatives are the field staff who work directly with local unions to build their capacity to effectively mobilize, educate, and improve the lives of the employees they represent.
WSCCCE/AFSCME Council 2 currently employs professional staff representatives who are highly experienced in collective bargaining, contract enforcement, and other aspects of the employee/employer relationship.; this is a hands-on position that will work daily with shop stewards, elected local union officers and the membership.
Job Summary:
Staff Representatives are field staff who work directly with local unions, with a primary focus on organizing, contract administration, grievance handling, membership advocacy, and other duties related to the goals of the Union. Setting priorities, meeting deadlines, compiling, and analyzing data are critical. This position reports to the Deputy Director. This position can require extensive travel, including possible overnight stay out of town, daily driving as well as evening, and some required weekend work.
Duties/Responsibilities:
Helps develop and implement strategies to involve union members in activities that build the local Union's capacity to effectively represent employees in its jurisdiction, including internal communication and member mobilization.
Fosters recruitment and training of a network of union stewards who can assist members in solving problems on the job through contract enforcement and direct action.
Lead negotiator in bargaining contracts for assigned local unions.
Serves as liaison with local unions regarding all elements of Council 2's political and legislative programs, including recruiting members to participate in political action and grassroots lobbying efforts.
Trains and works with local union leadership to ensure effective meetings, sound fiscal practices, and good internal communication.
Prepares and presents grievance mediation and arbitration cases for Council 2 general counsel review.
Oversees member sign-up, new employee sign-ups, and orientation programs
Required Skills/Abilities:
Excellent interpersonal, negotiation, and conflict-resolution skills.
Excellent time management skills with the proven ability to meet deadlines.
Strong analytical and problem-solving skills.
Requires regular and reliable attendance
Could be required to assist Staff Representatives in other areas occasionally
Experience and training necessary to conduct contract negotiations
Ability to work well with a wide variety of people
Proven ability to organize and plan work
Leadership skills to educate and motivate members
Ability to manage multiple tasks simultaneously
Strong public speaking skills
Ability to write well and to author letters and contract language
Knowledge of or ability to acquire computer skills
Excellent verbal and written communication skills.
Thorough understanding of laws, regulations, and guidelines related to HR and contract negotiations.
Proficient with Microsoft Office Suite or related software.
Proficient with remote meeting software. Zoom, Teams, etc.
Must possess the ability to quickly adapt to changing priorities and demands
Ability to receive feedback positively and take direction is essential.
Reasonable accommodations may be made to enable individuals with disabilities to perform the essential job functions
Education and Experience Required:
High School Diploma or equivalent
Four years of experience in labor relations and proficiency in labor relations, labor organizing, or related work. A College degree in a related labor field could substitute for years of experience.
A valid driver's license, working automobile, and auto insurance are required, and a background check may be required
Physical Demands:
While performing the duties of this job, the employee is regularly required to sit; type on a keyboard for extended periods; talk, and hear. In addition, the employee is occasionally required to stand, walk, and reach with hands and arms. In addition, the employee must occasionally lift and/or move up to 25 pounds
Working Conditions:
Work is generally performed in an indoor office environment, although it may occasionally require visits to remote worksites and may be subject to adverse weather conditions and rough terrain. While performing the duties of this job, the employee may be exposed to individuals who are angry, disgruntled, and/or hostile.
Compensation
This position offers a positive working atmosphere, a competitive starting base salary dependent on experience, plus a robust package of additional benefits, including health, dental, vision, life insurance, long-term disability, sick leave, vacation time, retirement plan (employer and employee contributions are a percentage of your salary).
How to Apply:
To be considered for this position(s), applicants must submit a résumé, letter of interest, and at least three (3) professional references to: Barc@council2.com. Your letter of interest should identify which vacancy you are applying for and explain how your experience, training, and education make you a viable and competitive candidate for this position.
WHEN APPLYING: Be sure to indicate that you saw this information at UNIONJOBS.COM.