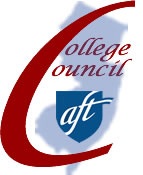 Council of New Jersey State College Locals
AFT/AFL-CIO

Staff Representative
Based in Union, NJ
The Council of New Jersey State College Locals – AFT, AFL-CIO is seeking a full-time Staff Representative for our office in Union, NJ. The Council represents over 9,400 faculty, professional staff, librarians and adjunct faculty at New Jersey's nine State Colleges and Universities. More information about the Council can be found at http://cnjscl.org
Works under the supervision of the Council President and in collaboration with Staff Representatives.
Equal Opportunity Employer
The Council is committed to Equal Opportunity, and to considering applicants of all ages, races, sexual orientations, national origins, ethnicities, and religions. We encourage people from diverse backgrounds and experiences related to our core organizational values and objectives to apply.
Position Responsibilities:
Assist with collective bargaining preparations, negotiations and contract ratifications.
Assist locals with grievance filing when needed.
Serve as labor representative for hearings and arbitrations.
File and process Unfair Practice Charges at the Public Employment Relation Commission.
Research contract information compliance data and provide statewide college/university comparison reports on promotions, terminations, retirements etc.
Assist Council locals when assigned (conducting local elections, research, etc.)
Ensure that colleges/universities provide contract compliance data as required.
Assist with all membership communications.
Research and analyze data as assigned by the Council President/Executive Committee
Research and write articles for Council's publications.
Valid driver's license for occasional intrastate travel is required.
Participate in daily operations at Council office.
Other duties as assigned to achieve the Council's agenda and mission.
Required Knowledge, Skills and Abilities:
Knowledge of academic/public sector collective bargaining, contract enforcement, grievance filing, arbitration and NJ PERC procedures.
Excellent written and verbal communications skills.
Knowledge of essential computer skills (MS Office Suite and communications software/apps).
Experience analyzing research papers.
Ability to work under pressure and meet deadlines.
Initiative, reliability and the ability to work in a collegial atmosphere.
Ability to work effectively with leaders and staff in complex and sometimes political situations.
Ability to work independently.
Candidate must be organized and detail oriented.
Background in labor, education and/or politics is desirable.
Education Required
Bachelor's Degree in Labor Relations or related field required; Master's Degree preferred.
Salary and Benefits
The salary for this position is determined by the collective negotiated agreement between The Council of New Jersey State College Locals, AFT and the COUNCIL EMPLOYEES UNION and based on education attainment and experience.
The Council of New Jersey State College Locals provides liberal vacation, health insurance, sick time, an employer paid tax-sheltered pension plan, hybrid work schedules, and other fringe benefits.
To Apply:
Qualified applicants should submit a letter of interest and résumé by email to jobs@cnjscl.org or by Fax: 908.688.9330 - Attn: JOBS.
WHEN APPLYING: Be sure to indicate that you saw this information at UNIONJOBS.COM.