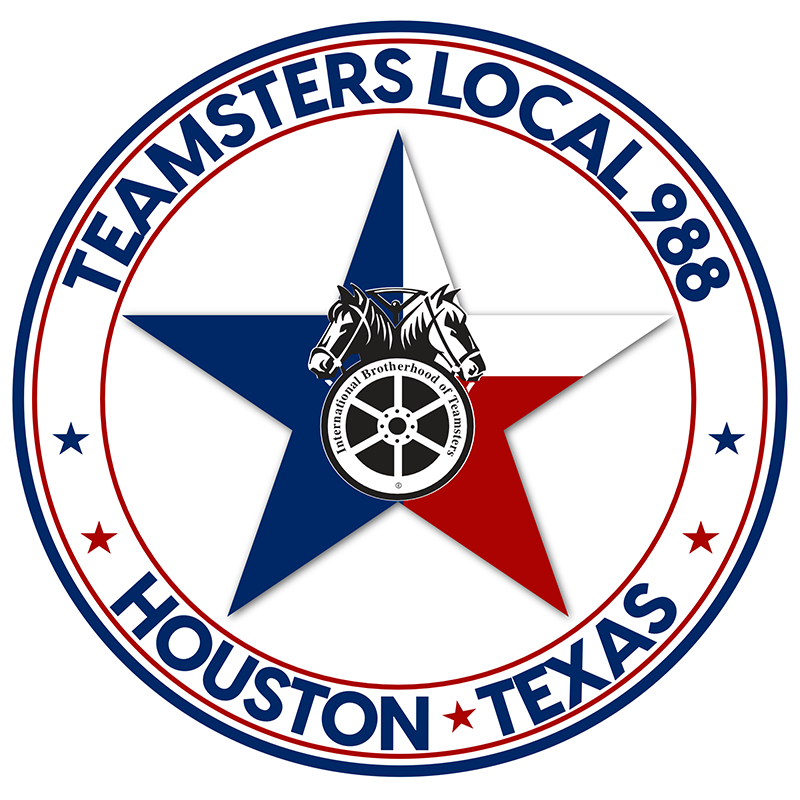 Teamsters Local 988

Union Staff Attorney / Labor Specialist
Based in Houston, TX
A vacancy exists for a Staff Attorney/Labor Specialist with IBT Local 988. IBTLU988 represents approximately 8000 members and is actively growing. IBTLU988 is affiliated with the International Brotherhood of Teamsters and the Gulf Coast AFL-CIO Labor Council.
Qualified candidate must demonstrate commitment to worker rights. This position will provide in-house legal counsel and advice to the Union on all labor relations and employment-related matters. Must be organized and detail oriented and have several years of experience with successful contract negotiations and execution of contract clauses. Will coordinate with outside legal counsel on various issues. Qualifications must include previous experience in acting as liaison between union and employers, legal background, leadership training experience, grievance and arbitration handling, excellent communication skills, flexibility, assisting union members with understanding their rights and enforcing their rights under the existing contract and working closely with union leaders on behalf of the union and its workers.
Salary is competitive and commensurate with experience.
Some of the duties of the Staff Attorney/Labor Specialist are as follows:
Negotiating collective bargaining agreements with Houston area employers.
Representing local units in court, arbitrations, disciplinary matters, unfair labor practices and other contractual administrative matters including but not limited to handle charges brought before the EEOC, NLRB, and other state equivalent agencies; Department of Labor inquiries; FLSA reviews; and other regulatory and employment matters. Provide practical, compliant, and strategic advice and counsel on issues arising under the FMLA, ADA, ADEA, Title VII, OSHA, NLRB, and other federal, state, and local employment laws and regulations.
Advising, assisting, training and participating in all aspects of the negotiation and grievance processes; acting as technical advisor and coordinator to various Business Representatives
Legal advisor to Organizing Director providing assistance in external organizing campaigns.
Identify legal risks and provide legal advice and guidance on various labor and employment law matters including, but not limited to, non-discrimination; non-harassment; health and safety; wage and hour laws; internal union governance; organizing; contract negotiations and enforcement; as well as hiring, discipline, and termination matters.
Draft and maintain employment-related documents, policies and procedures.
Monitor proposed employment law legislation and regulations and provide timely updates
Qualifications:
Juris Doctorate degree from an accredited law school.
Experience working as a labor and employment attorney.
Understanding of U.S. labor and employment laws, including Title VII, ADA, ADEA, NLRA, FMLA, FLSA, and federal immigration laws.
Admission to a state bar and a willingness to become admitted to Texas bar and in good standing.
Ability to adjust to multiple demands in a fast-paced environment; excellent interpersonal, written and verbal communication skills; resilient, results-oriented, and collaborative; unquestioned integrity and professionalism.
Occasional travel as needed to carry out job responsibilities.
To Apply:
Please submit résumé and cover letter to: ehnelson@swbell.net.
WHEN APPLYING: Be sure to indicate that you saw this information at UNIONJOBS.COM.