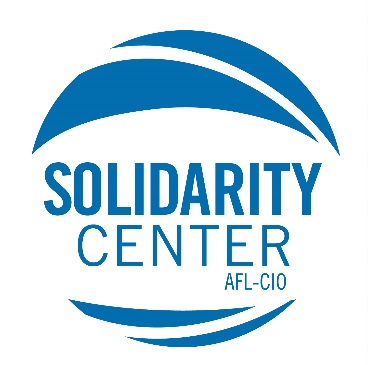 Solidarity Center

Grant Writer/Editor for the Americas
Based in Washington, DC



(hybrid telework/in-

person

schedule)

Please Note: Solidarity Center staff enjoy a hybrid telework/in-person schedule. We also have a mandatory vaccine policy and safety protocols in all our facilities. All candidates applying for this role will be expected to adhere to these policies and to work in the Washington, D.C. office a minimum of three days per week unless an ADA or health-related exemption is approved.

Location: Washington, DC
Application Deadline: When filled

Summary
Solidarity Center's Americas team seeks a talented writer to draft and edit a wide range of program documents, including proposals, implementation plans, activity reports, evaluations, briefs, and other materials for donors and the public. This will require summarizing large quantities of information about complex program activities and results both accurately and succinctly. Familiarity with Performance Monitoring Plans and US government grant writing requirements is also needed, along with a foundational knowledge of political, economic, social, and trade union issues across the region.

The Program Writer/Editor will work with staff in field offices and DC to collect information for the development of documents, including proposals, reports, and briefs. This individual also will prepare information for other departments and coordinate with them on the writing and editing of documents related to the Americas. In addition, the Program Writer/Editor may be called upon to proofread correspondence to ensure the quality of outgoing communication. As this is a new position, whoever is hired should bring initiative, flexibility, and creativity to this role.

Qualifications
Experience with grant writing and monitoring, for private or public foundations and donors
Trade union experience (highly desirable but not required)
Knowledge of US government grants and regulations
Broad knowledge of international relations including trade union, socio-economic, and political developments in the U.S. and across the Americas
Ability to work independently and complete assignments without supervision, while collaborating within a team
Ability to work under pressure and meet deadlines
Ability to manage multiple assignments simultaneously
Ability to interact easily with a wide variety of people in a diverse working environment
Attention to detail and high levels of organization
Bachelor's degree in journalism, political science, international relations, labor relations or a related field and/or ten years of related work experience
Excellent communications skills, including writing, editing and proofreading
Advanced word processing skills and basic spreadsheet and database skills
Fluency in English and Spanish languages
Specific Duties
Edit proposals, implementation plans and reports prior to submission
Contact staff following edits to ensure that changes did not modify the intended message
Collect program information and draft proposals and reports
Assist with production of proposals as needed
Collaborate with program staff to develop draft briefs
Travel as necessary to assist field staff with preparation of proposals
Provide ongoing training to staff in how to write and edit their own work
Provide feedback to staff regarding draft materials submitted in order to allow staff to improve the quality of future submissions
Write material for Solidarity Center website (ongoing)
Do page layout and design for organizational brochures.
Edit outgoing correspondence as requested
Select information from field reporting and synthesize for website or publication
Write documents that require summarizing large quantities of information
Exercise quality control function, to ensure that all outgoing documents are well written, free of errors, and presented in a professional manner
Represent the Solidarity Center as directed
In compliance with federal law, all persons hired will be required to verify identity and eligibility to work in the United States and to complete the required employment eligibility verification document form upon hire.
This is a collective bargaining unit position, generously compensated with a gross annual salary starting at approximately $89,000 USD with a range up to $99,000 based on experience. A robust benefits package includes fully paid health insurance, a retirement plan and pension, life insurance, and ample paid time off for holidays, vacation, and medical leave. Pre-tax deduction programs are also available for commuting, dependent care, and health care expenses. In addition, we offer opportunities and funds for professional development.
The Solidarity Center cultivates the values of diversity, equality, and inclusion among its staff and partners. It does not discriminate on the basis of race, color, religion, sex, sexual orientation, gender identity, national or ethnic origin, age, marital status, disability, veteran status, or any other status protected under applicable law. Candidates from traditionally underrepresented groups are strongly encouraged to apply.
If you are a candidate with a disability and require reasonable accommodations to apply for this position, please contact us at information@solidaritycenter.org.
For Candidates Applying from the AFL-CIO: Solidarity Center works in partnership with the AFL-CIO on recruiting and filling positions. Our policy is to notify the AFL-CIO prior to interviewing any of its current employees.
Apply HERE!
WHEN APPLYING: Be sure to indicate that you saw this information at UNIONJOBS.COM.