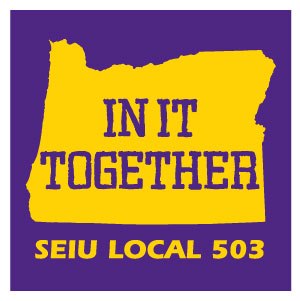 SEIU Local 503
In It Together

Organizer, Field
Public Services (Higher Education)
Based in Medford, OR
The principal role of field organizers is to support and facilitate member leadership and action. Program responsibility for organizing, communications, contract administration, union administration, bargaining, political action, rank-and-file leadership development and interaction with the membership to further established union policy.
Essential Functions & Responsibilities:
Organize (internal and external); political action; training and education.
Assist leaders/officers in the performance of their responsibilities.
Prepare for and negotiation of collective bargaining agreements; ratification of contracts; including work action preparation and recruitment.
Contract interpretation; grievance handling and preparation and presentation of arbitration cases.
Set-up communication systems (personal and telephone) for distribution of information and materials for organizing, bargaining, contract enforcement, and political action.
Advise members on the steps to be taken to resolve issues.
Organize members to take action around such issues where appropriate.
Prepare printed materials for distribution to the membership (leaflets, newsletters, etc.).
Train members to interface with the media (newspapers, television & radio).
Internal and external organizing training, Union Steward training, leadership training and development, political action training, negotiations training, special workshops (retirement, Workers' Comp, health & safety, discrimination, etc.).
Coordinate officer/leadership duties.
Political action: door-to-door canvassing, phone banks, issue campaigns, candidate campaigns, informing the membership on the issues and candidates, targeting candidates, targeting precincts for candidate races, voter registration, questionnaires and surveys on candidates and issues; get-out-the-vote drives.
Qualifications:
Experience or background which demonstrates capabilities in organizing, bargaining, contract administration, political action, leadership identification and development, and motivating people to take action.
A demonstrated commitment to empowering workers through the labor movement.
Experience working for social justice as an organizer or activist.
Ability and stamina to work irregular and long hours and to attend weekend and evening activities.
Excellent communications skills required.
Working Environment:
☐ Group 1 - Requires performing instant or sustained arduous physical activity
☒ Group 2 - Requires occasional lifting and exertion for short periods
☐ Group 3 - Very Limited Physical Exertion
Office and field work involving travel to all areas of the state - sometimes with overnight stays - in a variety of environmental conditions. The workweek is Monday through Friday plus weekend work when specifically assigned. The workday may begin before and extend beyond normal office hours depending on the demands of the assignment. This position may be eligible for telecommuting
Technology and Equipment:
Operation of a personal motor vehicle (insured)
Telephone
Copier
Camera and/or Video camera and system
Computer Software: (Word, Excel, PageMaker, FileMaker Pro, etc.)
Pay and Benefits:
Organizing positions provide comprehensive fully paid health, dental and vision benefits for employee and eligible dependents, domestic partner benefits, generous holiday and vacation policies, a monthly auto and cell phone allowance, and a 15% employer-paid defined contribution 401K. Compensation range is based on experience $60,120- $89,352 annually.
To Apply:
Send cover letter and résumé to Philip Shilts, Public Services Director, shiltsp@seiu503.org.
WHEN APPLYING: Be sure to indicate that you saw this information at UNIONJOBS.COM.