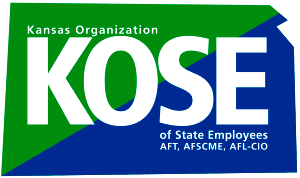 KOSE
Kansas Organization of State Employees



Lead Organizer
Based in Topeka, KS
JOB DESCRIPTION:
This is a full-time permanent position to work with public-sector, State of Kansas executive branch workers throughout Kansas on professional issues, economic justice, contractual needs, and building a strong labor movement within each community and throughout Kansas
The KOSE Lead Organizer will be responsible for a variety of aspects of external and internal organizing including building relationships with workers, developing and implementing online and in person-outreach and organizing campaigns, developing issues-based organizing plans for assigned areas, recruiting and sustaining motivation of organizing committee members and activists, having 1:1 conversation with potential members to ask them to join their union, and working with the organizing committee as well as a KOSE member organizing program to plan and implement member-to-member outreach drives, as well as membership development and training for KOSE members. Union organizing experience preferred.
QUALIFICATIONS:
Willing to work long and irregular hours and will include some travel
Dedicated to social and economic justice as well as equitable pay, benefits, proper safety and staffing for state workers in Kansas
Have access to reliable transportation and valid driver's license
Demonstrated ability to work with a diverse population
Have strong communication skills
Competency in basic computer/web functions, and social media platforms
Demonstrated capacity to continuously develop knowledge and skills related to use of rapidly changing technology.
Be motivated, responsible, organized, professional and detail-oriented
Be able to work independently while also being able to incorporate constructive feedback and direction from local elected leadership.
At least 3 years of previous full-time labor organizing preferred
A willingness to work nights and weekends when needed
EDUCATION & EXPERIENCE:
High school diploma
Minimum of a four-year degree or any equivalent combination of work experience and education
SALARY AND BENEFITS:
Salary is commensurate with experience. Benefits are comprehensive and competitive, including fully paid health benefits. Paid leave includes vacation, personal, and sick days. Flexible work environment.
HOW TO APPLY:
Please submit cover letter, résumé and 3 references to: info@koseunion.org, with the subject line "KOSE Lead Organizer".
Equal Employment Opportunity and all are encouraged to apply.
WHEN APPLYING: Be sure to indicate that you saw this information at UNIONJOBS.COM.