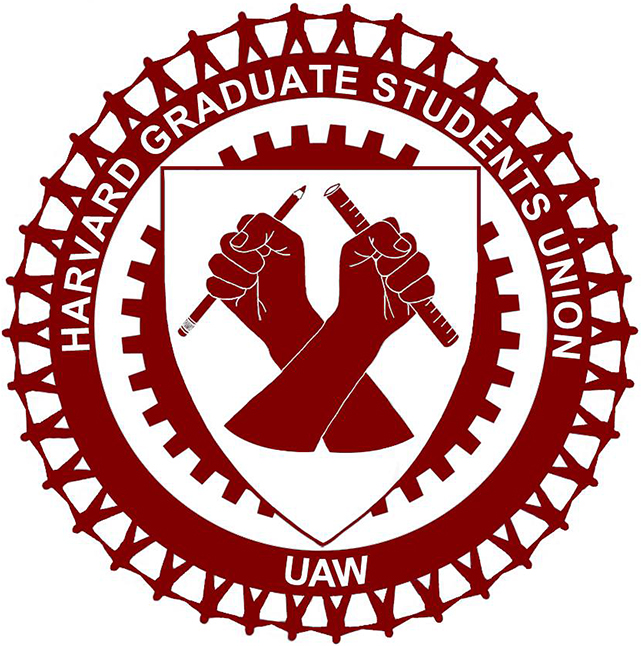 Harvard Graduate Student Union
UAW Local 5118

Staff Organizer
Based in Cambridge, MA
To lead a strong membership drive this fall, we are looking for either a full-time or half-time Staff Organizer.
Full-time commitment through the end of December at minimum and potential to stay on longer.
Must be highly interested in directly contacting student workers, comfortable with walkthroughs, and invested in building membership while organizing major campaigns
Starting full-time salary $47,000 (pro-rated if half-time) with yearly raises commensurate with the HGSU-UAW Contract.
For full-time staff, we provide healthcare, including dental and vision, as an additional benefit.
To Apply:
If interested, please reach out to hgsu.general@gmail.com with the following:
Cover letter
Résumé or CV
Preferably, or if possible, include three work-related references
Your application will be promptly reviewed by the HGSU-UAW Local 5118 Hiring Committee which may include the Local President Koby Ljunggren, Union Guide Mark Wright, Lead Staff Organizer Josh Strassman, or other interested executive board members. The hiring committee may reach out to you to schedule an interview following your application. Applications will be processed on a rolling basis.
HGSU-UAW Staff Job Description
The primary role of staff in our union is to build organizers and develop a sustainable organizing culture. A lot of the day-to-day work is very self-driven. Hired staff are assigned 'turfs' or combinations of departments/programs (usually where workers have similar experiences). The day-to-day tasks of staff may include the following:
Regularly checking in with stewards/reps/organizers in your assigned turf. This will look a little different depending on the program/turf. The Harvard School of Public Health (HSPH) and sometimes the Division of Medical Sciences (DMS) have weekly Organizing Meetings in Longwood, the Harvard medical campus. Earth & Planetary Sciences similarly have weekly meetings in Cambridge. Physics/School of Engineering & Applied Science and the Cambridge biology programs each have their own pizza socials. Working in teams can be more effective, but in many places there might only be 1 active organizer or a few that don't coordinate together.
Develop and maintain an active 'social map' for each department/program. This includes knowing who stewards/reps/organizers are actually able to reach. Think: does every cohort and lab have a point of contact for the union? Identify key areas for growth where no workers have an active connection to the union.
Strategize with stewards/reps how to reach into key growth areas. Are there student groups you could visit or tables you could flyer? Does the department already host social events? Who are the 'natural leaders' in the program, or people whom others already look up to and who can mobilize workers around a cause? Develop working relationships with these people - even if they are resistant to take on union roles, we can lean on them to mobilize during bigger actions.
Implement an organizing culture wherever you can. Ellen Friedman condenses the role of an 'organizer' into four key areas:

Organizers help colleagues and coworkers understand the power relations around them
Organizers bring people together around shared concerns
Organizers empower people to take direct, collective action against these power structures
Organizers help each other to reflect and keep going
Bonus area: Organizing is far more effective when relational (this feeds back into why 'social maps' and 'natural leaders' are important to lean on), and the goal should be to make it relational wherever possible

Maintain an active pulse of the issues facing workers across our unit day-to-day. This comes from the workers in your turfs but also by interfacing directly with the Executive Board and regularly attending organizing meetings (or at least checking the notes/summary).
Be trained on benefits funds and contract enforcement by our Finance & Benefits Committee and Contract Enforcement & Education Committee respectively.
Staff are welcome to attend Finance & Benefits Committee meetings year-round, but during high demand deadline periods, help FBC by processing benefits applications.
Be a resource. Have a good sense of where you can find information or the right links. Knowing who to ask is often more important than knowing exactly where something is located.
During actions/events, help out with additional tasks as needed. Help plan said actions/events, especially to fill in any needed gaps in preparation. Write phonebanking and textbanking scripts. Draft template emails. Develop resources that help solve independently-identified problems. Feel free to introduce event ideas yourself!
Always be thinking about membership growth. It is often not the best approach to ask a random person in the hallway to join the union, but growing membership under our open shop contract should be a background motivation in nearly everything we do. Think about and plan ahead how to lead conversations in that direction.
Take care of yourself! Organizing is tough work and can be mentally draining. Go to as many meetings as you can, but a regularly shifting variety will be more effective than one or two consistently each week. Also take breaks when you need it. Communicate with the executive board if something is feeling off.
Additional Links:
HGSU-UAW Website
Union History
HGSU-UAW Bylaws
HGSU-UAW Contract (2021 - 2025)
WHEN APPLYING: Be sure to indicate that you saw this information at UNIONJOBS.COM.