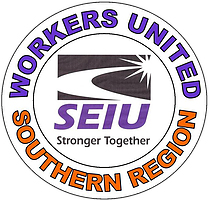 SEIU
Workers United Southern Region

Organizer
Workers United Southern Region
Based in Atlanta, GA
At the forefront of building the nation's labor movement in the South, Workers United Southern Region, SEIU is changing the narrative around important social and economic issues facing working families. For decades, Workers United Southern Region has successfully organized workers in one of the toughest regions to organize . We have a powerful and important mission: To build and grow a diverse, effective, politically independent and democratic organization of workers to change our lives for the better, improve our communities, and build a more just society for present and future generations.
With a commitment to building power for low-wage workers, Workers United Southern Region is engaged in winning strong contracts for members, organizing workers, supporting pro-union/workers candidates for elected office and moving a broad policy agenda, such as paid sick days, expanding access to health care and the Fight for $15.
Workers United Southern Region, SEIU represents over 15,000 workers including airport cleaners, food service employees, distribution workers, laundry workers, security officers, manufacturing workers, adjunct faculty, graduate student workers, and non-profit employees in 9 states across the South. Workers United is an affiliate of SEIU, the Service Employees International Union, which has 2 million members dedicated to raising industry standards and making life better for all working families and communities.
Workers United Southern Region is headquartered in Atlanta, GA.
We seek Organizers to engage with workers and run impactful campaigns. As a Workers United Southern Organizer, you will be part of a team of staff and members who support workers in their fight to form a union in their workplace. Organizers report to an Organizing Team Leader or Lead Organizer.
DUTIES AND RESPONSIBILITIES:
Conducting broad and intensive outreach efforts to non-union workers;
Building one-on-one relationships with workers and establishing trust;
Identifying and developing leaders to guide and lead their campaign;
Conducting individual and group meetings with workers to discuss and plan organizing campaigns;
Motivating individual workers and groups of workers to take collective public action;
Working to involve community allies in organizing campaigns;
Engaging workers in broader union efforts to bring pressure to bear on the industry as a whole.
QUALIFICATIONS AND EXPERIENCE:
The ideal candidate will bring previous experience in union or community organizing. A demonstrated commitment to social justice is required. While no one candidate will possess every quality outlined for this position, the successful candidate will bring many of the following professional skills and personal attributes:
Capacity to work independently and with a team;
The ability to make and follow through on a work plan;
Effective and persuasive communications skills;
Basic writing and computer skills;
The ability to work with people from diverse backgrounds;
Willingness to conduct house visits and site visits;
Bilingual English/Spanish – not required but a plus
WORK ENVIRONMENT:
This position is a full time position that often requires long and irregular hours, including some nights, weekends and holidays.
This position requires travel to worksites.
Valid driver's license and car with insurance required.
This position is based in our Atlanta, Ga office.
PHYSICAL DEMANDS:
Ability to ascend and descend stairs, walk through large work sites, and participate in marches and demonstrations that can be at least three to four hours in duration.
Some overnight travel to other East Coast locations may be required.
COMPENSATION & BENEFITS:
The salary range for organizers is from $52,223 to $74,733. Workers United Southern offers a generous benefits package that includes a fully employer-paid medical, dental and vision plan (full-time employees and family) and retirement benefits, including a defined benefit pension plan. Workers United Southern Region offers generous paid time off package as well.
APPLICATION:
Please send a résumé and letter of interest to: sregionunite@bellsouth.net. Please use "Atlanta Organizer" in the subject line of your email. Please be sure to indicate where you saw this job.
Workers United Southern Region is an inclusive and diverse organization, committed to advocating for social, racial and economic justice. We promote diversity and strongly encourage applications from people who believe in our mission. We strongly encourage women and people of color to apply.
For more information on Workers United, visit www.workersunited.org. For candidates without the required qualifications and experience, our union offers the New Organizer Training Program; application here: https://www.seiu32bj.org/new-organizer-training.
WHEN APPLYING: Be sure to indicate that you saw this information at UNIONJOBS.COM.