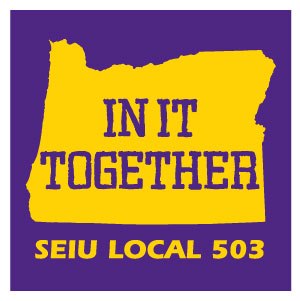 SEIU Local 503
In It Together

Field Coordinator
External Organizing
Based out of the Portland/Salem, OR office(s)
SEIU 503 is an organization of more than 72,000 Oregonians who, by joining together, are achieving what we cannot accomplish alone. By standing together, we have a voice in our contracts and our daily work lives. SEIU 503 members do more than 500 different jobs on the state, local government, and non-profit level. The services we provide include helping blind people get access to education, assisting nursing home patients, testing new drivers, collecting tax revenue, providing childcare, helping veterans, assisting at-risk youth, staffing our state universities, repairing bridges, maintaining Oregon's parks, and caring for seniors and people with disabilities.
The work we do touches the lives of every single Oregonian. We are proud to stand together for the quality services we provide for our communities and families.
Be part of SEIU Local 503, a strong and growing union that is on the front lines to fight for quality public services and a more just society for all workers.
With shared vision and purpose, we will drive organizational change and effectiveness through a focus on staff and team development, accountability, and equity and inclusion.
Supervise the daily work of external organizers; coordinate the orderly operation of all field organizing projects; participate in administrative and strategic planning for the Union and to coordinate planning activities with staff organizers; implement policy decisions of the Union as they impact the Union's External Field program.
Essential Functions & Responsibilities:
Supervise external organizing staff, including implementation of the Union's field program, accountability structures and personnel issues.
Supervise and oversee external organizing projects, including startup and coordination of new external organizing campaigns, coordinating any external organizing with collective bargaining by the Union, politics, leader recruitment, training and development, leadership structures and worker-empowerment on a state or regional level. Supervise and work in coordination with the Union's Internal and other Departments.
Coordinate all statewide projects for organizing campaigns, related political work, and worker empowerment.
Train and mentor organizers in all aspects of Union organizing work.
Train staff organizers, member organizers, and Volunteer Organizers (VOCs).
Coordinate meetings of organizers (team and one-on-one) that include planning, reporting, evaluating and implementing accountability structures that relate to the Union's overall strategic plan.
Staff or coordinate the staffing of Union committees.
Coordinate coalition building and participate in coalition or partner activities, including labor councils and other community organizations consistent with the overall mission of our Union.
Handle all regular duties external organizers for a proportionately smaller number of workers.
Participate in union-wide membership drives, political campaigns and other field activities as assigned which may include worksite visits, phone banking, house visits, door-to-door canvassing and literature drops.
Qualifications:
Extensive experience and demonstrated competence in organizing workers.
Experience waging comprehensive campaigns utilizing worker, political, regulatory, and community components.
Experience supervising staff, target jurisdictions, initiating and coordinating new campaigns.
Ability to hold staff, leaders and self-accountable to established performance standards/assessments regarding organizing.
Ability to work with minimal supervision.
Ability to work effectively with other departments within the union.
Demonstrated commitment and ability to build an organizing culture within the Union.
Experience with public sector and long-term care organizing preferred.
Working Environment:
☐ Group 1 - Requires performing instant or sustained arduous physical activity
☒ Group 2 - Requires occasional lifting and exertion for short periods
☐ Group 3 - Very Limited Physical Exertion
Office and field work involving travel to areas throughout the state and in a variety of environmental situations. The workweek is Monday through Friday plus weekend work when specifically assigned. The workday may begin before and extend beyond normal office hours depending on the demands of the assignment.
Technology and Equipment:
Operation of a Motor Vehicle
Tools
Telephone
Copier
Camera and/or Video camera and system
Computer Software: (Word, Excel, PageMaker, FileMaker Pro, etc.)
Pay and Benefits:
Organizing positions provide comprehensive fully paid health, dental and vision benefits for employee and eligible dependents, domestic partner benefits, generous holiday and vacation policies, a monthly car and cell phone allowance, and a 15% employer-paid defined contribution 401K. Compensation range is based on experience $75,804 – $100,968 annually.
To Apply:
Send cover letter and résumé to Sean Staub, Organizing Director at: staubs@seiu503.org.
WHEN APPLYING: Be sure to indicate that you saw this information at UNIONJOBS.COM.