UNITE HERE

Union and Political Organizing
Paid Training Program
(full-time Organizer Training and Canvassing Program)
Openings are available in Arizona, Nevada, and Pennsylvania
Ready to WALK SIDE BY SIDE with workers organizing for political and workplace power?
Hundreds of union workers will soon begin a full-time Organizer Training and Canvassing Program. Click here to join them!
UNITE HERE, the hospitality workers union, is opening up full-time paid spots in this program to supporters and activists from across social justice movements that stand in solidarity with labor.
Do you care about workers' rights, racial justice, LGBTQ+ liberation, women's rights, immigrant justice, and voting rights? Do you want to learn organizing, data, communications and research skills while fighting to defeat anti-worker forces in the critical mid-term elections? Then this program is for you!
Full-time paid openings are available in Nevada, Arizona and Pennsylvania beginning in July and through November. Depending on location, spots are available for lengths of 2 to 4 months. Housing will be provided for those who do not live in the program location.
"I took a leave from my union job cleaning the casino to fight for change in my community, my state, and the country. Locally in Nevada we need neighborhood stability to stop the outrageous rent increases that are driving my neighbors out of their homes. If we let this continue, my two daughters will never be able to afford decent housing for themselves and their families." Yuniel Acosta, EVS porter at Virgin Hotel Culinary Workers Union Local 226 member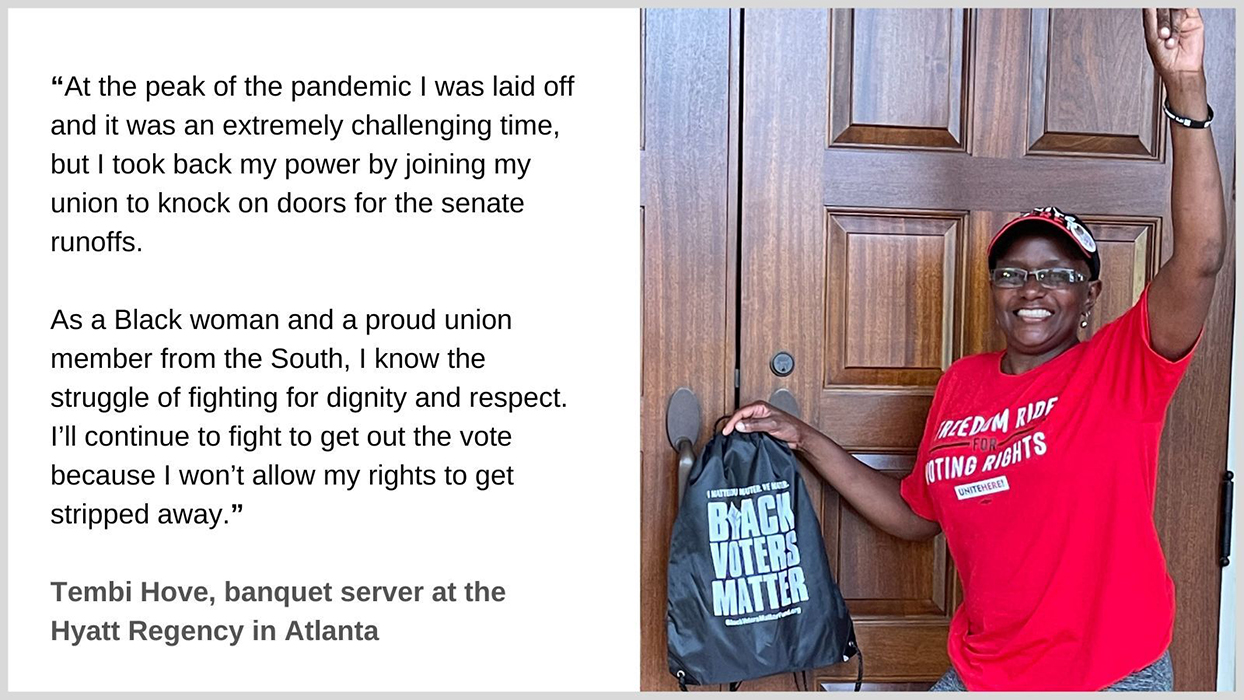 "At the peak of the pandemic I was laid off and it was an extremely challenging time, but I took back my power by joining my union to knock on doors for the senate runoffs. As a Black woman and a proud union member from the South, I know the struggle of fighting for dignity and respect. I'll continue to fight to get out the vote because I won't allow my rights to get stripped away." Tembi Hove, banquet server at the Hyatt Regency in Atlanta
Ready to go to the next step? Click here for more information and to apply.
WHEN APPLYING: Be sure to indicate that you saw this information at UNIONJOBS.COM.