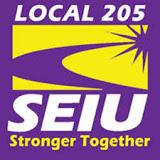 SEIU Local 205

Organizer
Based in Nashville, TN
Purpose:
To organize Tennessee workers in order to improve their lives and working conditions, whether through action on the job, in the community or in the political sphere.
Qualifications:
Strong oral and written communication skills
Basic computer literacy
Proficiency with VAN
Ability to develop and follow a plan that meets organizational objectives
Ability to exercise appropriate independent judgment in a wide variety of situations
Ability to inspire confidence and trust among workers from a wide variety of backgrounds
Ability to recognize and effectively team build with workers from differing cultures
Capacity to work long and irregular hours including nights and weekends
Commitment to high standards of social justice and to building power for workers in Tennessee
Expectations:
SEIU Local 205 Organizers are expected to carry out our program to build an effective worker led organization that increases density in our core industries enabling our members to improve the standards of their life at work, at home, in government and the community.
Organizers are expected to:
Recruit workers for union membership
Identify and recruit member leaders and activists
Engage and develop leaders and hold them accountable to the local's program, plan and power standards
Work under the direction of elected leaders and their designees
Exemplify organizational discipline by following and organizing around the policies, plans, and goals of the Local
Embody and demonstrate high ethical standards, principled trade unionism, and a strong commitment to social and economic justice.
Plan their work to lead members toward goals
Report thoughtfully and honestly on their work
Demonstrate a strong work ethic and the ability to lead by example as well as the use of appropriate initiative
Have the ability to effectively work in a team setting
Working Conditions:
The Organizer reports to the designees of the President of the Union. The position may require travel within Tennessee and occasional out of state travel. The job involves long and irregular hours, including nights and weekends.
Duties and Responsibilities:
Organizers perform a wide range of duties which may vary according to location and assignment. An organizer may perform any one or a combination of the duties and responsibilities listed below, depending on the particular assignment.
Organizing Workers
Recruiting New Members
Leadership Development
Grievance/Discipline and Appeal Processing
Communications
Community Support
Strike Support
Collective Bargaining
Campaign Research
Arbitration
Other Duties as Assigned
This job opening is specifically for a permanent, full-time Organizer in Nashville, TN. The Organizer would be working with both public and private sector employers. We are offering a salary range between $41,000 and $55,000 per year depending on experience and our benefit package includes employer paid health insurance and pension as well as a monthly car allowance of $475.
To Apply:
Interested parties should send a résumé and contact information by email to Jessica Stewart at: jstewart@seiu205.org.
WHEN APPLYING: Be sure to indicate that you saw this information at UNIONJOBS.COM.