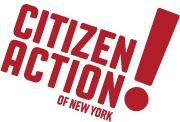 Citizen Action of New York

Regional Director
Based in either Central NY or the Southern Tier, NY
(will need to live in the regions in which they work – between Utica and Binghamton, NY)
To Apply Please Visit: https://nexusmanagement.bamboohr.com/jobs/view.php?id=199
A little about us…
We are a statewide, grassroots membership organization that fights for social, racial, economic, and environmental justice. We organize in communities to build power. We collaborate with organizations and coalitions in communities across New York to win on key issues and elect progressive candidates at the local, state and federal levels. Our member-driven organizing campaigns focus on issues at the state, local, and federal levels, including ending mass incarceration, public education funding, housing, health care, money in politics and taxing the rich. We play a leadership role in organizing major statewide coalitions and campaigns fighting for bold policy changes.
We're looking to add a Regional Director to our team. This position will report to the organizing director. The Regional Director role is to build a bold vision of the centrality of organizing in building transformative change, and the ability to build a team of skilled staff and leaders who have the vision, skills to implement the vision. The Regional Director will ensure that Citizen Action achieves its organizing and political goals in the field by supervising, training and developing the skills of organizing staff, and developing and implementing fundraising plans. Strong interpersonal communication skills and the ability to work effectively with diverse staff, local leaders and members are critical qualities for success in this position.
This dynamic, fast-paced role takes an individual with a strong work ethic and a desire to help others while furthering the movement. Success will require skills including supervision and team management, prioritization, organization and attention to detail, perseverance, and a solutions-oriented approach to the work.
Citizen Action of New York takes pride in hiring staff who share our values & characteristics.
These include:
Commitment to Citizen Action's mission and vision and passionate about issues of social, racial, economic and environmental justice
Ability to think strategically and creatively to solve problems
A high degree of professionalism and professional maturity
Collaborative work style and demonstrated ability to work as part of a team and with people from a variety of different backgrounds
What you'll do and the impact you'll make:
Work with staff to develop and execute electoral and issue-based campaign plans.
Recruit, train, support and supervise a team of lead organizers and community organizers who are building engaged regional leadership teams.
Model and engage in training staff and leaders by demonstrating skills, doing work shoulder to shoulder, using analysis to give effective feedback.
Promote and build support for Citizen Action's initiatives through oral and written communication with its members, organizers, influencers, and the public.
Work with lead organizers to create and implement robust regional fundraising plans.
Supervise, lead, assign, and evaluate staff including ensuring individual work plans meet the goals of the organization and overseeing the implementation and evaluation of those work plans.
Coordinate work in assigned chapter(s) with other organizational departments.
Work cooperatively with external partners, other organizations, elected officials, unions, and their political/field representatives to build relationships.
Recruit, interview, and recommend hiring staff.
Mentor staff in building political power, training among staff as it relates to organizing, and fundraising growth.
Monitor member leadership development goals and work with staff to meet them.
Make strategic assessments about chapter building initiatives.
Weekly and other periodic work reporting. Maintaining an awareness and documentation of work happening in assigned regions.
Who you are and what you've accomplished:
Thorough knowledge of organizing and political campaign strategies, planning and execution. Demonstrated success in organizing communities on issue campaigns through activities like list building, phone banking and canvassing, committee creation and support, direct action event planning, and membership recruitment.
Experience in fundraising
Ability to work independently with members and elected leaders in complex political situations.
More than three years of experience in supervising and leading a team.
Extensive knowledge of and experience working with voter files, modeling and targeting, and the Voter Action Network (VAN).
Ability to develop and maintain good working relationships and to work in a team.
Ability to manage and assess multiple high-priority programs and priorities in different regions of the state.
Ability to manage and help develop electoral and grassroots campaign plans, logistics and timelines.
Ability to meet deadlines with minimal supervision.
Ability to work with leaders, staff, partners and operate with a high level of judgment and discretion.
Willingness to work as part of a team, recognizing that compromise may be necessary in order to move the work forward.
Extra Credit:
Ability to work independently with members and elected leaders in complex political situations.
A deep commitment to racial, gender, and economic justice.
Bilingual
Our Benefits:
Working collaboratively in an organization at the forefront of building power across NYS
Competitive salary
100% paid employee monthly medical and vision premiums
Access to mental health and dental plans
401(k) retirement plan
Monthly cell phone stipend
12 organization-paid holidays, generous vacation
Biannual statewide staff meetings
Salary: The salary for this is weighed based on experience and begins at: $67,500
Relocation stipend available.
This position is based in either Central NY or the Southern Tier. The Regional director will need to live in the regions in which they work – between Utica and Binghamton, NY.
Please note, all benefits are subject to change.
Citizen Action of New York is an equal opportunity employer. All qualified applicants will receive consideration for employment without regard to race, color, religion, sex, sexual orientation, gender identity, gender expression, national origin, protected veteran status, or any other basis protected by applicable law, and will not be discriminated against on the basis of disability. We are looking for the most passionate people who want to join our team. People of color are strongly encouraged to apply.
Applicants may be entitled to reasonable accommodations under the terms of the ADA and state/local laws. Please let us know if you need assistance participating in the interview process.
To Apply Please Visit: https://nexusmanagement.bamboohr.com/jobs/view.php?id=199
WHEN APPLYING: Be sure to indicate that you saw this information at UNIONJOBS.COM.