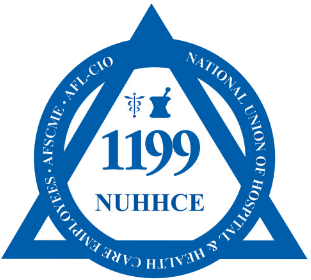 NUHHCE
National Union of Hospital and Health Care Employees

Organizers
Based in Albuquerque, NM
About Us
The National Union of Hospital and Health Care Employees (NUHHCE) is dedicated to bringing the benefits of organization and unity of purpose to all workers: professional, technical, clerical and service and maintenance employees, and all employees in health care institutions such as medical centers, hospital, nursing homes, pharmacies, and other related services. In response to an urgent need for organization among health care, nursing home and other related workers, the National Union of Hospital and Health Care Employees will devote all its energies and resources to the task of organizing all employees in this field, and others as requested. NUHHCE strives to organize and in so doing bring about significant improvement in wages and other terms and conditions of employment
National Organizer Job Opening
Organizers identify, recruit, and develop leaders to change the power dynamics at work. This position has responsibility for organizing, communications, and political action through worker and community leadership development. Organizers build power by organizing non-union workers with a focus on one-on one conversation, house visits and developing community support to win organizing campaigns.
Primary Responsibilities:
Any one position may not include all the specific duties and responsibilities listed. Examples provide a general summary of the work required and should not be treated as a total and complete list of expected duties to be performed by employees in the classification).
Understands and is proficient in all elements of the "NUHHCE Organizing Model".
Explores organizing targets to gather data and information, builds a list of workers, assesses interest, and scouts out the physical plant without divulging the union's presence.
Conducts one-on-one organizing, recruit supporters and leaders, guide their activities on behalf of the Union, and identifies attitudes of individual workers.
Recruits volunteer organizers from within the NUHHCE membership.
Develops broad, representatives organizing committees of worker-leaders, and trains and deploys them to move the campaign.
Visits job sites to communicate with workers.
Visits workers in their homes.
Writes leaflets and other materials for organizing campaign.
Obtains and creates employee lists. Maintains list, which may include input on, and operation of, computerized database systems.
Informs Lead Organizer and Area Organizing Director or other supervisor of activities, developments and progress of organizing activity, including worker meetings.
Briefs NUHHCE staff specialists from technical departments, both orally and in writing regarding campaign progress and issues.
Performs other duties as assigned
Requirements:
A minimum two years' experience or background demonstrating capabilities in the following areas
organizing, leadership identification and development
motivating people to take action
a demonstrated commitment to building the power of workers
long hours including weekend and evening activities
Valid driver's license and automobile are required
Applicants with bilingual skills are strongly encouraged to apply, especially Spanish, Vietnamese, Amharic and Russian speakers.
Applicants with working-class job experience who know firsthand about the conditions that need to change for low-income workers are strongly encouraged to apply.
To Apply
Send résumé and cover letter to Kayci Moodie at: kmoodie@nuhhce.org.
WHEN APPLYING: Be sure to indicate that you saw this information at UNIONJOBS.COM.