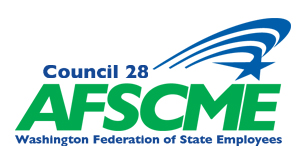 AFSCME Council 28
Washington Federation of State Employees

Administrative Assistant
Based in Olympia, WA
Who We Are:
The Washington Federation of State Employees (WFSE) has a long history of fighting for workers' rights and employee benefits while tackling social justice issues with passion and energy. The WFSE, Council 28 has been operating in the state capital for over 78 years and our staff fight for fairness and equality as well as ensuring the hard working employees of state government, higher education institutions, and public service workers get better pay, better health care, better retirement, and a healthy work environment. There's more to accomplish, and with the right personnel, we believe we can accomplish it. Come join our team and be a part of a larger mission that will make an impact for years to come. Learn more about who we are at: wfse.org.
What We're Looking For:
The Washington Federation of State Employees (WFSE) is recruiting to fill an Administrative Assistant position located in the WFSE HQ office. Reporting to the Director of Human Resources, this position will have dual roles as it assists with both HR and Accounting functions. The incumbent will be responsible for assisting in several areas in HR to include health and safety; assisting with employee leave questions; drafting various types of letters to be sent to WFSE staff or external stakeholders; and assisting with staff recruitments to include scheduling interviews, sending notices to the interview panel, and notifying candidates of the status of the recruitment. This position will also assist with the onboarding of new staff to include sending the proper forms to new staff and ensuring they're completed timely and properly.
This position also assists the Director of Finance with confidential communications, meeting set up for either in-person or virtually, supply ordering, confidential filing and archiving, as well as on-line research (IRS, DOL, HCA, etc). Provides high level, confidential support to both the Director of Human Resources and the Director of Finance with daily administrative activities and acts as a resource to staff regarding general inquires with either department. Manages calendars, set up meetings and locations, and takes notes of meetings. Works with accounting staff to assist with other administrative tasks in helping them achieve their department goals.
Additional duties include:
Creates files for various HR and Accounting functions and tracks archiving schedule to ensure proper file maintenance.
Prepares documents and exhibits for HR and Finance Directors.
Manages the archive program for both the HR and Finance Departments.
Manage office consumables, including office supplies, postage system, kitchen supplies, copier supplies and stationery, etc.
Maintain office filing system including file cabinets and shared electronic files.
Required Qualifications:
Five (5) years of progressively responsible experience in office/clerical, secretarial or general administrative work.
Knowledge and experience in office machines, Microsoft Office Suite, business management practices, and research methods.
Maintain strict confidentiality due to the sensitive information in both HR and Finance.
Highly organized and capable of juggling multiple projects simultaneously.
Strong oral and written communication skills.
Proficiency in Microsoft Office Word, Excel and other related applications.
Strong analytical skills using various databases to collect and interpret data.
Detail oriented and able to work in a fast-paced environment.
Desirable Qualifications:
Previous experience working in either HR or Accounting departments.
Data Analysis – familiarity with Tableau, and Survey Monkey.
Understanding of basic labor organizing principles and working experience in a Union.
Special Note:
As a condition of employment, candidates who accept a position will be required to provide proof of vaccination from COVID-19. Additionally, it is expected that selected candidates live within commuting distance of their assigned work location. This position is overtime eligible and may be required to work some weekends. Some travel may be required. Benefits include annual and sick leave, cell phone allowance, medical/dental, life, and long term disability insurance, and holidays. Salary range is $52,090 to $60,300 and will be determined commensurate with experience.
How to Apply:
To be considered for this position(s), applicants must submit a résumé, letter of interest, and at least three (3) professional references to: resumes@wfse.org. Your letter of interest should clearly explain how your experience, training, and education make you a viable and competitive candidate for this position.
This position is open until filled; however, the hiring authority may conduct interviews as soon as qualified candidates apply. It is to the applicant's advantage to apply as early as possible.
The Washington Federation of State Employees is committed to providing equal employment opportunity and equal access in a non-discriminatory manner to its programs and services for all persons without regard to race, creed, color, marital status, gender, sexual orientation, religion, age, national origin, political affiliation, honorably discharged veteran or military status, or the presence of any real or perceived sensory, mental, or physical disability.
Persons requiring accommodation in the application process or for an alternative format may contact the Human Resources Director, Ben McDonald at (360) 352-7603 or benm@wfse.org. Persons of disability or those who are deaf or hard of hearing can call the Washington Relay Service by dialing 7-1-1 or 1-800-833-6388. The WFSE complies with the employment eligibility verification requirements of the Federal Form I-9. The selected candidate must be able to provide proof of identity and eligibility to work in the United States consistent with the requirements of that form on the first day of employment.
WHEN APPLYING: Be sure to indicate that you saw this information at UNIONJOBS.COM.