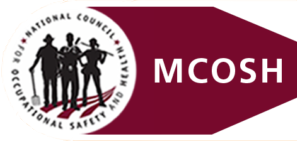 MCOSH
Midstate Council for Occupational Safety and Health

Co-Program Director
Covering the southern Finger Lakes and Southern Tier regions of New York state.
Midstate Council for Occupational Safety and Health (MCOSH) is hiring a Co-Program Director to begin July 15, 2022.
Midstate COSH is a local affiliate of a national network of workplace health and safety advocate organizations. Our work is in the southern Finger Lakes and Southern Tier regions. Twenty-five years ago, the Tompkins-Cortland Labor Coalition created a program to promote occupational safety and health for local union and non-union workers. That program, backed by the labor-run Midstate COSH, remains committed to keeping Southern Tier workplaces safe from hazardous practices and conditions.
Over the years, these are a few of the many things we accomplished:
facilitated training grants for the Tompkins Cortland Building Trades Council
produced a newsletter for construction workers, the Steel Toe, from 1999-2004
conducted training with UAW Local 2300 to provide ergonomic training for its service and maintenance workers at Cornell University
produced health and safety newsletters for school employees, healthcare workers and office workers
organized multiple Workers' Memorial Day events
In recent years, Midstate COSH has participated in OSHA Susan Harwood grants, providing training on An Introduction to OSHA Rights and Responsibilities, Identifying and Controlling Hazards in the Workplace, Chemical Hazards and Hazard Communications. These training have involved young workers, immigrant non-English speaking farm and service workers, workers in small hospitality businesses, temporary workers and supervisory staff. MCOSH has also had a focus on the construction industry, providing training to area construction employers and unions on fall protection, and chemical and electrical hazards.
In the last seven years, MCOSH's Teens Lead @ Work (TL@W) peer training program has been training area youth in what is often their first workplace experience. Midstate COSH has provided ergonomics training to 700 workers annually in the past five years, covering office, custodial, construction, mechanics, bus operators, gardeners, food service and health care workers.
Program Director job duties include health and safety training, grant writing and other fundraising and community organizing and advocacy. The position will begin with and include orientation and any necessary training by the current Co-Program Director and the Board Chairperson. This will be a ¾ time position. Starting wages and benefits are $24.55/hr. This is a union position. Wages and benefits could be higher depending on experience. This position as Co-Program Director will have an emphasis on overseeing our Teens Lead @ Work program, as outlined in the job description.
To Apply
Please send a letter of interest and résumé to apply. Questions are also welcome. Contact Tom Joyce, Midstate Council for Occupational Safety and Health, 701 W. MLK (State) St., Ithaca, NY 14850, 607-275-9560 at: board@midstatecosh.org, or visit us at: www. midstatecosh.org.
Job Description: Midstate COSH Program Director/Health & Safety Instructor/Fundraiser
Grant management – quarterly and final report writing, financials recordkeeping.
Be able to train on our core program modules, including training for trainers.
Fundraising and grant writing.
Facilitate and initiate outreach to current and prospective training partners.
Oversee Teens Lead @ Work program, including mentoring of Peer Leaders.
Coordinate and facilitate peer leaders' meetings and curriculum development.
Organize training to be led by peer leaders.
Participate with and/or lead training teams, as needed.
Prepare for and lead training of new peer leaders.
Prepare for and lead training of current peer leaders in new training modules.
Continue to develop training skills and modules, as needed.
Organize Worker Memorial Day events, maintain awareness of area workplace fatalities
Maintain outreach and relationships with area union locals, regions and district councils
Support farmworker organizing efforts with New York State partner organizations.
Report to MESF Board at quarterly meetings.
Participate in all National COSH conference calls and annual conference.
Be prepared to speak publicly on behalf of MESF.
Maintain office space and coordinate programs with office partners and building manager.
Assist in maintaining COVID-19 protocols in the office and with in-person training.
WHEN APPLYING: Be sure to indicate that you saw this information at UNIONJOBS.COM.