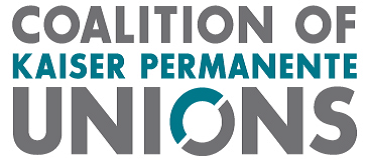 CKPU
Coalition of Kaiser Permanente Unions

Staff Director
Position is California based
(would also consider OR and WA applicants)
The Coalition of Kaiser Permanente Unions was organized in 1996 by thirty local unions to win better contracts through united action. To win the strongest voice for workers in the industry, the Coalition proposed a labor-management partnership giving workers unit-based workplace democracy, a voice in strategic decisions at the highest levels, a growth strategy that has almost doubled the size of our membership, the best wages and working conditions in health care – and the best health care for Kaiser Permanente members and patients. Our strategy is seen as a model for unions in today's economy where the union is a strong voice for workers and for high performance and the public good. Our Coalition represents more than 80,000 workers in California, Oregon, Washington, Hawai'i, Colorado, Maryland, Washington, DC and Virginia.
To learn more about our work, visit www.lmpartnership.org and www.unioncoalition.org.
The Coalition of Kaiser Permanente Unions seeks an experienced individual to fill the position of Staff Director. The Staff Director supervises and directs the work of the national program/field coordinators in every region. This position partners with key local union leaders, as well as LMP Executives, and regional executive corporate management on various program issues/initiatives KP management leaders.
Provides leadership and coordination among local and regional union leadership and executive corporate management to advance the strategy and goals for partnership. Applies ORGANIZING, broad administrative and negotiating experience/expertise in a union environment. Develops annual action plans to meet the organization's goals for the assigned area. Leads field/program staff; participates in hiring, conducts performance appraisal as applicable.
The Staff Director is a member of the Coalition Leadership Team, and participates in Coalition Executive Board meetings, and the LMP Executive Committee as needed. Travel and some weekends/evenings are required.
ESSENTIAL RESPONSIBILITIES
Provides leadership and coordination for national and regional field organizing campaigns that align with the goals of the National Agreement;
Through direct reports, responsible for development and management of program for union members on Special Assignment Status roles;
Provides leadership in problem-solving related to disputes and/or obstacles to partnership;
Responsible for implementation and success of the UBT program;
Oversight of the implementation of the National Agreement deliverables and Employment Income Security Agreement across Kaiser Permanente regions;
Coalition staff management and development; goal setting and evaluations for direct reports;
Builds relationships with labor and management leaders in regions;
Assist in developing Coalition approaches to disputes and obstacles related to implementation of partnership activities;
Advances the goals and principles of the labor management partnership at national, regional and local levels. Establishes and maintains collaborative relationships with union leaders, staff and members, and with Kaiser Permanente leaders and supervisors to ensure collaboration in achieving objectives and support of the partnership;
Establish collaborative working relationships with Kaiser Permanente managers and Coalition union leaders to develop program planning and assessment processes for implementation of program in KP regions that align with KP and Coalition goals and priorities. Develops and presents policy recommendations and resolves operational problems;
Provides support in the development of national and regional policies and procedures to support the design, implementation, management and evaluation of direct service programs to union members, including, but not limited to the development of policy manuals; assistance with the negotiation of enabling side letters of agreement; and the development of program metrics;
Contributes to organizational planning by participation in national and regional projects. Chairs or participates on national and region wide teams, task forces and committees to develop recommendations on issues which can range from small, localized to broader, national and region wide issues with significant and critical impact.
JOB QUALIFICATIONS
High school diploma required. Bachelor's degree in labor relations, labor studies, labor education, business, or related field highly desirable. Equivalent professional experience will be considered.
Minimum of ten or more years of full-time employment and experience in the labor movement. Broad experience working with the Coalition of Kaiser Permanente Unions or other labor partnership initiatives is desirable.
Strong commitment to social justice and cultural diversity
Ability to work in a multi-union environment with a broad knowledge of all levels of the union community
Demonstrated experience organizing and executing strategic plans to meet organizational objectives
Experience with budget development and oversight
Program management, lead or supervisory experience and excellent analytical and problem-solving skills required, preferably in a health care environment. Extensive experience in facilitation of groups, engaging with corporate and Union executives, and leading interest-based processes in the most challenging situations or circumstances.
Previous experience and demonstrated ability to perform some intermediate level computer skills including Microsoft Office Suite software required.
Effective verbal and written communication skills. Effective interpersonal skills with ability to manage in an environment of change, with very diverse perspectives and needs.
Application Information:
Interested persons should submit a résumé and a letter of application that describes their qualifications for the specific position to: resumes@unioncoalition.org. Please include "Staff Director" in the subject line.
WHEN APPLYING: Be sure to indicate that you saw this information at UNIONJOBS.COM.