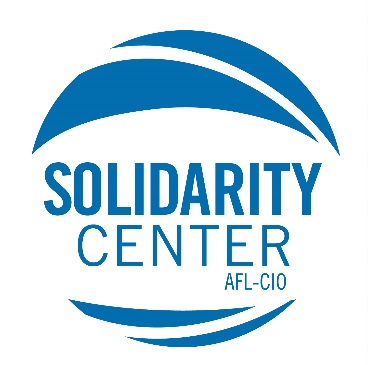 Solidarity Center

Project Accountant III for Mexico
Finance
Based in Washington, DC



(hybrid telework/in-person schedule)
Please Note: Solidarity Center staff enjoy a hybrid telework/in-person schedule. We also have a mandatory vaccine policy and safety protocols in all our facilities. All candidates applying for this role will be expected to adhere to these policies and to work in the Washington, D.C. office a minimum of three days per week unless an ADA or health-related exemption is approved.
Summary
Solidarity Center seeks a Project Accountant (Level III) for all aspects of accounting related to field office program expenses in our expanding Mexico portfolio under U.S. Department of Labor (USDOL) funding. This individual will be the primary contact in headquarters (HQ) for the Mexico office accountants regarding all financial matters, and for the Mexico Program Officers regarding project-related financial and budgetary issues. The Project Accountant will independently audit the financial reports from our Mexico office, subgrantees, and partners to ensure that all expenses comply with U.S. government regulations and Solidarity Center's Field Office Accounting policy and procedures, and with grant and budgetary guidelines. This individual will provide guidance and instructions in writing and/or verbally to field office accountants regarding compliance with Field Accounting policy and procedures and will develop training for them as needed. The Project Accountant will develop strategies to detect and prevent fraud through data analysis and business insight. This individual will independently process travel expense reports for relevant staff, reconcile advance accounts, and resolve any potential problems with outstanding advances. The Project Accountant will lead meetings between finance and program staff on a regular basis and will assist and advise Program Officers and/or managers in providing overall financial management of our projects in Mexico.
Qualifications
Bachelor's Degree in Accounting (or in Business or Finance with eighteen credit hours in Accounting courses)
Detailed knowledge of accounting theory and federal grant regulations including the Uniform Guidance 2 CFR 200, U.S. GAAP, ADS and other funders' specific requirements, with the ability to apply the knowledge in their daily tasks
Minimum of six years of experience in processing and auditing field office accounting
Extensive experience worknig in Accounting software with Deltek Costpoint, Deltek Costpoint Enterprise Reporting, Deltek Time & Expense, and Quickbook
Highly advanced organizational skills, self-motivation, attention to detail, and accuracy
Advanced skills in Excel and Microsoft Word
Advanced knowledge of internal controls systems and related policies and procedures, with the ability to explain them to others
Ability to communicate persuasively in writing and orally
Ability to complete routine tasks with limited supervision
Ability to complete various account analysis, research and provide solutions to Controller on problems encountered
Ability to independently create pipeline projection, account reconciliation and analysis and/or budget preparation
Ability to offer strategic advice and solutions
Ability to work both independently and in a team environment.
Willingness to learn and attain new skills and knowledge
Fluency in written and spoken Spanish
Supervisor: Controller (subject to change)
Specific Duties
Review electronic Monthly Financial Reports received from the Mexico field office; ensure the accuracy of the reports prior to entering the reports data into the Accounting System;
Process and audit monthly financial reports from the Mexico field office, subgrantees, and partners according to required audit checklist; ensure audit of the financial reports are completed monthly in a timely manner;
Reconcile the Mexico field office's account balances to General Ledger balance and resolve any differences on a monthly and yearly basis. The accounts to be reconciled include field office advance accounts, union/partner's advances, prepaid/deposit accounts, liabilities accounts (taxes withholding, all accrued expenses, etc.);
Independently review, and process travel expense reports related to assigned projects on a timely manner; reconcile advance accounts for employees (including corporate credit card charges) promptly; resolve any delinquent accounts with the staff;
Serve as primary contact for field office's accountant; instruct and train local accountants in all aspect of the field office's financial transactions, accounting software and reporting in accordance with the Field Office Accounting Policy and Procedures Manual;
Review local staff's personnel compensation worksheets prepared by the field offices on a monthly basis. Reconcile and provide necessary guidance to local accountants to ensure compliance and update with local labor law for all the accrued severance calculation;
Take the lead in performing the Mexico field office's desk review and/or internal audit with an eye towards preventing and detecting frauds. Travel to Mexicoto provide financial compliance training and work with local accountant to review the field office's operations and processes at least once every two to three years (health and safety conditions permitting);
Organize and lead the quarterly financial reports meeting with Mexico Program Officers and the Americas Regional Program Director and/or Deputy Regional Program Director, and point out projects which may be in need of attention or on the verge of being overspent and/or need to be reprogrammed with the funding source;
Prepare monthly summary analysis of financial reports for Mexico Program Officers, flag any potential or actual budget overruns, analyze the cause of budget overruns and recommend solutions to stop and prevent the over-runs. Provide data analytics on a monthly and/or quarterly basis to identify fraud, waste, or abuse, and prepare statistical/financial analysis reports with graphic presentation for notification of findings;
Take the lead in following through on all pending financial issues (e.g. outstanding travel and credit card advances, monies owed to Solidarity Center, pending reclass, etc.) and bring them to closure so that they are in compliance with donors' requirements and/or Solidarity Center's policies and procedures;
Assist program and grant staff in the preparation of budgets for new proposal or modification of current grants; provide program staff with financial information needed such as field office's fixed cost information, local staff compensation, etc.;
Prepare pipeline analysis or cost projections as requested by Program Staff to assist Program in monitoring and managing program spending on their projects;
Assist in the annual Uniform Guidance (formerly A-133) audit by providing reconciliation worksheets for field office's advance accounts and other associated balance sheets accounts;
Serve as backup Project Accountant where needed and appropriate; and
Bring issues to the attention of the Controller or the Director of Finance as needed and be prepared to offer solutions to move things forward.
This is a collective bargaining unit position, generously compensated with a gross annual salary starting at approximately $85,458 USD. A robust benefits package includes fully paid health insurance, a 401k retirement plan plus AFL-CIO pension, life insurance, and ample paid time off for holidays, vacation, and sick leave. Pre-tax deduction programs are also available for commuting, dependent care, and health care expenses.
Apply HERE.
The Solidarity Center cultivates the values of diversity, equality, and inclusion among its staff and partners. It does not discriminate on the basis of race, color, religion, sex, sexual orientation, gender identity, national or ethnic origin, age, marital status, disability, veteran status, or any other status protected under applicable law. Candidates from traditionally underrepresented groups are strongly encouraged to apply. If you have a disability and require a reasonable accommodation to apply for this position, please contact us at: information@solidaritycenter.org.
For Candidates Applying from the AFL-CIO: Please be advised that we will inform the AFL-CIO when any of its current employees apply for positions with Solidarity Center. This notification is a matter of policy for all candidates, regardless of each individual's qualifications and competitiveness for a specific opportunity.
WHEN APPLYING: Be sure to indicate that you saw this information at UNIONJOBS.COM.