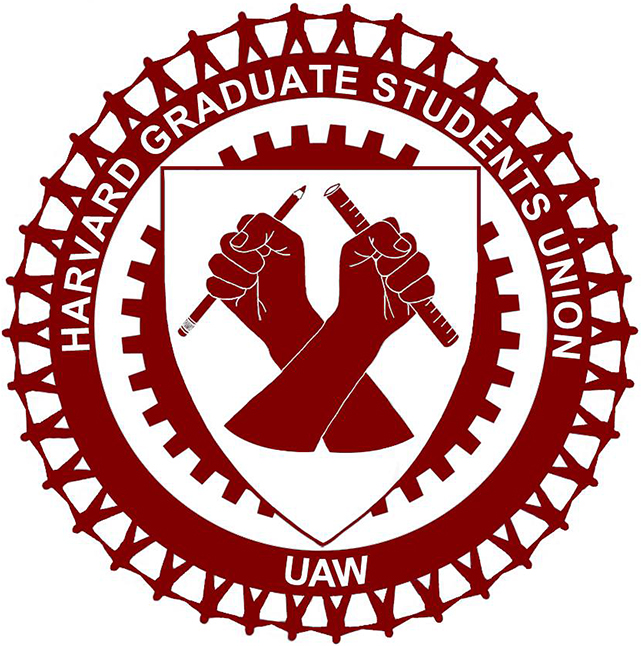 Harvard Graduate Student Union
UAW Local 5118

HGSU Lead Staff Organizer
(Full Time)
Based in the Harvard University system in Massachusetts
With over 4,500 student workers at Harvard working for the first time under a long-term contract, HGSU is seeking a full-time Lead Staff Organizer for the next stage in our fight for student workers' rights.
We are looking for a Lead Staff Organizer who will divide their time between direct organizing and long-term strategizing. This will include working with stewards and members directly in an assigned turf, and coordinating longer-term union-wide strategy to engage new members, enforce our contract, and develop new issue campaigns.
Reporting to HGSU's Executive Board, the Lead Staff Organizer is tasked with leading a team of staff organizers working across the different programs and departments at Harvard University. They work closely with the Guide/Organizing Secretary (Executive Board), stewards, and staff members to plan and execute union-wide organizing plans.
The Lead Organizer performs a range of duties, which may vary according to the needs of the Local as determined by the Executive Board, the stewards, department leaders, or specific planned actions.
Responsibilities
Coordinate staff duties and meetings in consultation with Executive Board (the Guide, in particular)
Coordinate membership card signing drives
Educate members on union issues
Hold regular meetings with organizing staff, stewards, and department leaders
Attend regular union-wide Organizing Meetings and General Membership Meetings
Logistical support for our local member-led committees.
Worker database/list management
Some weekend and evening work
Qualifications
Previous organizing experience.
Commitment to building a democratic union.
Strong writing and communication skills.
Strong computer skills. (Graphics, website and database management, and digital organizing skills a plus)
Additional Qualifications
Willingness to work cooperatively with union leadership, stewards, members, and a team of staff.
Some local travel to non-Cambridge campuses (Longwood and Allston) is part of the job (additional reimbursements for travel cost provided beyond base pay).
Ability to organize with workers from a variety of backgrounds and experiences.
Women, queer people, and people of color strongly encouraged to apply.
Compensation/Benefits
Compensation: $45,000 – $50,000/year (subject to approval by membership and depending on experience)
Health Insurance
Paid Vacation
You must be eligible to work for a non-Harvard organization to qualify to be a staff organizer. Sadly, most international students are not eligible to work for HGSU-UAW due to visa restrictions. HGSU does not discriminate based on the type of valid work authorization. HGSU does not discriminate on the basis of sex, gender, race, color, age, ethnicity, religious creed, national origin, or any of the other protected groups and identities set forth in Article 2 of our Bylaws, which can be found at: harvardgradunion.org.
To Apply
If you are interested in this position, please send a résumé and cover letter to: hgsu.general@gmail.com.
WHEN APPLYING: Be sure to indicate that you saw this information at UNIONJOBS.COM.