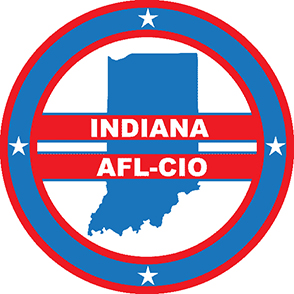 Indiana State AFL-CIO

Office Administrator
Based in Indianapolis, IN
JOB TITLE: Office Administrator
LOCATION: Indianapolis, IN
COMPENSATION: Salary and benefits are competitive with experience & qualifications
PURPOSE: The Indiana AFL-CIO The Indiana State AFL-CIO (American Federation of Labor and Congress of Industrial Organizations) is a proud federation of more than 400 local unions across the state belonging to 40 different International Unions, representing nearly 300,000 working Hoosiers. The Indiana AFL-CIO advocates for workers rights and the wellbeing of all workers through grassroots organizing, legislative advocacy, political action and communications.
PRIMARY RESPONSIBILITIES
Provide all administrative support for the State Federation leadership;
Develop, coordinate, oversee and assess systems and operations, including but not limited to, record-keeping, internal and external communications, meetings, reporting, travel and expenses and other areas as assigned;
Support the coordination of workflow including resolution of questions and concerns, adherence to policies and procedures, and the development of communication and reporting systems;
Schedule and coordinate all activities, travel and speaking engagements for the State Federation leadership, as needed;
Maintain a calendar and schedule for State Federation leadership as assigned;
Coordinate meetings and special events/projects;
Continuing upkeep, coordination and on-site management when applicable for upcoming events;
Maintain calendar of key State Federation, Area Labor Federation and Chapter events including conventions, endorsement meetings, actions, forums including the development and maintenance of monthly activity reports;
Process expense statements and travel authorizations consistent with policy and in a timely manner;
Screen, manage and prioritize visitors, calls and mail in cordancence to our organizational policies and procedures;
Provides support for State Federation projects as needed, including preparing routine reports;
Maintain and organize all project & program files;
Conduct meeting/conference planning, scheduling and execution including creation of presentation materials for federation leadership and other affiliate meetings;
Review incoming correspondence and materials; prepare responses to inquiries and other correspondence; proofreading, reformatting and editing of correspondence;
Understand, and be able to communicate, the function of the Indiana AFL-CIO to both the internal and external audiences;
Other duties as assigned.
Qualifications
Demonstrated ability to exercise good political judgment;
Excellent verbal, written and analytical skills;
Positive attitude and excellent communication and interpersonal skills;
Professional, courteous and tactful;
Demonstrated proficiency of Windows XP, Microsoft Word, Microsoft Excel, Power Point, Microsoft Access and Google;
Excellent proof-reading ability;
Strong writing skills related to correspondence;
Experience coordinating multiple schedules;
Demonstrated ability to prioritize and manage multiple assignments and meet competing deadlines;
Ability to work well within a team;
Demonstrated work performance as a self-starter and detail oriented;
Excellent organizational skills;
Demonstrated ability to work well in a high pressure environment and meeting unpredictable deadlines;
Excellent problem solving skills and experience identifying problems and finding potential solutions;
Knowledge of the labor movement is preferred, but not required.
To Apply:
Interested applicants should submit a cover letter and résumé to unoblessed@inaflcio.org
WHEN APPLYING: Be sure to indicate that you saw this information at UNIONJOBS.COM.