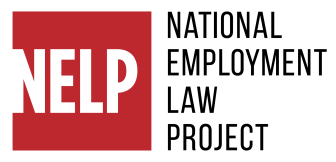 NELP
National Employment Law Project

Senior Researcher & Policy Analyst
Work Equity
Based out of Berkeley, CA; Washington, DC; or New York City, NY
The National Employment Law Project (NELP) seeks a dynamic, experienced, and skilled person to join our Work Equity team to advance NELP's programs and policy campaigns, with a particular focus on addressing the impacts of occupational segregation for communities of color and directly impacted people with records. We are seeking someone with expertise and experience in rigorous racial equity focused analyses and research. This is an extraordinary opportunity to leverage your talent to join a team that is at the forefront of ensuring people obtain good jobs where equity is built into the policies and culture.
Who We Are
Founded in 1969, the nonprofit National Employment Law Project (NELP) is a leading advocacy organization with the mission to build a just and inclusive economy where all workers have expansive rights and thrive in good jobs. Together with local, state, and national partners, NELP advances its mission through transformative legal and policy solutions, research, capacity building, and communications. Our victories over the last decade have impacted the lives of an estimated 100 million workers and their families. We lead and collaborate in fights for higher pay and just benefits, secure and safe jobs, and support at each stage in a worker's life. We build worker power and we challenge rules that allow corporate harm and undue power. We are transforming precarious work by raising the floor so that every job is a good job and everyone who wants a job can have one. Together over the next decade, we will build Black, immigrant worker power and advance transformative solutions to achieve racial and economic justice. For more information, read our annual reports and explore our website: www.nelp.org
NELP has a team of 45 staff people based across offices in New York City, Washington D.C., and Berkeley, CA, with a 12-person Board of Directors, an annual budget of $14M, and hundreds of partners in the field with whom we work to further our mission.
What You Will Do
You may be based in any of NELP's three office locations (Berkeley, California; New York City; or Washington D.C.) and will report to the Director of Work Equity. You will work in conjunction with NELP's staff of lawyers, policy experts, researchers, and strategic communications experts. As a member of the Work Equity team, you will advance our long-term vision to ensure people obtain good jobs where equity is built into the policies and culture—that we advance at work inclusive of race, ethnicity, nationality, gender, sexual orientation, social class, conviction record, family or immigration status, and disability. Your work includes:
Advocating for local, state, and federal policies that will raise the labor standards for all workers by centering Black, immigrant workers and people with records.
Cultivating thoughtful, strategic partnerships and serving as a technical expert by providing legal, policy, research, communications, and strategic support to allies and for campaigns across the country.
Authoring original research products combining empirical work and policy analysis that center racial equity; plus, drafting reports, op-eds, blogs, and educational materials to amplify our policy agenda.
Designing, analyzing, and synthesizing surveys, focus groups, or participatory research to ensure our policy agenda is responsive to the needs and experiences of workers of color and amplifies the lived expertise of Black, immigrant workers.
Conducting media and literature reviews or drafting research to support amicus briefs and strategic litigation.
Representing NELP in coalitions, public forums, legislative and agency hearings, and in the media.
Sharpening the vision of our work equity strategic priorities with a racial equity framework in collaboration with our team.
Who You Are
You have seven+ years' advocacy experience in criminal justice reform, labor and employment rights, civil rights and racial justice, or other social or economic justice issues;
You have a PhD, DrPH, or Master's degree in policy, public administration, public health, labor studies, economics, or a related social sciences field or equivalent experience.
You are detail-oriented and skilled at designing and implementing high-quality, thorough research and data analysis; training and experience using SPSS, Stata, R, or other statistical packages; experience analyzing government survey and administrative data a plus.
You are a relationship-builder. You have strong interpersonal skills, enjoy connecting individuals, and have a track record of developing and maintaining alliances.
You have a proven track record of working in coalition with diverse groups, such as: community-based organizations, legal advocates, labor, and worker centers.
You have strong project management skills. You are a strategic and clear-headed thinker and doer, have experience managing multiple projects, overseeing, and tracking details, and a track record of achieving timely results.
You have strong racial equity competencies and center your role in an analysis and understanding of how race, class and power shape systems in our society and culture and are continuously learning, reflecting, and growing; you support a feedback culture and operate constructively across lines of difference.
You are a skilled communicator in written products, with a demonstrated ability to convey complex concepts in compelling and digestible work products such as memos, reports, op-eds, toolkits, and issue briefs; and you are skilled in presenting, testifying, and engaging with the media.
You are self-aware, curious, and respectful with strong interpersonal skills fostering a sense of purpose and community and have high standards for holding yourself and others accountable.
You operate with a commitment to excellence, integrity, diplomacy, and camaraderie.
Start Date, Location, Compensation and Benefits: In response to the pandemic, all staff are currently working remotely and are not traveling. When conditions are amenable, the position will require some travel. Candidates must be able to work from one of our three offices (Berkeley, New York City, or Washington D.C.) at the point that we return to working in the office. The start date will be as soon as possible. This position is in NELP's bargaining unit, represented by National Organization of Legal Service Workers, UAW Local 2320. Classification and compensation for NELP bargaining unit positions is commensurate with relevant experience and education and based on NELP's collectively bargained scales. Based on our union scale, here are some examples of salaries for this position:
with a relevant Master's degree and 10 years of post-graduate relevant experience, the salary will be $95,700; at 12 years, then $101,000;
with a relevant Ph.D. and 10 years of post-graduate relevant experience, the salary will be $106,300; at 12 years, then $111,300.
Based on the union scale, if an individual candidate's education or experience is higher than an example, the salary will be higher; conversely, with less education or experience, the salary is lower. Compensation also includes an excellent comprehensive benefits package, including full coverage of family health insurance, a medical reimbursement plan, generous vacation and sick leave, plus additional organization-wide holidays, significant contribution from employer to a retirement plan (both an unelected contribution and employer match), 12 weeks paid parental leave, and student loan repayment assistance for qualifying participants.
To Apply: Go to our online application system at: https://nationalemploymentlawproject.applytojob.com/apply/DEgM2cHzix/Senior-Researcher-Policy-Analyst-Work-Equity to submit a cover letter and résumé. If you have questions regarding this announcement, please forward those to: nelp@nelp.org, noting "WE Senior Researcher & Policy Analyst" in the subject line. No phone calls or other email inquiries please. We will consider applications on a rolling basis; interested applicants are encouraged to submit sooner than later.
NELP is a 501(c)(3) non-profit organization and an equal opportunity, fair chance, affirmative action employer, committed to building a diverse and inclusive workforce. All qualified applicants will be considered for employment without regard to race, color, creed, national origin, sex, age, disability, marital status, sexual orientation, military status, prior record of arrest or conviction, citizenship status, current employment status, or caregiver status.
WHEN APPLYING: Be sure to indicate that you saw this information at UNIONJOBS.COM.