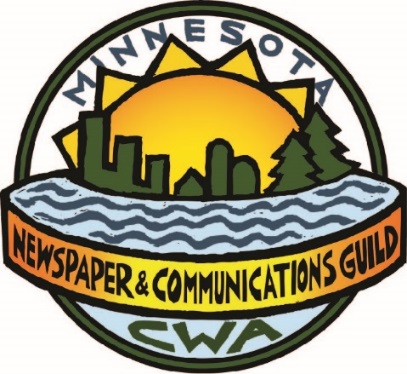 Minnesota Newspaper & Communications Guild
TNG-CWA Local 37002

Union Representative / Internal Organizer
Based in Minnesota
The Minnesota Newspaper & Communications Guild, TNG-CWA Local 37002, is seeking a union advocate with experience building power with union members in and outside contract negotiations.
Established in 1933, we were the second Local chartered by the American Newspaper Guild. The NewsGuild (TNG) is now a sector within the Communications Workers of America (CWA). In addition to newspapers and media organizations in Minnesota, our members are also employed as language interpreters, at nonprofit organizations, in print shops and as staff at other unions. More than 20 union contracts are held between the MN Guild and employers covering 500-600 union members.
We expect our Local's paid staff to demonstrate excellence, competence, collaboration, innovation, respect, accountability, and ownership when working with members and with each other.
The MN Guild is committed to diversity and inclusion in our hiring practices. We are an equal opportunity employer, and highly encourage applicants of all ages, races, sexual orientations, national origins, ethnicities, religions, genders, and other historically marginalized people.
Key Responsibilities:
Act as principal advocate in contract negotiations. Provide preparation and leadership for all stages in the process of negotiating initial and existing collective bargaining agreements with unit leadership engagement and maximum membership participation.
Advise MN Guild members on their employment problems, investigate workplace issues and collaborate with bargaining unit leadership to determine appropriate solutions.
Assist members in all aspects of labor and employment relations, including exercising and enforcing union contracts through direct action, labor management committees and disciplinary meetings, as well as the grievance, mediation, and arbitration processes and filing Unfair Labor Practices complaints.
Develop and maintain effective unit leadership structures by training member leaders in the skills needed to engage coworkers in one-on-one communications and identify potential new member activists.
Assist unit leaders in maintaining regular and effective communications to membership.
Coordinate members within industries/sectors to build coalitions and move campaigns to build power within MN Guild membership and with their colleagues in other unionized and/or non-unionized workplaces.
Collaborate with coworkers to improve functionality of the MN Guild office and maximize our efficiency in assisting union members.
A qualified candidate will have:
A fundamental commitment to building a diverse and democratic labor movement focused on social and economic justice for all workers.
Experience and demonstrated ability in contract administration and union contract negotiations.
Ability to cultivate respectful relationships with people from diverse personal perspectives.
Working knowledge of labor unions and labor relations issues.
Ability to identify, lead, motivate and inspire member leaders to participate fully in their union.
Ability to manage multiple tasks with competing deadlines and prioritize workload while working independently.
Excellent written and verbal communication skills.
Computer skills and proficiency in basic office work programs and creation of online surveys.
Research and analytical skills to interpret contract language, investigate workplace issues and prepare contract proposals and counter proposals.
The willingness and availability to work irregular hours, including evenings and occasional weekends.
Possess a valid driver's license, vehicle insurance, and a vehicle for use on the job. Most travel is within the Minneapolis-St. Paul metropolitan area.
Minnesota residence:
Employee will have the option of working primarily in shared office space, primarily remotely or a hybrid work arrangement, but must reside in Minnesota during employment with the MN Guild. When safe to do so, in-person individual and group meetings will be a regular part of the job duties. Proficiency in hosting meetings on video platforms is a desired qualification.
Compensation:
The annual salary range for this position is $50,000 to $60,000 and will be determined commensurate with experience.
Benefits include health and dental insurance packages, IRS mileage, retirement savings and other benefits through the Guild. This is a full-time, salaried, overtime exempt position.
How to Apply:
Interested candidates should send a cover letter, résumé and at least two professional references to the Minnesota Newspaper & Communications Guild President Nick Woltman: newspaperguild@mnguild.org; or
Minnesota Newspaper & Communications Guild
2233 University Ave W; Suite 345
St. Paul, MN 55114
Questions may be directed to Candace Lund, Executive Officer of the MN Guild: candace@mnguild.org; or 651-645-9000.
Applications will be considered until the position is filled.
WHEN APPLYING: Be sure to indicate that you saw this information at UNIONJOBS.COM.