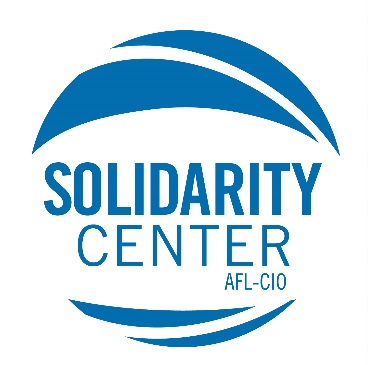 Solidarity Center

Program Officer I for Middle East and North Africa (MENA)
Based in Washington, DC
Please Note: With a vaccine mandate and safety protocols in place in our facilities, Solidarity Center staff have returned to our office in Washington, with options for part-time telework. The Program Officer I is a headquarters position and as such will be expected to work on site at least three days per week.
Summary
Solidarity Center seeks an Arabic speaker with excellent communication and writing skills in English for a newly created Program Officer position in its Middle East and North Africa department. This individual is the main contact between the MENA team in DC and offices in the field, responsible for day-to-day support and contact with personnel and programs in the region. Whoever comes into this position must become conversant with all aspects of regional program activities and current events relevant to political, economic, social and trade union developments. The successful candidate will have experience in preparing donor reports and funding proposals, tracking program finances, drafting program budgets, preparing contrat and subgrant documents, and providing logistical support for virtual events, including securing interpreters and hosting zoom meetings.
The Program Officer must write persuasive proposals that describe complex activities and develop budgets for those activities. This individual will take part in developing and implementing education, training and other programs. A key component of the job is tracking budgets and activities and producing reports and evaluations of the region's programs. The Program Officer also prepares and exchanges information and coordinates activities with Solidarity Center's other teams and departments.
The Program Officer assists the Regional Program Director or the Senior Program Officer on details of programs in the assigned country(ies) of responsibility. At the direction of the Regional Program Director and based on the needs of the Center, the Program Officer may be assigned to any program office on a temporary basis. This individual assists with and, when necessary, provides logistical support for international visitors and participants in Washington-based programs conducted by the Solidarity Center, AFL-CIO, affiliates, GUFs and/or other related organizations. The Program Officer attends meetings and conferences at the request of the Regional Program Director or Senior Program Officer. This individual travels to the region when necessary, and can, on a temporary basis, provide back-up support for field representatives.
Basic Qualifications:
Knowledge of international relations, including trade union and socio-economic and political developments in the U.S. and abroad
Experience in preparing funding proposals and donor reports, drafting program budgets and tracking finances, and preparing subgrant reports
Experience providing logistical support for virtual events, including securing interpreters and hosting zoom meetings.
Previous trade union experience (highly desirable)
Ability to work independently and complete assignments with limited supervision
Ability to manage multiple assignments simultaneously
Ability to work and interact easily with a wide variety of people
Good communications and writing skills (in English)
Fluency in written and spoken Arabic (preferred, not required)
Computer literacy for word processing and simple spreadsheets including experience with Excel
Bachelor's degree in political science, international relations, labor relations or a related field and/or five years of related work experience
Persons considered for this position must agree to serve in a field position abroad, on a temporary basis, based on the needs of the Center.
Supervisor: Regional Program Director
Specific Duties:
Provide specified field offices with programmatic financial and administrative support;
Write/edit proposals, reports, letters, and other correspondence;
Conduct issue research for use by Center headquarters and field offices;
Assist field offices to arrange study tours in the U.S. for visitors from the region, and conduct meetings with a wide variety of visitors from the region involved in efforts to promote labor rights and standards and democracy;
Coordinate activities with the Center's other program and functional offices;
Assist, as required, the Center's other program and functional offices;
Develop coalition-building contacts with U.S. labor, government and non-governmental organizations in the Washington area;
Provide guidance to field offices on AFL-CIO and Center policies and priorities;
Assist field offices in program planning;
Develop and implement regional and sub-regional programs and programs in countries without a resident field representative;
Provide field offices with information on USAID, NED, and U.S. government rules and regulations that affect program management;
Recruit outside program consultants and other technical staff in accordance with field needs;
Provide technical assistance and support to conduct program evaluations of field projects and recruiting evaluators;
Support field trips by Center personnel;
Share information on country conditions and labor issues as requested by Washington-based U.S. government offices and Congress;
Travel on a TDY basis to conduct and/or oversee program development and/or implementation in countries without a Center field office, and;
Perform other related duties as assigned.
This is a collective bargaining unit position, generously compensated with a gross annual salary starting at approximately $64,500 USD. A robust benefits package includes fully paid health insurance, a 401k retirement plan plus AFL-CIO pension, life insurance, and ample paid time off for holidays, vacation, and sick leave.
The Solidarity Center cultivates the values of diversity, equality, and inclusion among its staff and partners. It does not discriminate on the basis of race, color, religion, sex, sexual orientation, gender identity, national or ethnic origin, age, marital status, disability, veteran status, or any other status protected under applicable law. Candidates from traditionally underrepresented groups are strongly encouraged to apply.
Apply HERE!
For Candidates Applying from the AFL-CIO: Please be advised that we will inform the AFL-CIO when any of its current employees apply for positions with Solidarity Center. This notification is a matter of policy for all candidates, regardless of each individual's qualifications and competitiveness for a specific opportunity.
WHEN APPLYING: Be sure to indicate that you saw this information at UNIONJOBS.COM.