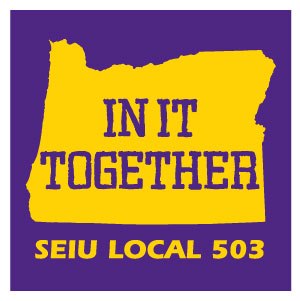 SEIU Local 503
In It Together

Bargaining Strategist
Based in Portland, OR
About SEIU 503
SEIU 503 is Oregon's largest labor union, representing 72,000 care providers and public services workers. We envision a just and vibrant society where everyone is treated with dignity and respect, and where all people can provide for themselves and their families. We are a local affiliate of the Service Employees International Union, an organization of 2-million members in the U.S.
About The Position
The successful candidate will Design and lead strategic bargaining or field campaigns with a focus on issues impacting public employees and care providers.
Responsibilities Include:
Assisting in development of the union's bargaining program;
Researching, crafting and analyzing bargaining issues as part of a long-term plan to improve the lives of Oregonians and our members;
Developing and executing strategic campaign plans, including collaborating with the Department/Program Directors to develop strategic plans;
Leading organizers in the development and execution of campaign deliverables;
Leading a team that works to implement the plans and strategic campaigns;
Duties of the Position:
Development and execution of strategic campaigns
Leading Organizers or Teams in the development and execution of plans and strategic campaigns
Leading multi-departmental strategic bargaining campaigns
Collaborating with and supporting Department/Program Directors in the development and execution of strategic campaigns
Preparation for and negotiation of collective bargaining agreements; ratification of contracts; including work action preparation and recruitment
Lead bargaining team and negotiations training, Union Steward training, and leadership training and development
Contract interpretation; grievance handling and preparation and presentation of arbitration cases; setting up communication systems (personal and telephone) for distribution of information and materials for organizing, bargaining, contract enforcement, and political action
Political action: door-to-door canvassing, phone banks, issue campaigns, candidate campaigns, informing the membership on the issues and candidates, targeting candidates, targeting precincts for candidate races, voter registration, questionnaires and surveys on candidates and issues; get-out-the-vote drives
Pay and Benefits
Comprehensive fully paid health, dental and vision benefits for employee and eligible dependents, domestic partner benefits, generous holiday and leave policies, a monthly car and cell phone allowance, and a 15% employer-paid defined contribution 401K. Compensation range is based on experience $63,600 – $94,512 annually.
Hiring
We are committed to hiring staff who reflect our membership and model the unity and equity that we seek to create in Oregon communities. Women, LGBTQ, people of color, and immigrants strongly encouraged to apply.
To Apply
Please submit your résumé and a cover letter to Keith Quick at: quickk@seiu503.org. We will accept applications until December 31, 2021.
WHEN APPLYING: Be sure to indicate that you saw this information at UNIONJOBS.COM.