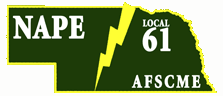 Nebraska Association of Public Employees
AFSCME Local 61
www.napeafscme.org

Field Representative / Organizer
Based in Lincoln, NE
Job Description
The position of Field Representative works and leads campaigns to organize non-member State of Nebraska employees into union membership, conducts representation work such as grievance handling & collective bargaining matters, and helps build union capacity through teaching and empowering member leaders. Field Representatives are committed to helping workers win social and economic justice on the job through building strong unions.
Job Duties
Field Representatives are responsible for all aspects of assisting on union organizing campaigns, including campaign start-up, committee building, assessments, developing literature, running meetings and workplace actions. Representation work includes processing grievances, representing members in pre-disciplinary meetings, contract negotiations, labor/management committees, and more.
Field Representatives will plan and execute site visits, campaigns, and other organizing events. Additionally, they will recruit, train, and assist member leaders, work with coalition partners including lobbyists, politicians, and other unions.
Qualifications/Who Should Apply?
A commitment to social and economic justice and grassroots organizing.
Excellent written and verbal communication skills
An ability to empathize with workers and move others to action.
Leadership experience.
The willingness to travel extensively across Nebraska.
The willingness to work long/irregular hours including nights and weekends.
A valid driver's license and vehicle.
Bachelor's degree preferred.
Salary & Hours
Field Representatives are full-time field staff represented by the NAPE/AFSCME Staff Union (NASU) with a salary range of $40,000 – $60,000/year. Single coverage health insurance is provided at no cost, and generous vacation, sick leave, and paid holidays are offered.
To Apply
Send a cover letter and résumé along with professional references to: admin@napeafscme.org. Please apply no later than December 10, 2021.
About our Union
The Nebraska Association of Public Employees/AFSCME Local 61 represents nearly 9,000 employees of the State of Nebraska, Nebraska State College System, Nebraska Department of Education, and Richardson County. Founded in 1972, the union was instrumental in securing collective bargaining rights for state employees in the 1980s. Our union is in the middle of a strong organizing campaign, has experienced significant membership growth in the past two years, and looks to continue to grow in strength and numbers!
WHEN APPLYING: Be sure to indicate that you saw this information at UNIONJOBS.COM.