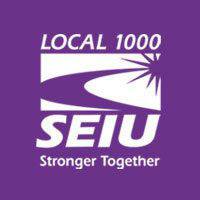 SEIU Local 1000



Legislative Advocate
Based in Sacramento, CA
SEIU Local 1000, an innovative public sector union with 96,000 professionally and geographically diverse members, has an opening for a Legislative Advocate. Our mission is to engage, mobilize and represent our members. The person selected to join us will share our values.
The ideal candidate will work under direction of the Director of Government Affairs to act as a full time Local 1000 Legislative Advocate; to participate in the development of Local 1000's legislative program; to work cooperatively with Local 1000's various internal divisions; to assist in the development and implementation of legislation; to develop and maintain close professional relationships with members of the State Legislature; to appear before the committees of the legislature as necessary; to support Local 1000's legislative goals and objectives; and to perform other related work as required. This position is based in Sacramento, CA.
DUTIES:
Confers directly with appropriate legislators and staff consultants regarding Local 1000's legislative program.
Maintains close liaison with state department staff to gain their support of bills sponsored or supported by Local 1000.
Confers with officials and legislative representatives of other employee organizations to develop mutual interest and support for Local 1000's program.
Represents Local 1000's views on legislation to appropriate committees of the legislature.
Provides support to assigned divisions in developing legislative proposals and including member involvement in the achievement of legislative objectives.
Attends Board of Directors and other Local 1000 meetings when directed to.
Analyzes legislative and administrative reactions to Local 1000's programs and makes recommendations.
Provides general assistance in implementing Local 1000's political action program.
Coordinates with research, Local 1000's political action committee and other appropriate staff in achieving Local 1000's legislative objectives.
Other duties as assigned.
ELIGIBILITY:
Education: Equivalent to graduation from college.
Experience: Either (1) — One (1) year in a Local 1000 or state class equivalent in level to Labor Relations Representative; or (2) — broad and extensive (more than three [3] years) experience in activities which would develop a comprehensive knowledge of legislative representation as practiced in California, at least one (1) year of which must have been paid experience performing related legislative duties.
Note: Additional qualifying experience may be substituted for a maximum of four (4) years of the required education on a year-for-year basis.
Other: Willingness to travel frequently; willingness to work unusual hours; sympathetic understanding of the personnel problems of state employees.
How to Apply:
CLICK BELOW to submit your information including a cover letter and résumé:
https://phh.tbe.taleo.net/phh03/ats/careers/jobSearch.jsp?act=redirectCws&cws=1&org=SEIU1000
Cover letters should describe your qualifications, experience and career goals, as well as a brief description of why you want to work to realize Local 1000's vision for building a strong union.
SEIU is committed to building a diverse workforce.
We offer excellent benefits, including paid health benefits for employee and family, liberal paid time off and competitive salary. All applicants must be able to furnish proof of authorization to work in the United States.
WHEN APPLYING: Be sure to indicate that you saw this information at UNIONJOBS.COM.