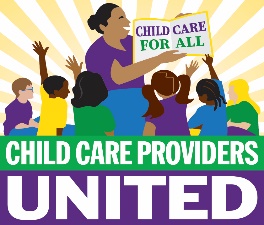 Child Care Providers United
SEIU Education & Support Fund

Director of CA Child Care Providers United (CCPU) Training and Education Program
Must reside in California
Hybrid-remote/in-person
Position: Director of CA Child Care Providers United (CCPU) Training and Education Program
Organization: SEIU Education and Support Fund
Location of position: California
Salary range: $90,000 – $100,000, FULL TIME position with a competitive benefits package
Application Instructions: Please send a cover letter and résumé to apply@seiuesf.org. MUST include "CA Training Fund Director" in the subject line. A résumé and cover letter are required for all applications. Your cover letter should explain your reason for wanting to apply for this position and provide an example of your demonstrated success in a similar position. This position will be open until Dec 15th.
Organization Overview
The SEIU Education & Support Fund is on a mission to empower workers, raise standards, and promote high quality jobs. We do this by designing and facilitating worker-centered, relationship-based, and accessible education and training programs. We partner closely with Service Employees International Union (SEIU) the labor union that represents over 80,000 early childhood educators across 8 states, and are currently offering programs including peer mentorship, advocacy, and apprenticeship. In California, we partner with Child Care Providers United (CCPU), the union that represents licensed and license-exempt family child care providers across the state of CA and is comprised of UDW/AFSCME Local 3930 and SEIU Locals 521 and 99.
Position Summary
We are seeking to fill a newly created position-Director of CA Child Care Training Fund. This executive level position is an exciting opportunity to develop an innovative early childhood labor-management training partnership. This person would be responsible for leading all aspects of CA ESF's early childhood education (ECE) work including developing programs across a variety of training settings and approaches including online, in-person, apprenticeships, peer mentoring and family child care networks.
The ideal candidate for the position is an experienced organizational leader with program development, budgeting and management skills; has extensive experience in the ECE field; is a self-starter who is comfortable with ambiguity and is passionate about building educator centered, equity driven professional development, education and training programs for early childhood educators.
Responsibilities/Essential Functions
Cultivate and manage trusting, collaborative partnerships with a diverse set of partners, including CA child care unions, state agencies, higher education institutions, other ECE training organizations
Develop strategic goals and implement plans that meet training development and delivery outcomes
Administer needs assessments, design curriculum, deliver training, and coordinate and cultivate internal and external training resources
Develop and monitor a program budget that ensures the program meets predetermined performance expectations and revise as needed.
Create and execute program evaluation plans using qualitative and quantitative benchmarks
Create communication content for recruitment efforts and program awareness
Recruit and supervise staff and consultants including trainers and educators who provide training services
Knowledge, Skills and Abilities
Has experience working with diverse communities including low-income women of color and has a demonstrated track record of advancing equity and inclusion
Is committed to a worker-center, empowerment based approach to training
Is able to work some evenings, weekend and travel within the state
Is flexible, comfortable working independently and is a sophisticated collaborator
Experience/qualifications
Ten years of increasing responsibility in a non-profit senior leadership role
Ten years of increasing experience in developing, implementing and evaluating adult education and/or early childhood education and training programs.
Possess experience in serving populations who have traditionally been excluded from pathways to advancement
Building a team and managing staff and consultants toward program outcomes.
Preferred qualifications
Bilingual, bicultural
Experience with labor-management training funds
Pay and Benefits
We offer competitive wages and top-notch benefits, including 100 percent employer paid medical, dental, and vision as well as a defined benefit pension plan.
Equal Opportunity Employer
Our team members are expected to demonstrate respect for all co-workers and training participants. We also recognize the desirability of increasing employment opportunities for people of color, women, LGBTQ, people that are bilingual or multilingual, and people with disabilities.
WHEN APPLYING: Be sure to indicate that you saw this information at UNIONJOBS.COM.